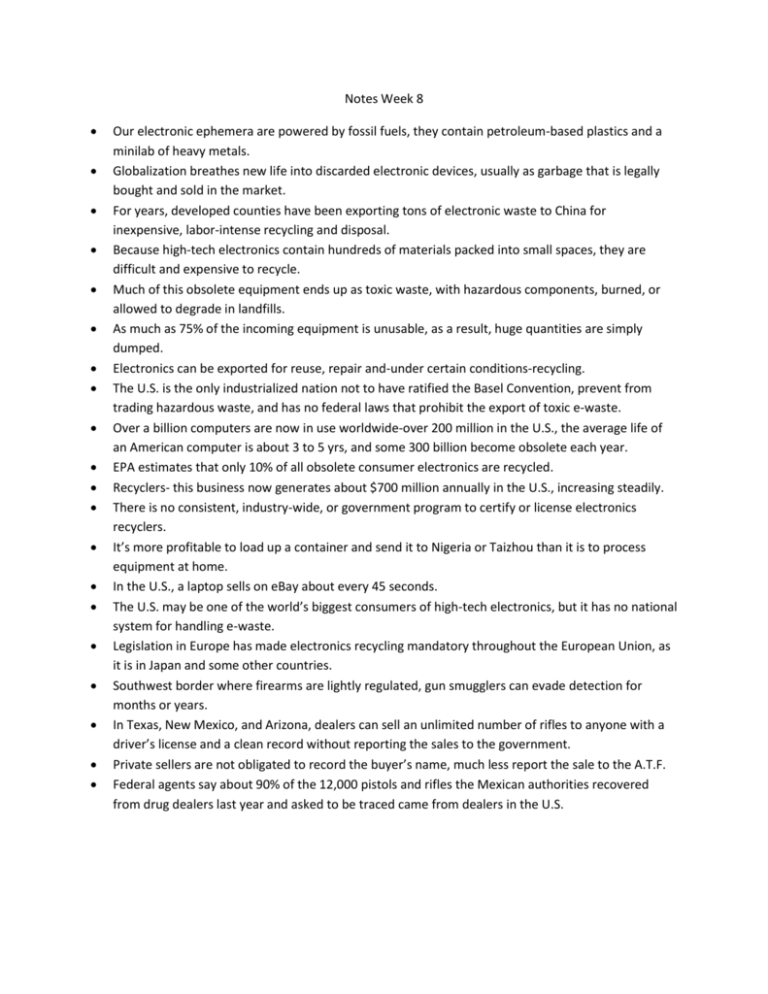 Notes Week 8




















Our electronic ephemera are powered by fossil fuels, they contain petroleum-based plastics and a
minilab of heavy metals.
Globalization breathes new life into discarded electronic devices, usually as garbage that is legally
bought and sold in the market.
For years, developed counties have been exporting tons of electronic waste to China for
inexpensive, labor-intense recycling and disposal.
Because high-tech electronics contain hundreds of materials packed into small spaces, they are
difficult and expensive to recycle.
Much of this obsolete equipment ends up as toxic waste, with hazardous components, burned, or
allowed to degrade in landfills.
As much as 75% of the incoming equipment is unusable, as a result, huge quantities are simply
dumped.
Electronics can be exported for reuse, repair and-under certain conditions-recycling.
The U.S. is the only industrialized nation not to have ratified the Basel Convention, prevent from
trading hazardous waste, and has no federal laws that prohibit the export of toxic e-waste.
Over a billion computers are now in use worldwide-over 200 million in the U.S., the average life of
an American computer is about 3 to 5 yrs, and some 300 billion become obsolete each year.
EPA estimates that only 10% of all obsolete consumer electronics are recycled.
Recyclers- this business now generates about $700 million annually in the U.S., increasing steadily.
There is no consistent, industry-wide, or government program to certify or license electronics
recyclers.
It's more profitable to load up a container and send it to Nigeria or Taizhou than it is to process
equipment at home.
In the U.S., a laptop sells on eBay about every 45 seconds.
The U.S. may be one of the world's biggest consumers of high-tech electronics, but it has no national
system for handling e-waste.
Legislation in Europe has made electronics recycling mandatory throughout the European Union, as
it is in Japan and some other countries.
Southwest border where firearms are lightly regulated, gun smugglers can evade detection for
months or years.
In Texas, New Mexico, and Arizona, dealers can sell an unlimited number of rifles to anyone with a
driver's license and a clean record without reporting the sales to the government.
Private sellers are not obligated to record the buyer's name, much less report the sale to the A.T.F.
Federal agents say about 90% of the 12,000 pistols and rifles the Mexican authorities recovered
from drug dealers last year and asked to be traced came from dealers in the U.S.