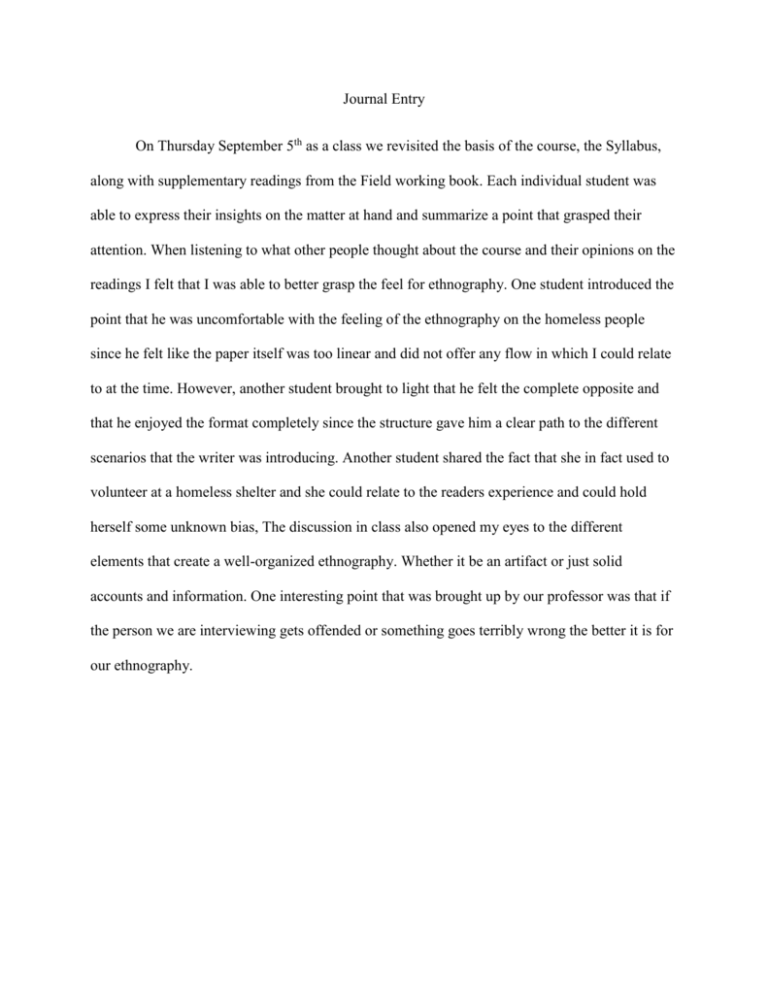 Journal Entry
On Thursday September 5th as a class we revisited the basis of the course, the Syllabus,
along with supplementary readings from the Field working book. Each individual student was
able to express their insights on the matter at hand and summarize a point that grasped their
attention. When listening to what other people thought about the course and their opinions on the
readings I felt that I was able to better grasp the feel for ethnography. One student introduced the
point that he was uncomfortable with the feeling of the ethnography on the homeless people
since he felt like the paper itself was too linear and did not offer any flow in which I could relate
to at the time. However, another student brought to light that he felt the complete opposite and
that he enjoyed the format completely since the structure gave him a clear path to the different
scenarios that the writer was introducing. Another student shared the fact that she in fact used to
volunteer at a homeless shelter and she could relate to the readers experience and could hold
herself some unknown bias, The discussion in class also opened my eyes to the different
elements that create a well-organized ethnography. Whether it be an artifact or just solid
accounts and information. One interesting point that was brought up by our professor was that if
the person we are interviewing gets offended or something goes terribly wrong the better it is for
our ethnography.