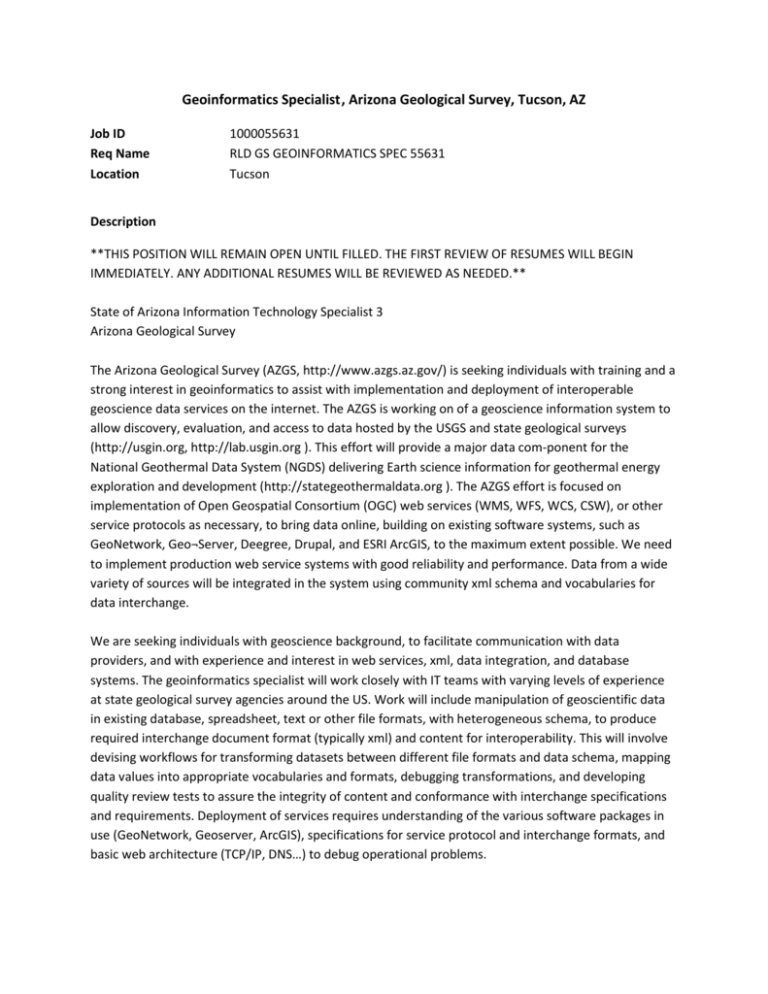 Geoinformatics Specialist, Arizona Geological Survey, Tucson, AZ
Job ID
Req Name
Location
1000055631
RLD GS GEOINFORMATICS SPEC 55631
Tucson
Description
**THIS POSITION WILL REMAIN OPEN UNTIL FILLED. THE FIRST REVIEW OF RESUMES WILL BEGIN
IMMEDIATELY. ANY ADDITIONAL RESUMES WILL BE REVIEWED AS NEEDED.**
State of Arizona Information Technology Specialist 3
Arizona Geological Survey
The Arizona Geological Survey (AZGS, http://www.azgs.az.gov/) is seeking individuals with training and a
strong interest in geoinformatics to assist with implementation and deployment of interoperable
geoscience data services on the internet. The AZGS is working on of a geoscience information system to
allow discovery, evaluation, and access to data hosted by the USGS and state geological surveys
(http://usgin.org, http://lab.usgin.org ). This effort will provide a major data com-ponent for the
National Geothermal Data System (NGDS) delivering Earth science information for geothermal energy
exploration and development (http://stategeothermaldata.org ). The AZGS effort is focused on
implementation of Open Geospatial Consortium (OGC) web services (WMS, WFS, WCS, CSW), or other
service protocols as necessary, to bring data online, building on existing software systems, such as
GeoNetwork, Geo¬Server, Deegree, Drupal, and ESRI ArcGIS, to the maximum extent possible. We need
to implement production web service systems with good reliability and performance. Data from a wide
variety of sources will be integrated in the system using community xml schema and vocabularies for
data interchange.
We are seeking individuals with geoscience background, to facilitate communication with data
providers, and with experience and interest in web services, xml, data integration, and database
systems. The geoinformatics specialist will work closely with IT teams with varying levels of experience
at state geological survey agencies around the US. Work will include manipulation of geoscientific data
in existing database, spreadsheet, text or other file formats, with heterogeneous schema, to produce
required interchange document format (typically xml) and content for interoperability. This will involve
devising workflows for transforming datasets between different file formats and data schema, mapping
data values into appropriate vocabularies and formats, debugging transformations, and developing
quality review tests to assure the integrity of content and conformance with interchange specifications
and requirements. Deployment of services requires understanding of the various software packages in
use (GeoNetwork, Geoserver, ArcGIS), specifications for service protocol and interchange formats, and
basic web architecture (TCP/IP, DNS…) to debug operational problems.
Requirements: Knowledge of and skill with data and schema manipulation using various extract,
transform, load processes including XSLT, SQL, and scripting languages (e.g. Python). Knowledge of XML
syntax and schema. Ability to read and understand complex technical specification documents and
experience with software systems utilizing OGC or ISO standards. Skill in debugging client-server
software applications. Skill in explaining complex software operation and data manipulation to nonexpert users. Understanding of basic geologic concepts.
Submit applications to:
Please submit a copy of your resume (MS Word or Adobe Acrobat) to resumes@azgs.az.gov, with the
subject line: "Geoinformatics specialist. YOURNAME" (insert your name as appropriate).
Location: Tucson, Arizona
Expected to fill at the entry to mid-level range - $33,435-$48,000
Review of applications will begin immediately, and continue until the position is filled.