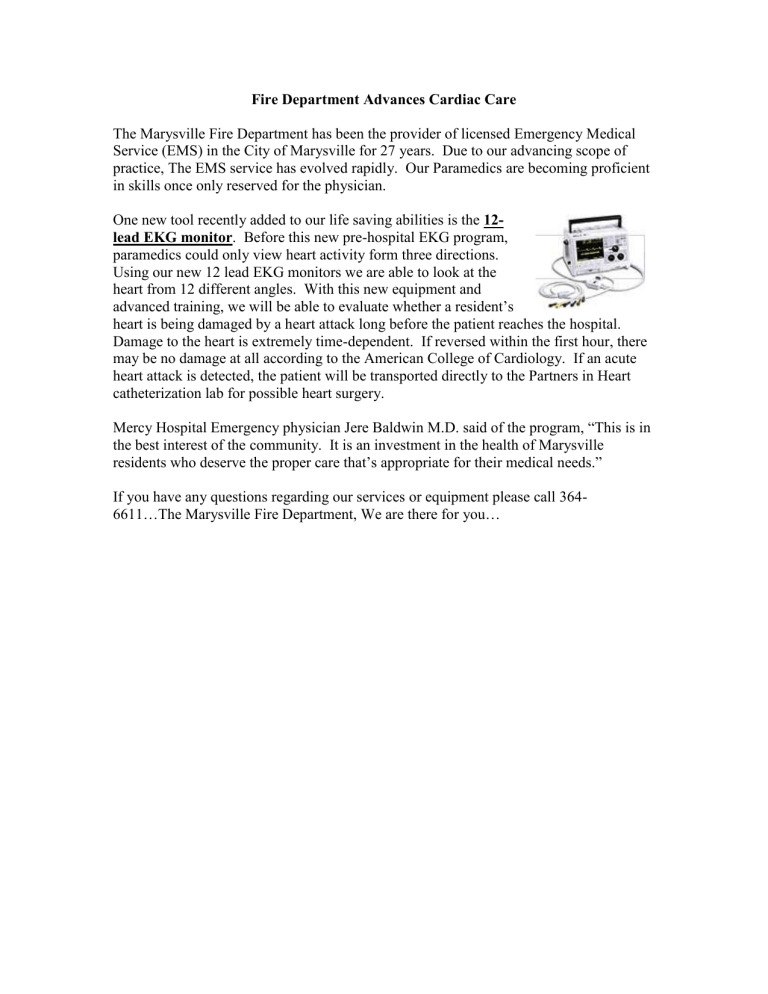 Fire Department Advances Cardiac Care
The Marysville Fire Department has been the provider of licensed Emergency Medical
Service (EMS) in the City of Marysville for 27 years. Due to our advancing scope of practice, The EMS service has evolved rapidly. Our Paramedics are becoming proficient in skills once only reserved for the physician.
One new tool recently added to our life saving abilities is the 12lead EKG monitor . Before this new pre-hospital EKG program, paramedics could only view heart activity form three directions.
Using our new 12 lead EKG monitors we are able to look at the heart from 12 different angles. With this new equipment and advanced training, we will be able to evaluate whether a resident's heart is being damaged by a heart attack long before the patient reaches the hospital.
Damage to the heart is extremely time-dependent. If reversed within the first hour, there may be no damage at all according to the American College of Cardiology. If an acute heart attack is detected, the patient will be transported directly to the Partners in Heart catheterization lab for possible heart surgery.
Mercy Hospital Emergency physician Jere Baldwin M.D. said of the program, "This is in the best interest of the community. It is an investment in the health of Marysville residents who deserve the proper care that's appropriate for their medical needs."
If you have any questions regarding our services or equipment please call 364-
6611…The Marysville Fire Department, We are there for you…