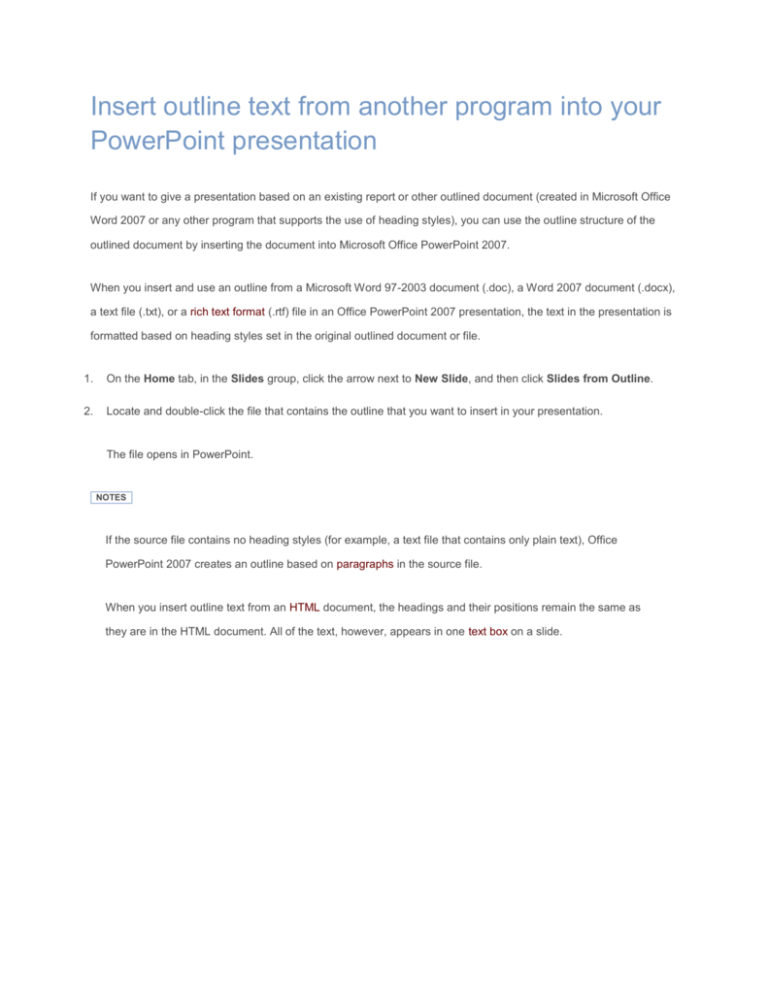 Insert outline text from another program into your
PowerPoint presentation
If you want to give a presentation based on an existing report or other outlined document (created in Microsoft Office
Word 2007 or any other program that supports the use of heading styles), you can use the outline structure of the
outlined document by inserting the document into Microsoft Office PowerPoint 2007.
When you insert and use an outline from a Microsoft Word 97-2003 document (.doc), a Word 2007 document (.docx),
a text file (.txt), or a rich text format (.rtf) file in an Office PowerPoint 2007 presentation, the text in the presentation is
formatted based on heading styles set in the original outlined document or file.
1.
On the Home tab, in the Slides group, click the arrow next to New Slide, and then click Slides from Outline.
2.
Locate and double-click the file that contains the outline that you want to insert in your presentation.
The file opens in PowerPoint.
NOTES
If the source file contains no heading styles (for example, a text file that contains only plain text), Office
PowerPoint 2007 creates an outline based on paragraphs in the source file.
When you insert outline text from an HTML document, the headings and their positions remain the same as
they are in the HTML document. All of the text, however, appears in one text box on a slide.