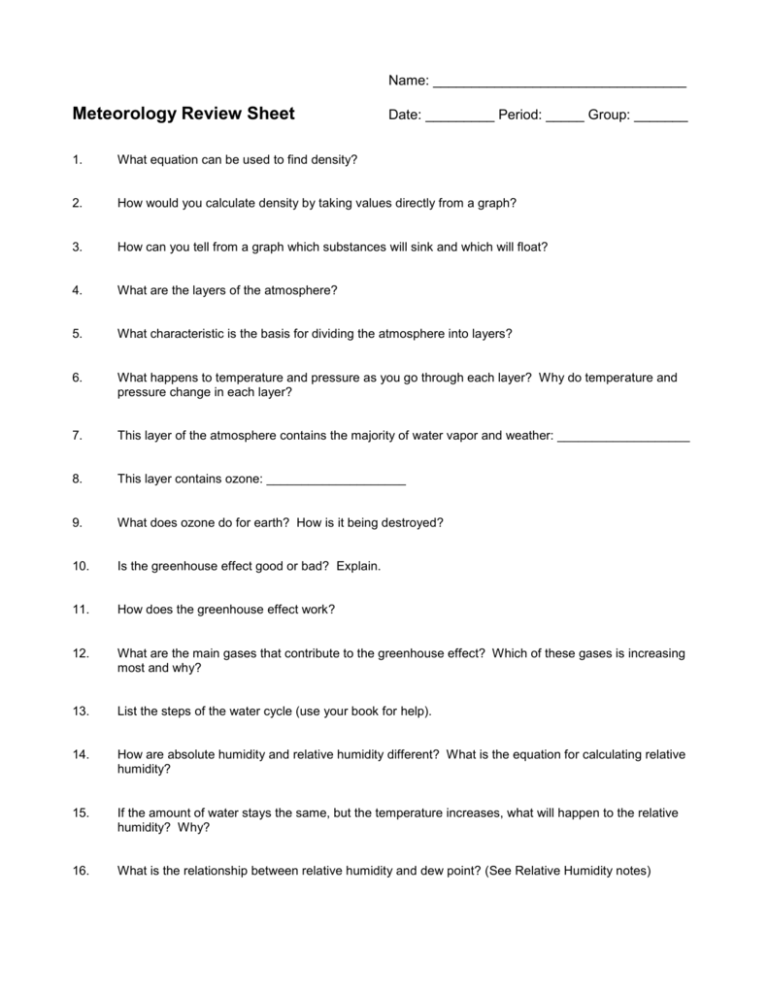 Name: _________________________________
Meteorology Review Sheet
Date: _________ Period: _____ Group: _______
1.
What equation can be used to find density?
2.
How would you calculate density by taking values directly from a graph?
3.
How can you tell from a graph which substances will sink and which will float?
4.
What are the layers of the atmosphere?
5.
What characteristic is the basis for dividing the atmosphere into layers?
6.
What happens to temperature and pressure as you go through each layer? Why do temperature and
pressure change in each layer?
7.
This layer of the atmosphere contains the majority of water vapor and weather: ___________________
8.
This layer contains ozone: ____________________
9.
What does ozone do for earth? How is it being destroyed?
10.
Is the greenhouse effect good or bad? Explain.
11.
How does the greenhouse effect work?
12.
What are the main gases that contribute to the greenhouse effect? Which of these gases is increasing
most and why?
13.
List the steps of the water cycle (use your book for help).
14.
How are absolute humidity and relative humidity different? What is the equation for calculating relative
humidity?
15.
If the amount of water stays the same, but the temperature increases, what will happen to the relative
humidity? Why?
16.
What is the relationship between relative humidity and dew point? (See Relative Humidity notes)
17.
How do clouds form?
18.
What causes wind?
19.
How does the Coriolis Effect change the direction of winds?
20.
Between which latitudes would you find Trade Winds, Prevailing Westerlies and Polar Easterlies on a
map?
21.
At which latitudes would you expect to find rain forests? Deserts? Why?
22.
What is a front?
23.
How are cold fronts and warm fronts different?
24.
What is the difference between weather and climate?
25.
Describe how a rain shadow works.
26.
A _________________________ air mass dominates California's weather.
27.
List the conditions necessary for a hurricane to form.
28.
What kind of weather can you expect from
a. A high pressure system?
b. A low pressure system?