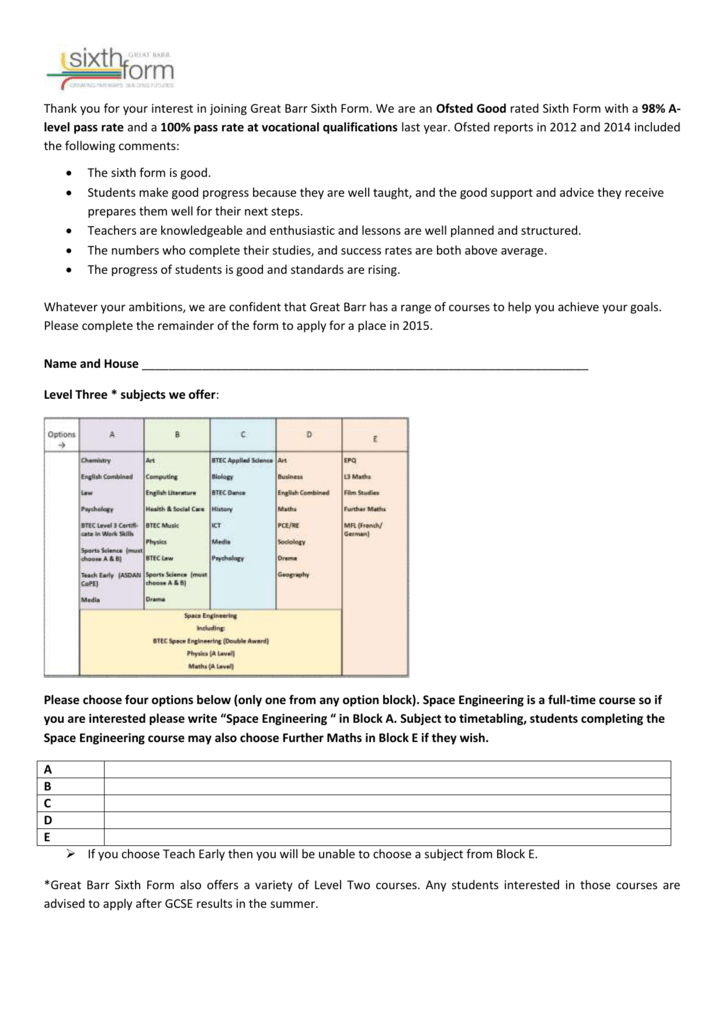 Thank you for your interest in joining Great Barr Sixth Form. We are an Ofsted Good rated Sixth Form with a 98% Alevel pass rate and a 100% pass rate at vocational qualifications last year. Ofsted reports in 2012 and 2014 included
the following comments:





The sixth form is good.
Students make good progress because they are well taught, and the good support and advice they receive
prepares them well for their next steps.
Teachers are knowledgeable and enthusiastic and lessons are well planned and structured.
The numbers who complete their studies, and success rates are both above average.
The progress of students is good and standards are rising.
Whatever your ambitions, we are confident that Great Barr has a range of courses to help you achieve your goals.
Please complete the remainder of the form to apply for a place in 2015.
Name and House ___________________________________________________________________
Level Three * subjects we offer:
Please choose four options below (only one from any option block). Space Engineering is a full-time course so if
you are interested please write "Space Engineering " in Block A. Subject to timetabling, students completing the
Space Engineering course may also choose Further Maths in Block E if they wish.
A
B
C
D
E
 If you choose Teach Early then you will be unable to choose a subject from Block E.
*Great Barr Sixth Form also offers a variety of Level Two courses. Any students interested in those courses are
advised to apply after GCSE results in the summer.
Thank you for your interest, you will find more information on our website: www.greatbarrsixthform.org.uk or
contact any member of the Sixth Form team. We will contact you with an interview date in due course.