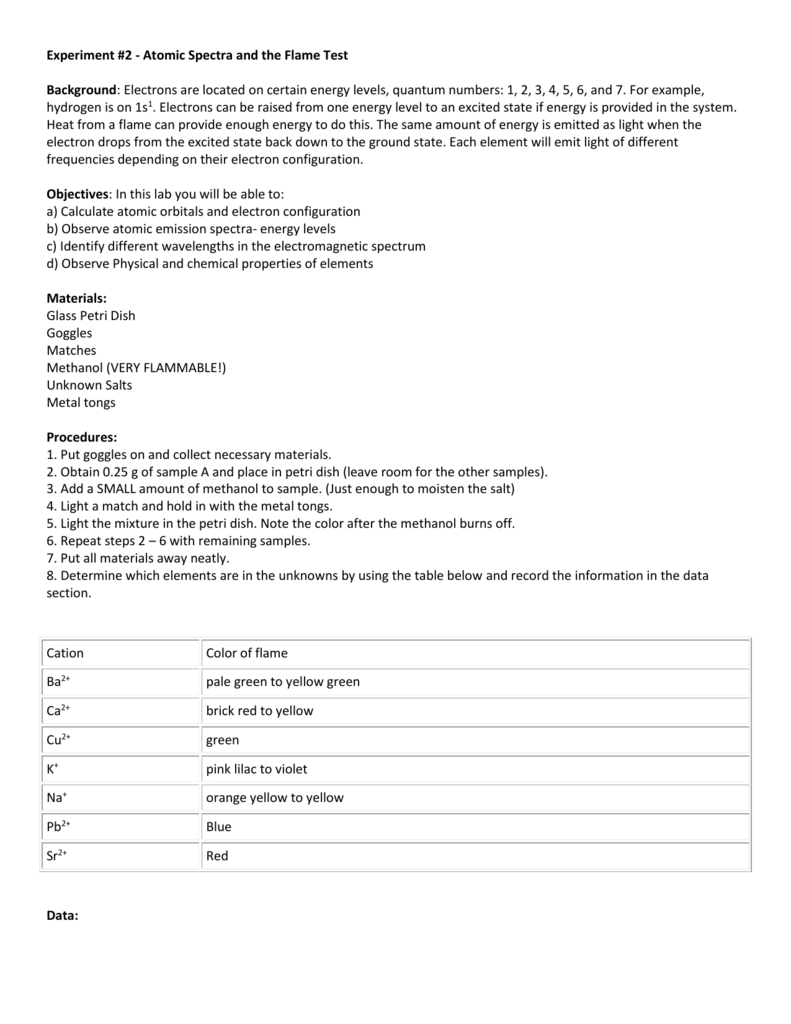 Experiment #2 - Atomic Spectra and the Flame Test
Background: Electrons are located on certain energy levels, quantum numbers: 1, 2, 3, 4, 5, 6, and 7. For example,
hydrogen is on 1s1. Electrons can be raised from one energy level to an excited state if energy is provided in the system.
Heat from a flame can provide enough energy to do this. The same amount of energy is emitted as light when the
electron drops from the excited state back down to the ground state. Each element will emit light of different
frequencies depending on their electron configuration.
Objectives: In this lab you will be able to:
a) Calculate atomic orbitals and electron configuration
b) Observe atomic emission spectra- energy levels
c) Identify different wavelengths in the electromagnetic spectrum
d) Observe Physical and chemical properties of elements
Materials:
Glass Petri Dish
Goggles
Matches
Methanol (VERY FLAMMABLE!)
Unknown Salts
Metal tongs
Procedures:
1. Put goggles on and collect necessary materials.
2. Obtain 0.25 g of sample A and place in petri dish (leave room for the other samples).
3. Add a SMALL amount of methanol to sample. (Just enough to moisten the salt)
4. Light a match and hold in with the metal tongs.
5. Light the mixture in the petri dish. Note the color after the methanol burns off.
6. Repeat steps 2 – 6 with remaining samples.
7. Put all materials away neatly.
8. Determine which elements are in the unknowns by using the table below and record the information in the data
section.
Cation
Color of flame
Ba2+
pale green to yellow green
Ca2+
brick red to yellow
Cu2+
green
K+
pink lilac to violet
Na+
orange yellow to yellow
Pb2+
Blue
Sr2+
Red
Data:
Sample Letter
Color emitted
Probable Element
Element Electron
Configuration
A
B
C
D
E
F
Questions and Conclusion:
Directions: Answer these questions below and then write a one-paragraph summary of what occurred in the lab.
1. What subatomic particle is responsible for the production of colored light?
2. Why do different salts emit different colors of light?
3. Why do you think the salts have to be heated in a flame before the color is emitted?
4. What is the characteristic flame color for Sodium? Lithium? Copper? Strontium?
5. Strontium and Lithium have similar colors; how could the colors be further analyzed?