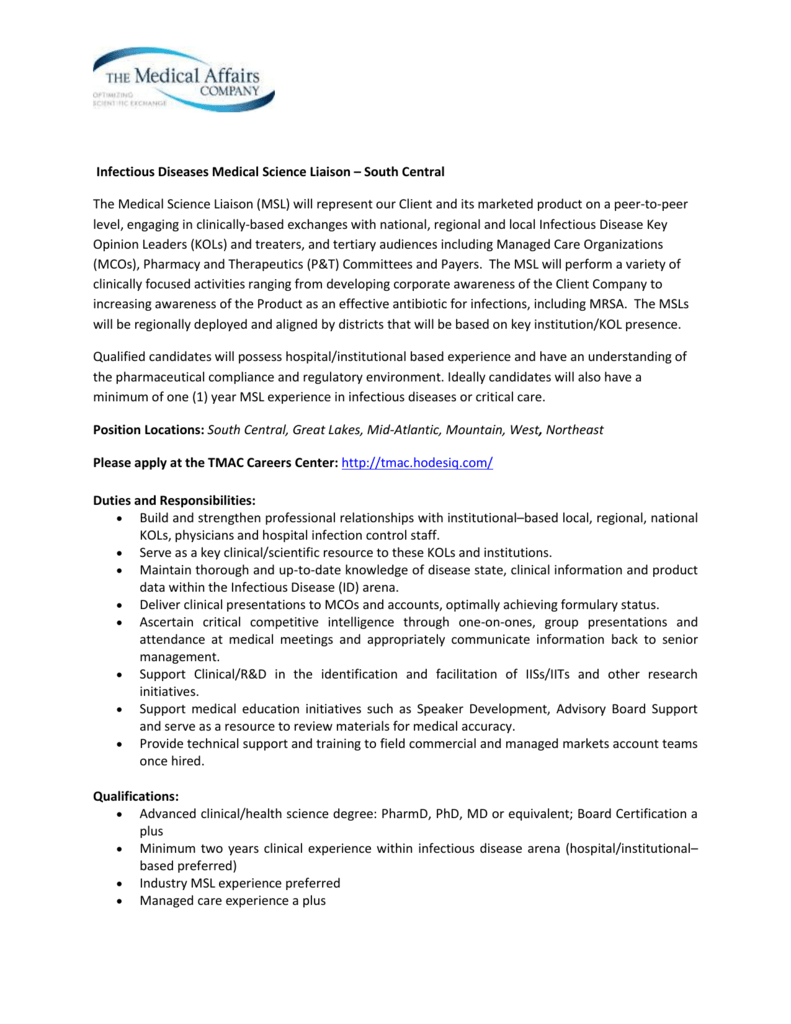 Infectious Diseases Medical Science Liaison – South Central
The Medical Science Liaison (MSL) will represent our Client and its marketed product on a peer-to-peer
level, engaging in clinically-based exchanges with national, regional and local Infectious Disease Key
Opinion Leaders (KOLs) and treaters, and tertiary audiences including Managed Care Organizations
(MCOs), Pharmacy and Therapeutics (P&T) Committees and Payers. The MSL will perform a variety of
clinically focused activities ranging from developing corporate awareness of the Client Company to
increasing awareness of the Product as an effective antibiotic for infections, including MRSA. The MSLs
will be regionally deployed and aligned by districts that will be based on key institution/KOL presence.
Qualified candidates will possess hospital/institutional based experience and have an understanding of
the pharmaceutical compliance and regulatory environment. Ideally candidates will also have a
minimum of one (1) year MSL experience in infectious diseases or critical care.
Position Locations: South Central, Great Lakes, Mid-Atlantic, Mountain, West, Northeast
Please apply at the TMAC Careers Center: http://tmac.hodesiq.com/
Duties and Responsibilities:
 Build and strengthen professional relationships with institutional–based local, regional, national
KOLs, physicians and hospital infection control staff.
 Serve as a key clinical/scientific resource to these KOLs and institutions.
 Maintain thorough and up-to-date knowledge of disease state, clinical information and product
data within the Infectious Disease (ID) arena.
 Deliver clinical presentations to MCOs and accounts, optimally achieving formulary status.
 Ascertain critical competitive intelligence through one-on-ones, group presentations and
attendance at medical meetings and appropriately communicate information back to senior
management.
 Support Clinical/R&D in the identification and facilitation of IISs/IITs and other research
initiatives.
 Support medical education initiatives such as Speaker Development, Advisory Board Support
and serve as a resource to review materials for medical accuracy.
 Provide technical support and training to field commercial and managed markets account teams
once hired.
Qualifications:
 Advanced clinical/health science degree: PharmD, PhD, MD or equivalent; Board Certification a
plus
 Minimum two years clinical experience within infectious disease arena (hospital/institutional–
based preferred)
 Industry MSL experience preferred
 Managed care experience a plus








Established track record of effective and influential oral presentations within the healthcare
profession
Knowledge of FDA compliance and regulatory requirements
Demonstrated expertise in drug information communication
Ability to integrate and work in cross functional network
Exceptional organizational and time management skills
Excellent oral and written communication skills and interpersonal skills
Ability to travel, locally and regionally combined, up to 70% (7-10 overnights per month)
Valid driver's license
Company Description:
The Medical Affairs Company (TMAC) offers pharmaceutical, biopharmaceutical and medical device
clients a complete array of outsourcing capabilities for medical affairs activities. Through strategic and
tactical Medical Science Liaison (MSL) programs, as well as MSL Consulting and Medical Communications
support, TMAC provides both unmatched value and service to the pharmaceutical industry.
Our greatest strength is our focus: Medical and Scientific Affairs—it is our only business. Whether you
have products in development or already on the market, we can help you optimize product awareness
and understanding through customized MSL and Medical Communications solutions.
TMAC's success is predicated on the fact that the entire management team has significant Medical
Affairs expertise and has been actively engaged in the contract medical affairs sector since 1997.