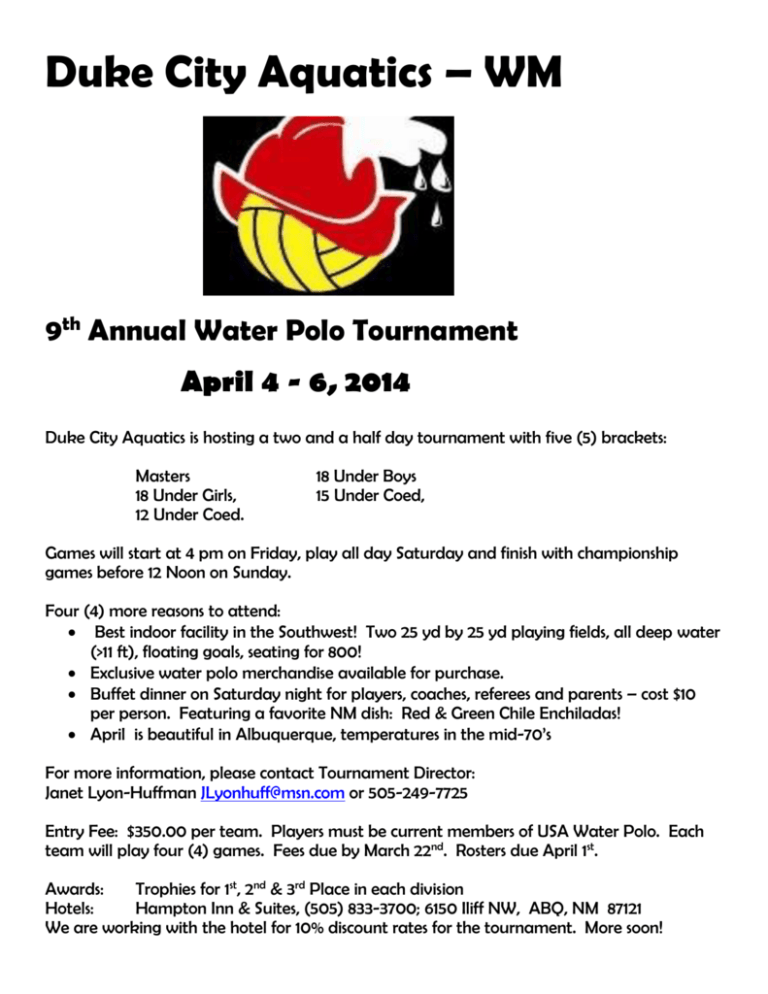 Duke City Aquatics – WM
9th Annual Water Polo Tournament
April 4 - 6, 2014
Duke City Aquatics is hosting a two and a half day tournament with five (5) brackets:
Masters
18 Under Girls,
12 Under Coed.
18 Under Boys
15 Under Coed,
Games will start at 4 pm on Friday, play all day Saturday and finish with championship
games before 12 Noon on Sunday.
Four (4) more reasons to attend:
 Best indoor facility in the Southwest! Two 25 yd by 25 yd playing fields, all deep water
(>11 ft), floating goals, seating for 800!
 Exclusive water polo merchandise available for purchase.
 Buffet dinner on Saturday night for players, coaches, referees and parents – cost $10
per person. Featuring a favorite NM dish: Red & Green Chile Enchiladas!
 April is beautiful in Albuquerque, temperatures in the mid-70's
For more information, please contact Tournament Director:
Janet Lyon-Huffman JLyonhuff@msn.com or 505-249-7725
Entry Fee: $350.00 per team. Players must be current members of USA Water Polo. Each
team will play four (4) games. Fees due by March 22nd. Rosters due April 1st.
Awards:
Trophies for 1st, 2nd & 3rd Place in each division
Hotels:
Hampton Inn & Suites, (505) 833-3700; 6150 Iliff NW, ABQ, NM 87121
We are working with the hotel for 10% discount rates for the tournament. More soon!