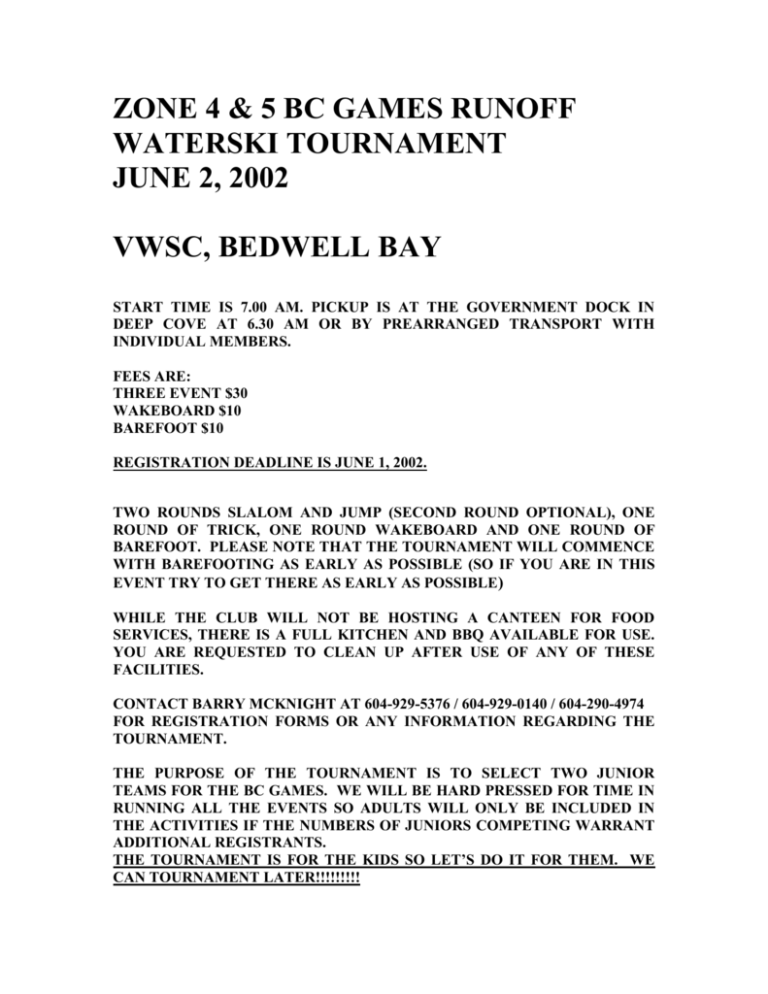 ZONE 4 & 5 BC GAMES RUNOFF
WATERSKI TOURNAMENT
JUNE 2, 2002
VWSC, BEDWELL BAY
START TIME IS 7.00 AM. PICKUP IS AT THE GOVERNMENT DOCK IN
DEEP COVE AT 6.30 AM OR BY PREARRANGED TRANSPORT WITH
INDIVIDUAL MEMBERS.
FEES ARE:
THREE EVENT $30
WAKEBOARD $10
BAREFOOT $10
REGISTRATION DEADLINE IS JUNE 1, 2002.
TWO ROUNDS SLALOM AND JUMP (SECOND ROUND OPTIONAL), ONE
ROUND OF TRICK, ONE ROUND WAKEBOARD AND ONE ROUND OF
BAREFOOT. PLEASE NOTE THAT THE TOURNAMENT WILL COMMENCE
WITH BAREFOOTING AS EARLY AS POSSIBLE (SO IF YOU ARE IN THIS
EVENT TRY TO GET THERE AS EARLY AS POSSIBLE)
WHILE THE CLUB WILL NOT BE HOSTING A CANTEEN FOR FOOD
SERVICES, THERE IS A FULL KITCHEN AND BBQ AVAILABLE FOR USE.
YOU ARE REQUESTED TO CLEAN UP AFTER USE OF ANY OF THESE
FACILITIES.
CONTACT BARRY MCKNIGHT AT 604-929-5376 / 604-929-0140 / 604-290-4974
FOR REGISTRATION FORMS OR ANY INFORMATION REGARDING THE
TOURNAMENT.
THE PURPOSE OF THE TOURNAMENT IS TO SELECT TWO JUNIOR
TEAMS FOR THE BC GAMES. WE WILL BE HARD PRESSED FOR TIME IN
RUNNING ALL THE EVENTS SO ADULTS WILL ONLY BE INCLUDED IN
THE ACTIVITIES IF THE NUMBERS OF JUNIORS COMPETING WARRANT
ADDITIONAL REGISTRANTS.
THE TOURNAMENT IS FOR THE KIDS SO LET'S DO IT FOR THEM. WE
CAN TOURNAMENT LATER!!!!!!!!!