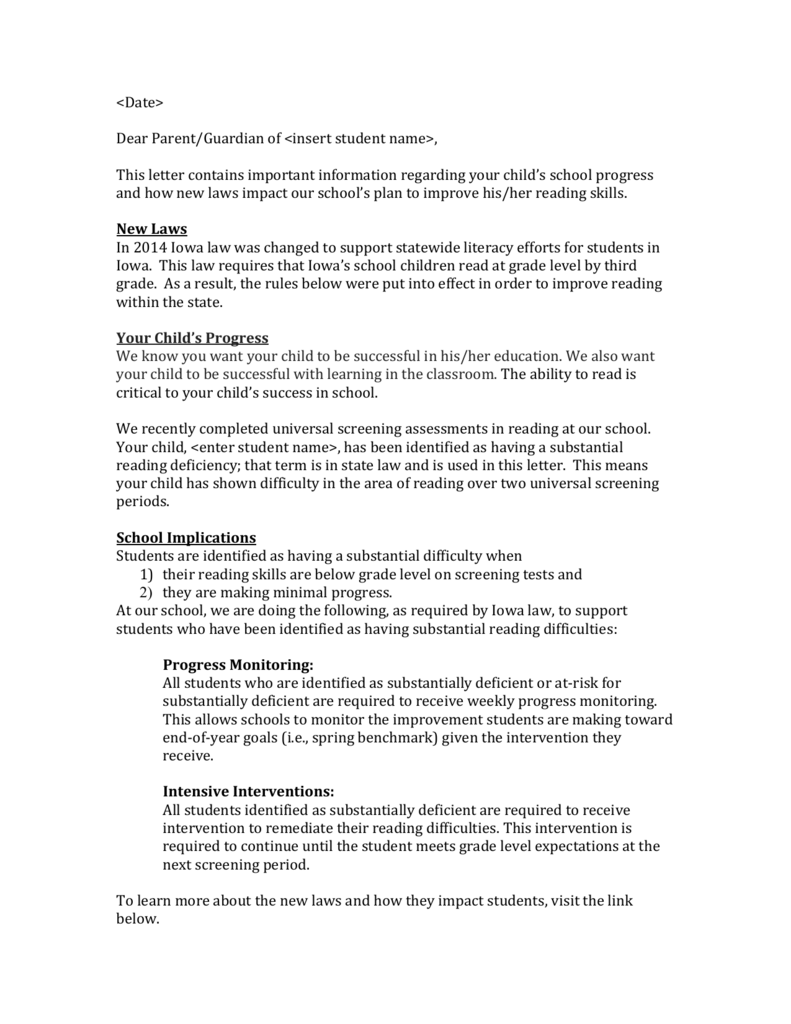 <Date>
Dear Parent/Guardian of <insert student name>,
This letter contains important information regarding your child's school progress
and how new laws impact our school's plan to improve his/her reading skills.
New Laws
In 2014 Iowa law was changed to support statewide literacy efforts for students in
Iowa. This law requires that Iowa's school children read at grade level by third
grade. As a result, the rules below were put into effect in order to improve reading
within the state.
Your Child's Progress
We know you want your child to be successful in his/her education. We also want
your child to be successful with learning in the classroom. The ability to read is
critical to your child's success in school.
We recently completed universal screening assessments in reading at our school.
Your child, <enter student name>, has been identified as having a substantial
reading deficiency; that term is in state law and is used in this letter. This means
your child has shown difficulty in the area of reading over two universal screening
periods.
School Implications
Students are identified as having a substantial difficulty when
1) their reading skills are below grade level on screening tests and
2) they are making minimal progress.
At our school, we are doing the following, as required by Iowa law, to support
students who have been identified as having substantial reading difficulties:
Progress Monitoring:
All students who are identified as substantially deficient or at-risk for
substantially deficient are required to receive weekly progress monitoring.
This allows schools to monitor the improvement students are making toward
end-of-year goals (i.e., spring benchmark) given the intervention they
receive.
Intensive Interventions:
All students identified as substantially deficient are required to receive
intervention to remediate their reading difficulties. This intervention is
required to continue until the student meets grade level expectations at the
next screening period.
To learn more about the new laws and how they impact students, visit the link
below.
https://www.educateiowa.gov/sites/files/ed/documents/2014-0826EarlyLiteracyGuidance.pdf
School/Family Partnership
We would like to partner with you in order to improve your child's reading skills.
Part of this partnership will include regular communication.
Connecting:
We will provide updates on your child's progress throughout the school
year. We encourage you to talk with your child's teacher about any questions
or concerns you may have.
Parent/School Contract:
We will follow up with a contract that will outline the school's
responsibilities and how we will partner with you to improve your child's
reading skills. More information regarding a contract will be forthcoming.
We look forward to partnering with you in order to improve your child's reading
skills. Please contact <insert contact person> with any questions or comments you
may have.
Sincerely,
School/Family Partnership
Research shows that reading proficiency by third grade is an important predictor of
school success. Early identification and support of a child who is a struggling reader
is essential and increases their chances of success. We look forward to partnering
with you in order to improve your child's reading skills.
As part of this partnership, we would like to work with you to ensure you have
access to resources for your child. At-home support is critical to improving students
reading skills. You may already have some resources, but, if you are interested, we
are willing to share the following ways that can help families support students at
home.
IRRC Family Resources:
The Iowa Reading Research Center (IRRC) offers an online collection of
literacy resources. The IRRC worked with parents and educators across Iowa
to evaluate online literacy tools that can be used to effectively support
students at home. You can find these resources on the Iowa Reading
Research Center website at: www.iowareadingresearch.org/resources
Community Resources:
<list community options available in the district that could support the child
in reading outside of school—eg. local libraries, etc.>
<Additional Resources provided by school>
<eg. a curriculum night, any online tools provided by the school>
If you have any questions about using these resources, please contact your child's
teacher. We will work with you to provide you with tools to ensure that your child
receives support at school as well as at home.