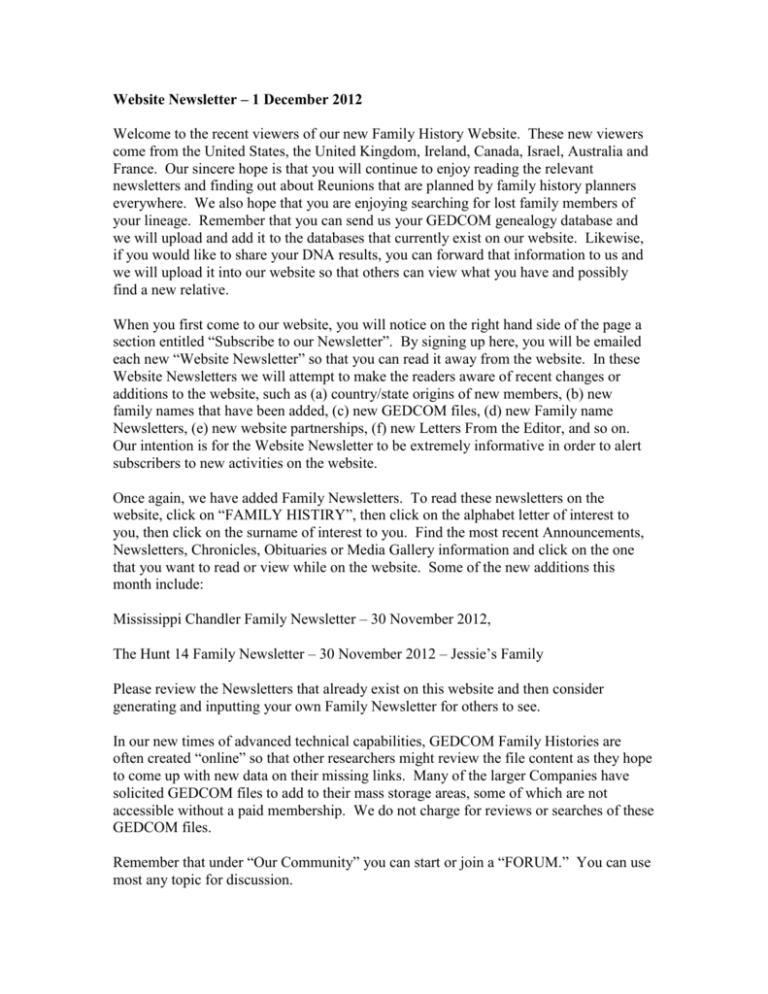 Website Newsletter – 1 December 2012
Welcome to the recent viewers of our new Family History Website. These new viewers
come from the United States, the United Kingdom, Ireland, Canada, Israel, Australia and
France. Our sincere hope is that you will continue to enjoy reading the relevant
newsletters and finding out about Reunions that are planned by family history planners
everywhere. We also hope that you are enjoying searching for lost family members of
your lineage. Remember that you can send us your GEDCOM genealogy database and
we will upload and add it to the databases that currently exist on our website. Likewise,
if you would like to share your DNA results, you can forward that information to us and
we will upload it into our website so that others can view what you have and possibly
find a new relative.
When you first come to our website, you will notice on the right hand side of the page a
section entitled "Subscribe to our Newsletter". By signing up here, you will be emailed
each new "Website Newsletter" so that you can read it away from the website. In these
Website Newsletters we will attempt to make the readers aware of recent changes or
additions to the website, such as (a) country/state origins of new members, (b) new
family names that have been added, (c) new GEDCOM files, (d) new Family name
Newsletters, (e) new website partnerships, (f) new Letters From the Editor, and so on.
Our intention is for the Website Newsletter to be extremely informative in order to alert
subscribers to new activities on the website.
Once again, we have added Family Newsletters. To read these newsletters on the
website, click on "FAMILY HISTIRY", then click on the alphabet letter of interest to
you, then click on the surname of interest to you. Find the most recent Announcements,
Newsletters, Chronicles, Obituaries or Media Gallery information and click on the one
that you want to read or view while on the website. Some of the new additions this
month include:
Mississippi Chandler Family Newsletter – 30 November 2012,
The Hunt 14 Family Newsletter – 30 November 2012 – Jessie's Family
Please review the Newsletters that already exist on this website and then consider
generating and inputting your own Family Newsletter for others to see.
In our new times of advanced technical capabilities, GEDCOM Family Histories are
often created "online" so that other researchers might review the file content as they hope
to come up with new data on their missing links. Many of the larger Companies have
solicited GEDCOM files to add to their mass storage areas, some of which are not
accessible without a paid membership. We do not charge for reviews or searches of these
GEDCOM files.
Remember that under "Our Community" you can start or join a "FORUM." You can use
most any topic for discussion.
We are preparing to have "Groups" available for membership only. We will have more
information available on this subject in the immediate future.
If you have concerns, let us hear from you via the "Contact Us" page.
The OnlineFamilyNetwork Team.