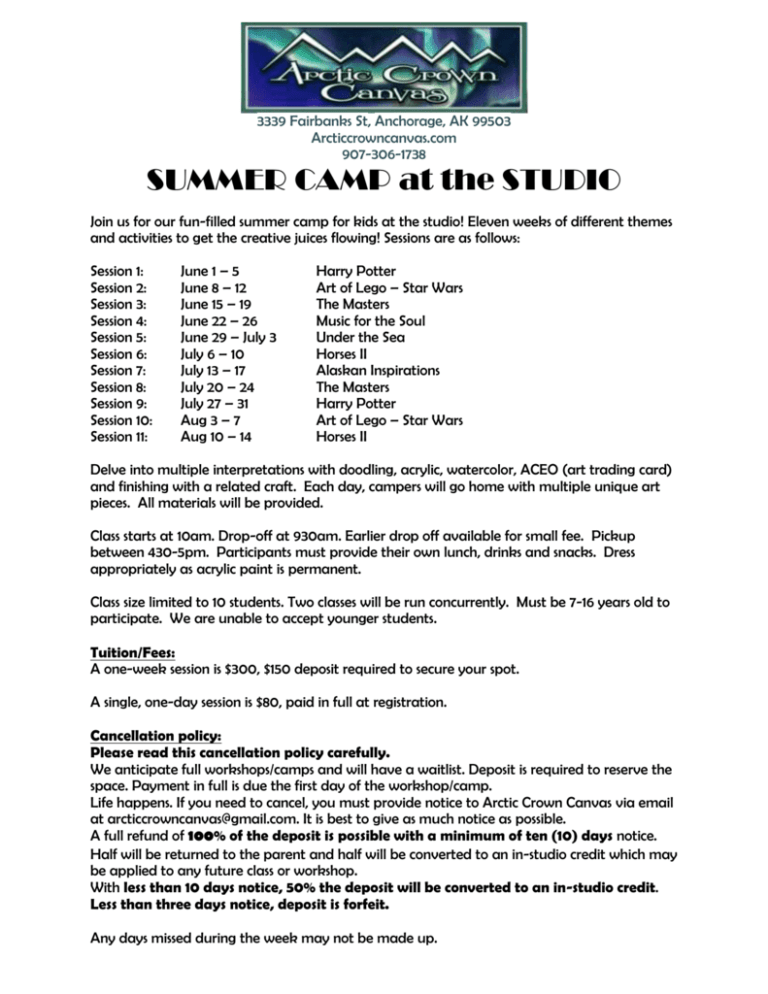 3339 Fairbanks St, Anchorage, AK 99503
Arcticcrowncanvas.com
907-306-1738
SUMMER CAMP at the STUDIO
Join us for our fun-filled summer camp for kids at the studio! Eleven weeks of different themes
and activities to get the creative juices flowing! Sessions are as follows:
Session 1:
Session 2:
Session 3:
Session 4:
Session 5:
Session 6:
Session 7:
Session 8:
Session 9:
Session 10:
Session 11:
June 1 – 5
June 8 – 12
June 15 – 19
June 22 – 26
June 29 – July 3
July 6 – 10
July 13 – 17
July 20 – 24
July 27 – 31
Aug 3 – 7
Aug 10 – 14
Harry Potter
Art of Lego – Star Wars
The Masters
Music for the Soul
Under the Sea
Horses II
Alaskan Inspirations
The Masters
Harry Potter
Art of Lego – Star Wars
Horses II
Delve into multiple interpretations with doodling, acrylic, watercolor, ACEO (art trading card)
and finishing with a related craft. Each day, campers will go home with multiple unique art
pieces. All materials will be provided.
Class starts at 10am. Drop-off at 930am. Earlier drop off available for small fee. Pickup
between 430-5pm. Participants must provide their own lunch, drinks and snacks. Dress
appropriately as acrylic paint is permanent.
Class size limited to 10 students. Two classes will be run concurrently. Must be 7-16 years old to
participate. We are unable to accept younger students.
Tuition/Fees:
A one-week session is $300, $150 deposit required to secure your spot.
A single, one-day session is $80, paid in full at registration.
Cancellation policy:
Please read this cancellation policy carefully.
We anticipate full workshops/camps and will have a waitlist. Deposit is required to reserve the
space. Payment in full is due the first day of the workshop/camp.
Life happens. If you need to cancel, you must provide notice to Arctic Crown Canvas via email
at [email protected] It is best to give as much notice as possible.
A full refund of 100% of the deposit is possible with a minimum of ten (10) days notice.
Half will be returned to the parent and half will be converted to an in-studio credit which may
be applied to any future class or workshop.
With less than 10 days notice, 50% the deposit will be converted to an in-studio credit.
Less than three days notice, deposit is forfeit.
Any days missed during the week may not be made up.