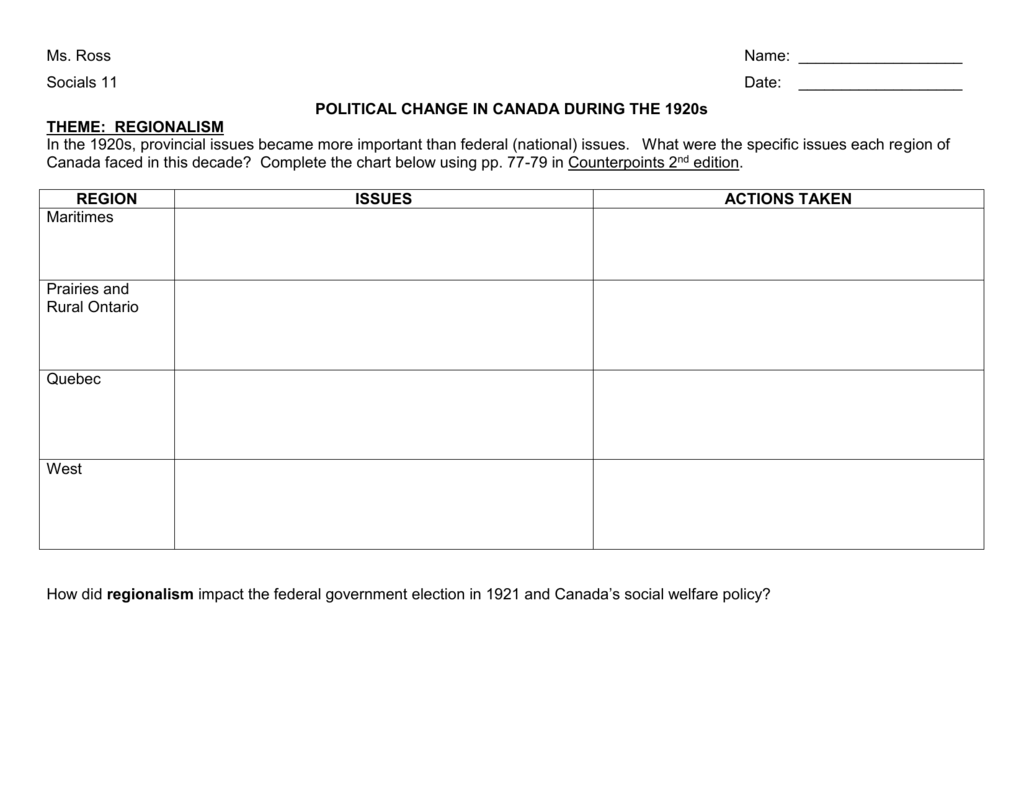 Ms. Ross
Name: ___________________
Socials 11
Date:
___________________
POLITICAL CHANGE IN CANADA DURING THE 1920s
THEME: REGIONALISM
In the 1920s, provincial issues became more important than federal (national) issues. What were the specific issues each region of
Canada faced in this decade? Complete the chart below using pp. 77-79 in Counterpoints 2nd edition.
REGION
Maritimes
ISSUES
ACTIONS TAKEN
Prairies and
Rural Ontario
Quebec
West
How did regionalism impact the federal government election in 1921 and Canada's social welfare policy?
THEME: CANADA'S GROWING AUTONOMY/INDEPENDENCE
During the 1920s, a number of political events helped to develop Canada's autonomy and independence from Britain. Summarize the
key ideas of the event, then analyze how this helped the nation develop independence. Use pp. 80-83 in Counterpoints 2nd edition.
EVENT
Chanak Crisis 1922
Halibut Treaty 1923
King-Byng Crisis 1926
Imperial Conference 1926
Balfour Report
Statute of Westminster 1931
SUMMARY
HOW DID THIS DEVELOP CANADIAN
AUTONOMY?