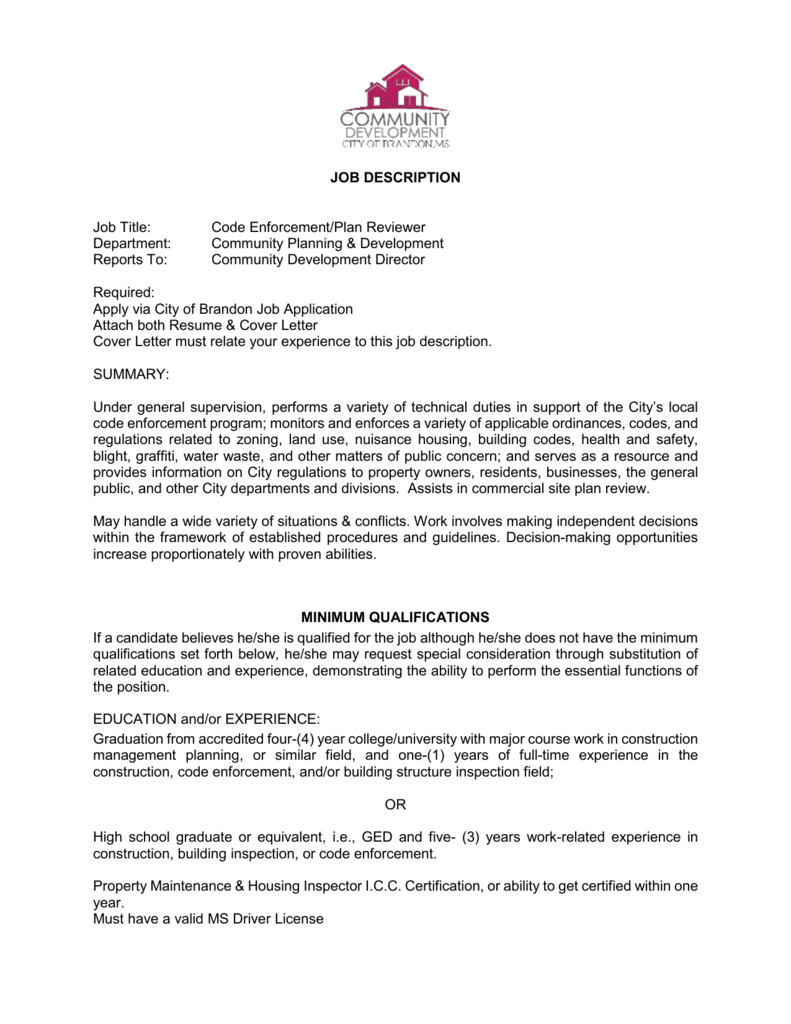 JOB DESCRIPTION
Job Title:
Department:
Reports To:
Code Enforcement/Plan Reviewer
Community Planning & Development
Community Development Director
Required:
Apply via City of Brandon Job Application
Attach both Resume & Cover Letter
Cover Letter must relate your experience to this job description.
SUMMARY:
Under general supervision, performs a variety of technical duties in support of the City's local
code enforcement program; monitors and enforces a variety of applicable ordinances, codes, and
regulations related to zoning, land use, nuisance housing, building codes, health and safety,
blight, graffiti, water waste, and other matters of public concern; and serves as a resource and
provides information on City regulations to property owners, residents, businesses, the general
public, and other City departments and divisions. Assists in commercial site plan review.
May handle a wide variety of situations & conflicts. Work involves making independent decisions
within the framework of established procedures and guidelines. Decision-making opportunities
increase proportionately with proven abilities.
MINIMUM QUALIFICATIONS
If a candidate believes he/she is qualified for the job although he/she does not have the minimum
qualifications set forth below, he/she may request special consideration through substitution of
related education and experience, demonstrating the ability to perform the essential functions of
the position.
EDUCATION and/or EXPERIENCE:
Graduation from accredited four-(4) year college/university with major course work in construction
management planning, or similar field, and one-(1) years of full-time experience in the
construction, code enforcement, and/or building structure inspection field;
OR
High school graduate or equivalent, i.e., GED and five- (3) years work-related experience in
construction, building inspection, or code enforcement.
Property Maintenance & Housing Inspector I.C.C. Certification, or ability to get certified within one
year.
Must have a valid MS Driver License
JOB RESPONSIBILITIES
• Coordinate operations, services, and activities of a municipal code compliance program
with other staff.
• Enforce pertinent codes, ordinances, laws, and regulations pertaining to zoning, nuisance
abatement, property maintenance, building, health and safety, and related areas.
• Maintain records related to all permits, investigations, zoning actions, enforcement
actions, etc.
• Conduct field investigations and document enforcement of policies.
• Assist direct with commercial site plan review.
• Assist staff with issuance of permits
KNOWLEDGE, SKILLS, ABILITIES, AND OTHER CHARACTERISTICS
•
•
•
•
•
•
•
•
•
•
Ability to read and interpret construction plans and specifications.
Ability to maintain accurate documentation and case files on all investigations,
inspections, enforcement actions, and other job related activities including accurate and
detailed information regarding code enforcement activity to substantiate violations; draw
diagrams and illustrations and take photographs.
Knowledge of procedures involved in the enforcement of codes and regulations including
methods and techniques of conducting and documenting field investigations.
Knowledge of city services and organizational structure as they relate to code compliance.
Knowledge of legal actions applicable to code enforcement compliance.
Methods and techniques of business correspondence and technical report preparation.
Modern office procedures, methods, and equipment including computers and supporting
word processing and spreadsheet applications.
Knowledge of occupational hazards and standard safety practices.
Knowledge of current zoning and development laws and enforcement.
Knowledge of the International Building Code, International Mechanical Code,
International Plumbing Code, International Residential Code, and the National Electrical
Code; working knowledge of current construction methods, materials, tools and
equipment.
OTHER REQUIREMENTS:
•
Valid Mississippi drivers' license
PHYSICAL REQUIREMENTS:
These physical requirements are not exhaustive and additional job-related physical demands may
be added to these by the City if the need arises. Corrective devices may be used to meet these
physical requirements.
While performing the duties of this job, the employee is regularly required to use hands to finger,
handle, or feel; reach with hands and arms; and talk or hear in both office and field environment.
The employee frequently is required to sit, stand; climb or balance; stoop, kneel, crouch, crawl or
operate a motor vehicle. The employee must regularly lift and/or move up to 25 pounds and
occasionally lift and/or move up to 50 pounds. Specific vision requires ability to perceive and
discern objects by eye including maps, charts, and such items.
WORK ENVIRONMENT:
While performing the duties of this job, the employee is occasionally exposed to outside weather
conditions, extreme cold, and extreme heat, and wet and/or humid conditions. The noise level in
the outside work environment is moderate to loud.