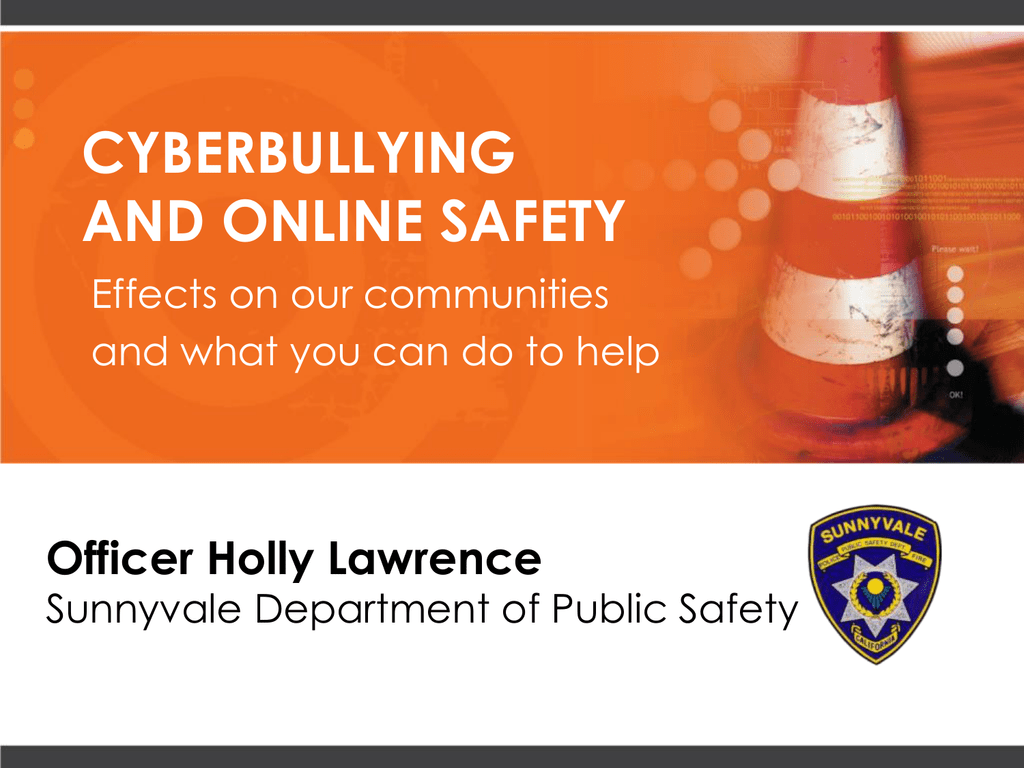 CYBERBULLYING
AND ONLINE SAFETY
Effects on our communities
and what you can do to help
Officer Holly Lawrence
Sunnyvale Department of Public Safety
Agenda
Traditional Media vs. Today's Media
Law Enforcement's Media Concerns
Our Response
The Digital Safety Program
Our Results
What You Can Do
Media Today
Today's media differs
from traditional media in:
- Speed
- Reach
- Accessibility
Media Usage Today
• Widespread: More than 77% of youth ages 12-17
have a cell phone.
• Always on: The average youth between 8-18 yearsold spends 7.5 hours using media per day. That's
more time than they spend in school or with their
parents.
• Large scale: The typical teen sends 1,800 texts per
month.
*Pew Research Center's Internet & American Life Project Teen/Parent Survey 2011
*Generation M2: Media in the Lives of 8- to 18-Year-Olds, Kaiser Family Foundation, 2010
*Pew Research Center's Internet & American Life Project Teens, Smartphone &Texting 2012
Law Enforcement's Media
Concerns
Operational Readiness
Laws
Staying Current
What We've Seen
• Police officers are responding to calls for
service increasingly linked to mobile phones
and social media.
•
•
•
•
Threats and fights
Impersonation
Sexting
Risky behavior
Threats and Fights
Photo credit: J O I D via Flickr.
Impersonation
Sexting
Risky Behavior
Our Agency's Response
1. Seek possible solutions
2. Research existing programs
3. Partner with Yahoo!
Our Agency's Response
Understanding that addressing tech offenses requires:
•Educating on the scope of the problem and assisting
to help prosecute cases for all parties involved.
•
•
•
•
•
Attorneys General
District attorneys
Judges
Juvenile Probation
Schools
Digital Safety as a Solution
Educate
•
•
•
•
•
Courts
District Attorneys
Law Enforcement Agencies
Probation
Public
Train
• Increase Law enforcement
response and interest
Legal Review
• Evaluate and strengthen existing laws
Digital Safety Training
• California Commission
on Peace Officer
Standards and Training
(POST) certified.
• The only POSTapproved course in
California on
cyberbullying.
Results
• Law enforcement:
• High demand for training and materials
• Full capacity classes and waiting lists
• Digital Safety email group
• Community groups
Requests for law enforcement presentations from:
• Schools
• PTAs
• Faith-based organizations
• Community centers
• Health organizations
Program Components
• We believe there
exists a disconnect
between kids and
parents when it
comes to
technology.
• Our course is
tailored to those
different needs.
Kids:
How to
make
good
decisions
online
Adults:
How to
parent
online
Digital Safety Program DVD Contents
Proactive
Youth 1 hour
presentation
Adults 1 hour
presentation
Reactive
Youth 3 hour
diversion
presentation
Adults 3 hour
diversion
presentation
Speaker notes
Family Media
Agreement
What You Can Do
Learn the issues
Identify system partners
Champion change
Review and implement laws
Contacts
Sunnyvale Department of Public Safety
Officer Holly Lawrence
[email protected]
408.730.7146
Yahoo! Trust and Safety
Megan Cristina, Director
[email protected]
408.349.3995
"Jill's Story"
Video courtesy of Yahoo!