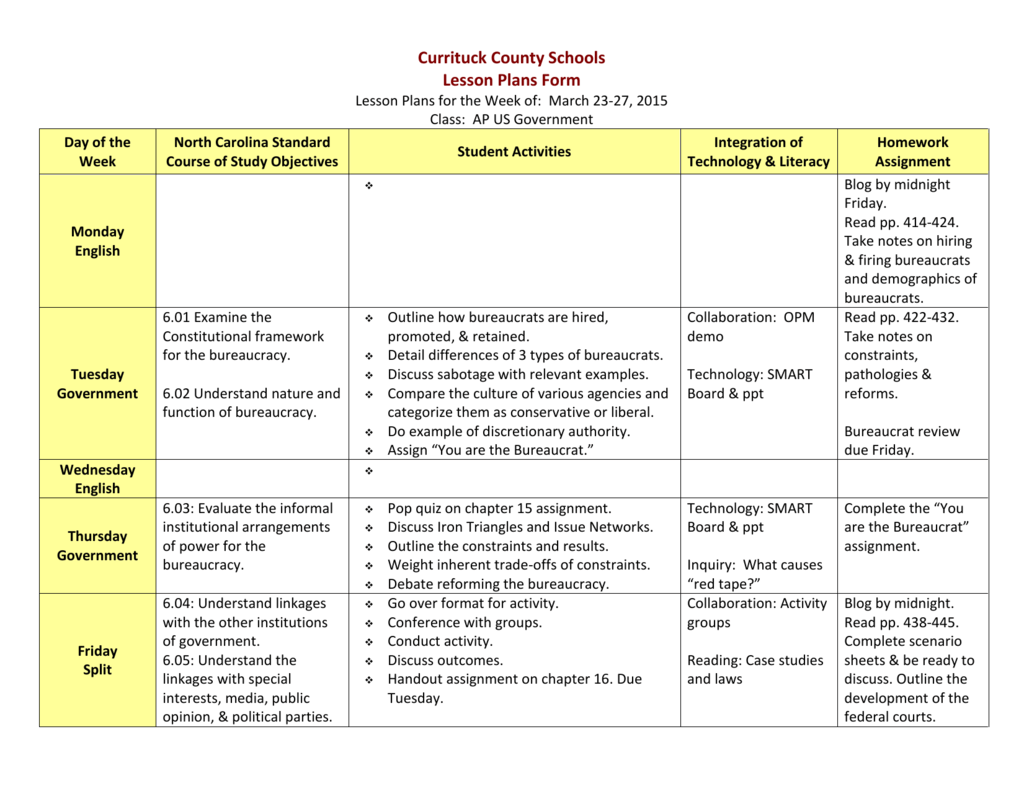 Currituck County Schools
Lesson Plans Form
Lesson Plans for the Week of: March 23-27, 2015
Class: AP US Government
Day of the
Week
North Carolina Standard
Course of Study Objectives
Student Activities
Integration of
Technology & Literacy

Monday
English
6.01 Examine the
Constitutional framework
for the bureaucracy.
Tuesday
Government



6.02 Understand nature and
function of bureaucracy.



Wednesday
English
Thursday
Government
Collaboration: OPM
demo
Pop quiz on chapter 15 assignment.
Discuss Iron Triangles and Issue Networks.
Outline the constraints and results.
Weight inherent trade-offs of constraints.
Debate reforming the bureaucracy.
Go over format for activity.
Conference with groups.
Conduct activity.
Discuss outcomes.
Handout assignment on chapter 16. Due
Tuesday.
Technology: SMART
Board & ppt
Technology: SMART
Board & ppt
Bureaucrat review
due Friday.

6.03: Evaluate the informal
institutional arrangements
of power for the
bureaucracy.





Friday
Split
Outline how bureaucrats are hired,
promoted, & retained.
Detail differences of 3 types of bureaucrats.
Discuss sabotage with relevant examples.
Compare the culture of various agencies and
categorize them as conservative or liberal.
Do example of discretionary authority.
Assign "You are the Bureaucrat."
Homework
Assignment
Blog by midnight
Friday.
Read pp. 414-424.
Take notes on hiring
& firing bureaucrats
and demographics of
bureaucrats.
Read pp. 422-432.
Take notes on
constraints,
pathologies &
reforms.
6.04: Understand linkages
with the other institutions
of government.
6.05: Understand the
linkages with special
interests, media, public
opinion, & political parties.





Inquiry: What causes
"red tape?"
Collaboration: Activity
groups
Reading: Case studies
and laws
Complete the "You
are the Bureaucrat"
assignment.
Blog by midnight.
Read pp. 438-445.
Complete scenario
sheets & be ready to
discuss. Outline the
development of the
federal courts.