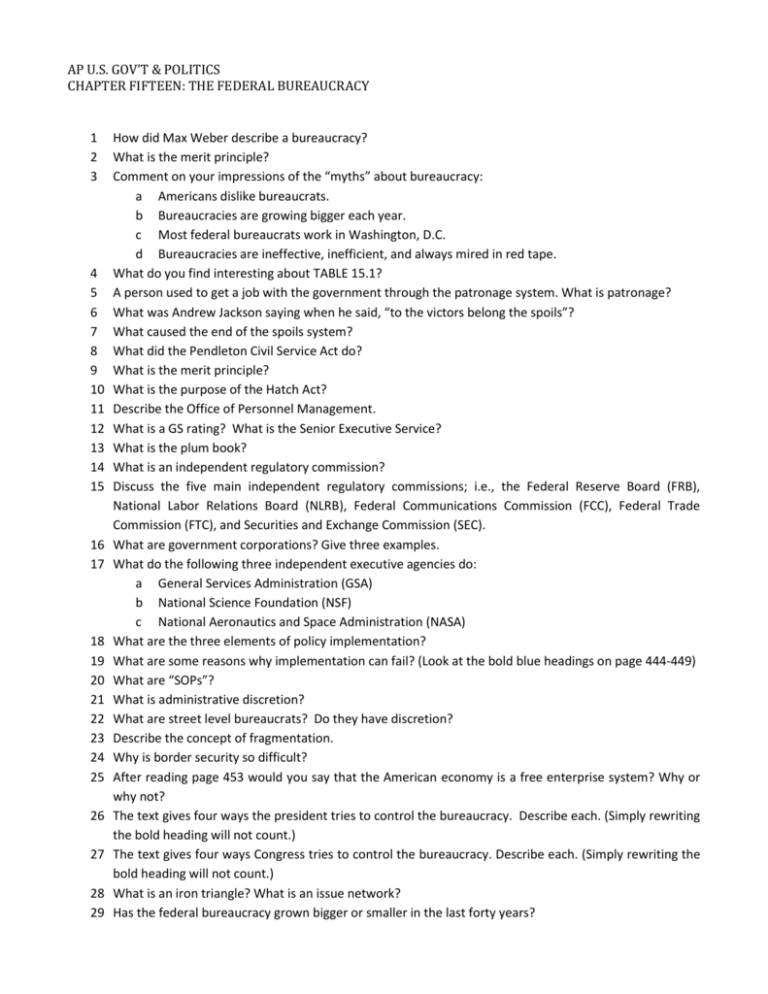 AP U.S. GOV'T & POLITICS
CHAPTER FIFTEEN: THE FEDERAL BUREAUCRACY
1
2
3
4
5
6
7
8
9
10
11
12
13
14
15
16
17
18
19
20
21
22
23
24
25
26
27
28
29
How did Max Weber describe a bureaucracy?
What is the merit principle?
Comment on your impressions of the "myths" about bureaucracy:
a Americans dislike bureaucrats.
b Bureaucracies are growing bigger each year.
c Most federal bureaucrats work in Washington, D.C.
d Bureaucracies are ineffective, inefficient, and always mired in red tape.
What do you find interesting about TABLE 15.1?
A person used to get a job with the government through the patronage system. What is patronage?
What was Andrew Jackson saying when he said, "to the victors belong the spoils"?
What caused the end of the spoils system?
What did the Pendleton Civil Service Act do?
What is the merit principle?
What is the purpose of the Hatch Act?
Describe the Office of Personnel Management.
What is a GS rating? What is the Senior Executive Service?
What is the plum book?
What is an independent regulatory commission?
Discuss the five main independent regulatory commissions; i.e., the Federal Reserve Board (FRB),
National Labor Relations Board (NLRB), Federal Communications Commission (FCC), Federal Trade
Commission (FTC), and Securities and Exchange Commission (SEC).
What are government corporations? Give three examples.
What do the following three independent executive agencies do:
a General Services Administration (GSA)
b National Science Foundation (NSF)
c National Aeronautics and Space Administration (NASA)
What are the three elements of policy implementation?
What are some reasons why implementation can fail? (Look at the bold blue headings on page 444-449)
What are "SOPs"?
What is administrative discretion?
What are street level bureaucrats? Do they have discretion?
Describe the concept of fragmentation.
Why is border security so difficult?
After reading page 453 would you say that the American economy is a free enterprise system? Why or
why not?
The text gives four ways the president tries to control the bureaucracy. Describe each. (Simply rewriting
the bold heading will not count.)
The text gives four ways Congress tries to control the bureaucracy. Describe each. (Simply rewriting the
bold heading will not count.)
What is an iron triangle? What is an issue network?
Has the federal bureaucracy grown bigger or smaller in the last forty years?