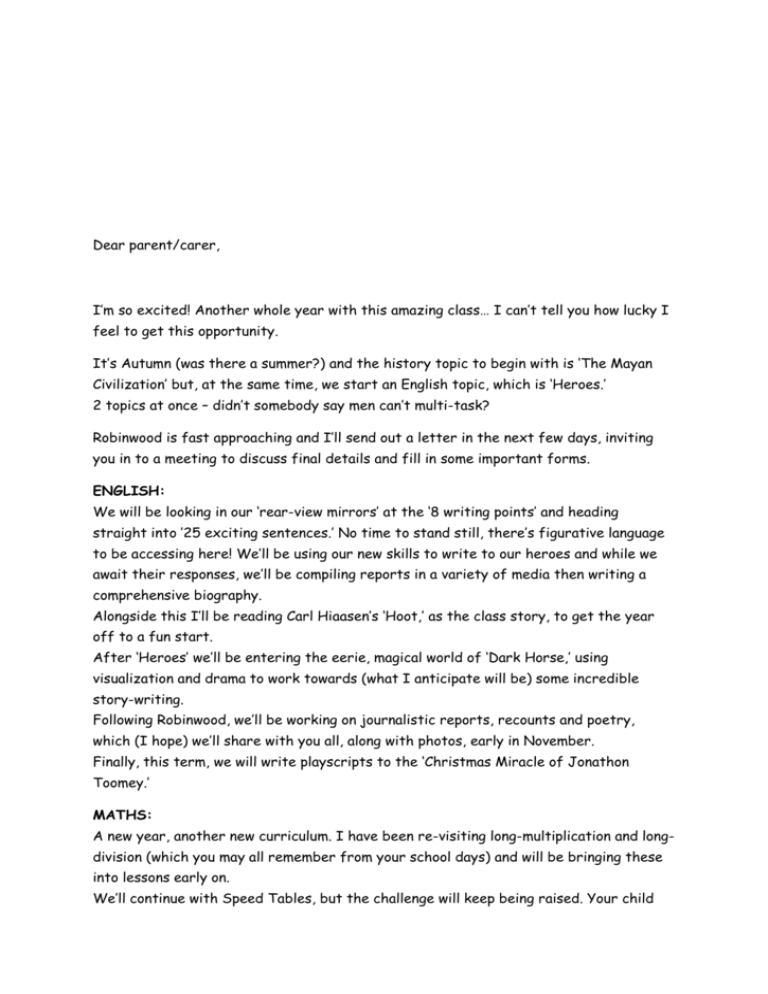 Dear parent/carer,
I'm so excited! Another whole year with this amazing class… I can't tell you how lucky I
feel to get this opportunity.
It's Autumn (was there a summer?) and the history topic to begin with is 'The Mayan
Civilization' but, at the same time, we start an English topic, which is 'Heroes.'
2 topics at once – didn't somebody say men can't multi-task?
Robinwood is fast approaching and I'll send out a letter in the next few days, inviting
you in to a meeting to discuss final details and fill in some important forms.
ENGLISH:
We will be looking in our 'rear-view mirrors' at the '8 writing points' and heading
straight into '25 exciting sentences.' No time to stand still, there's figurative language
to be accessing here! We'll be using our new skills to write to our heroes and while we
await their responses, we'll be compiling reports in a variety of media then writing a
comprehensive biography.
Alongside this I'll be reading Carl Hiaasen's 'Hoot,' as the class story, to get the year
off to a fun start.
After 'Heroes' we'll be entering the eerie, magical world of 'Dark Horse,' using
visualization and drama to work towards (what I anticipate will be) some incredible
story-writing.
Following Robinwood, we'll be working on journalistic reports, recounts and poetry,
which (I hope) we'll share with you all, along with photos, early in November.
Finally, this term, we will write playscripts to the 'Christmas Miracle of Jonathon
Toomey.'
MATHS:
A new year, another new curriculum. I have been re-visiting long-multiplication and longdivision (which you may all remember from your school days) and will be bringing these
into lessons early on.
We'll continue with Speed Tables, but the challenge will keep being raised. Your child
should be comfortable with ALL of their times tables by now. This will be more and
more important as the year goes on. As with last year, the invitation is there. Any
parents, who would like to join the honour roll, alongside Mr Hirst and Mr Stead are
more than welcome to join us on Wednesday mornings.
Maths homework will be from the Schofield and Sims homework books, which have
proved to be so successful, and will go out each Friday to be handed in by Wednesday
please. Any questions that prove confusing can be 'asterisked' and we will go through
these with the child. I will take these issues, along with my ongoing lesson assessment
as a basis for providing focused small group and one to one sessions where necessary.
SCIENCE:
Will be FUN and practical wherever possible with key scientific facts being taught
alongside investigations. This term we will be covering 'Classifying Critters' and 'Staying
Alive.'
PE:
On Monday (with Mr Crouch!) and Tuesday this year. Children will need a full labelled
PE kit – including correct footwear – in school for these days in order to participate. As
per the school policy, long hair must be tied up and ear-rings removed or taped up
during PE.
HISTORY:
I'm planning a history project which will run over the whole year, based on ancient
civilizations and culminating in some kind of show in the hall during the Summer. This
might change during the year but will definitely begin with the Mayan civilization.
GEOGRAPHY:
We'll be looking at UK cities and regions during Autumn, and revisiting OS maps and
grid references.
D&T:
We will begin the year with a joint Y5/6 Modrock day (which kept getting put off last
year) so please send in any old shirts. Following this, Mrs Barker will be teaching
mechanical systems.
Below you will see a complete table of the plan for the Autumn term. Do not hesitate to
get in contact with us with any questions or concerns.
Subject
Literacy
Autumn 1
Heroes – letter writing,
biography, reports.
Darks Horse – Flashback
Autumn 2
Robinwood – Journalistic
text, recount, poetry.
Jonathon Toomey –
story writing, authors
Playscript, descriptive
and texts.
writing.
Maths
Number, Calculations, Fractions, Geometry,
Measurement, Ratio and Proportion, Algebra,
Statistics
Science
Classifying Critters
Staying Alve
History/Geography/Topic Mayan Civilization
Cities & regions of the
UK, OS Maps
Art/D&T
Modrock
Mayan Art – Window
Creatures Project
Painting
Languages
French and Japanese
French and Italian
Computing
We are APP Planners
We are Project
Managers
R.E.
What does it mean to be Can charity change the
a Sikh?
world?
Music
Cyclic Patterns and in
Roundabout and Xmas
class singing.
Performance.
PSHCE
Democracy
Responsibilities
PE
Gymnastics/Netball
Dance/Football
It's all going to be fantastic, I just hope it doesn't fly by as quickly as last year did
otherwise we'll all be at Crickstock before you know it and this year I'm planning to get
parents on stage!!
Be afraid… be very afraid.
As usual, any time you want to come in to class, get involved somehow or are simply
looking for a way of helping, then feel free to come in and see me. Any questions, you
can pop in, via the office any time.
Mr Clayton and Mrs Johnson.