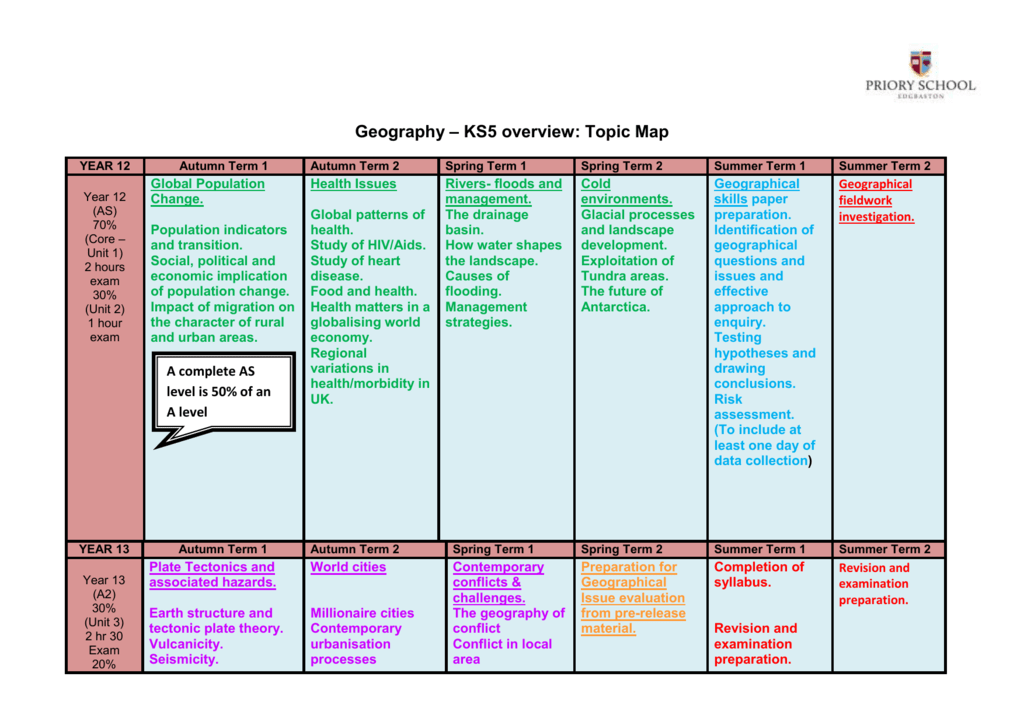 Geography – KS5 overview: Topic Map
YEAR 12
Year 12
(AS)
70%
(Core –
Unit 1)
2 hours
exam
30%
(Unit 2)
1 hour
exam
Autumn Term 1
Autumn Term 2
Spring Term 1
Spring Term 2
Summer Term 1
Summer Term 2
Global Population
Change.
Health Issues
Rivers- floods and
management.
The drainage
basin.
How water shapes
the landscape.
Causes of
flooding.
Management
strategies.
Cold
environments.
Glacial processes
and landscape
development.
Exploitation of
Tundra areas.
The future of
Antarctica.
Geographical
skills paper
preparation.
Identification of
geographical
questions and
issues and
effective
approach to
enquiry.
Testing
hypotheses and
drawing
conclusions.
Risk
assessment.
(To include at
least one day of
data collection)
Geographical
fieldwork
investigation.
Population indicators
and transition.
Social, political and
economic implication
of population change.
Impact of migration on
the character of rural
and urban areas.
A complete AS
level is 50% of an
A level
YEAR 13
Year 13
(A2)
30%
(Unit 3)
2 hr 30
Exam
20%
Autumn Term 1
Global patterns of
health.
Study of HIV/Aids.
Study of heart
disease.
Food and health.
Health matters in a
globalising world
economy.
Regional
variations in
health/morbidity in
UK.
Autumn Term 2
Spring Term 1
Spring Term 2
Summer Term 1
Summer Term 2
Plate Tectonics and
associated hazards.
World cities
Revision and
examination
preparation.
Millionaire cities
Contemporary
urbanisation
processes
Preparation for
Geographical
Issue evaluation
from pre-release
material.
Completion of
syllabus.
Earth structure and
tectonic plate theory.
Vulcanicity.
Seismicity.
Contemporary
conflicts &
challenges.
The geography of
conflict
Conflict in local
area
Revision and
examination
preparation.
(Unit 4)
Exam
based on
advanced
info booklet
Tsunamis.
(To include recent
case-studies of
volcanoes/earthquakes
to include
nature/impact of event
and management.
Urban decline and
regeneration
Retailing and other
services
Contemporary
sustainability
issued in urban
areas.
International
conflicts (Middle
East/Afghanistan
/ Sudan.
Challenge of
multi-cultural
societies.
Challenge of
global poverty.