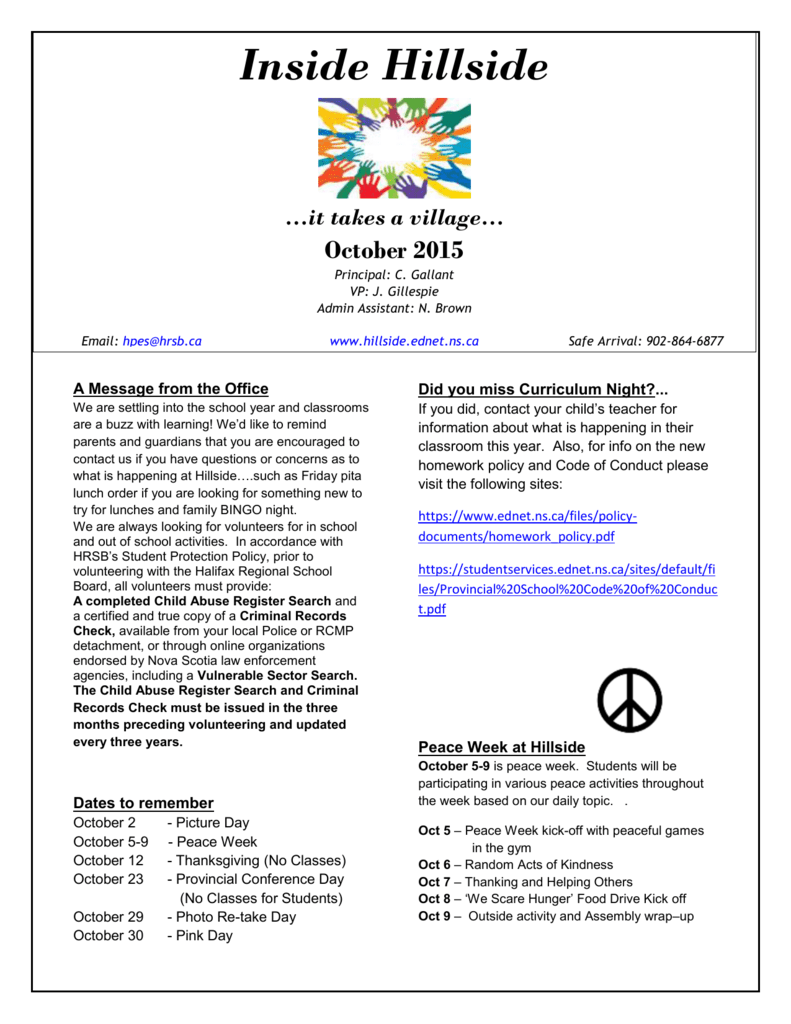 Inside Hillside
…it takes a village…
October 2015
Principal: C. Gallant
VP: J. Gillespie
Admin Assistant: N. Brown
Email: [email protected]
www.hillside.ednet.ns.ca
Safe Arrival: 902-864-6877
A Message from the Office
Did you miss Curriculum Night?...
We are settling into the school year and classrooms
are a buzz with learning! We'd like to remind
parents and guardians that you are encouraged to
contact us if you have questions or concerns as to
what is happening at Hillside….such as Friday pita
lunch order if you are looking for something new to
try for lunches and family BINGO night.
We are always looking for volunteers for in school
and out of school activities. In accordance with
HRSB's Student Protection Policy, prior to
volunteering with the Halifax Regional School
Board, all volunteers must provide:
A completed Child Abuse Register Search and
a certified and true copy of a Criminal Records
Check, available from your local Police or RCMP
detachment, or through online organizations
endorsed by Nova Scotia law enforcement
agencies, including a Vulnerable Sector Search.
The Child Abuse Register Search and Criminal
Records Check must be issued in the three
months preceding volunteering and updated
every three years.
If you did, contact your child's teacher for
information about what is happening in their
classroom this year. Also, for info on the new
homework policy and Code of Conduct please
visit the following sites:
Dates to remember
October 2
October 5-9
October 12
October 23
October 29
October 30
- Picture Day
- Peace Week
- Thanksgiving (No Classes)
- Provincial Conference Day
(No Classes for Students)
- Photo Re-take Day
- Pink Day
https://www.ednet.ns.ca/files/policydocuments/homework_policy.pdf
https://studentservices.ednet.ns.ca/sites/default/fi
les/Provincial%20School%20Code%20of%20Conduc
t.pdf
Peace Week at Hillside
October 5-9 is peace week. Students will be
participating in various peace activities throughout
the week based on our daily topic. .
Oct 5 – Peace Week kick-off with peaceful games
in the gym
Oct 6 – Random Acts of Kindness
Oct 7 – Thanking and Helping Others
Oct 8 – 'We Scare Hunger' Food Drive Kick off
Oct 9 – Outside activity and Assembly wrap–up
SchoolsPlus at Hillside
Community Use of Schools Grant:
We want to take this opportunity to let our Hillside
community know of the amazing community
outreach program that is housed in our building.
Lynda Brake is our Community Outreach Worker,
and Lisa Meservery is the SchoolsPlus Assistant
Leader. These two amazing and dedicated
professionals work tirelessly to support our families.
They create parent and family friendly spaces and
work with children, youth, and their families to
identify and access resources. For more
information regarding this program, please contact:
Lynda Brake, SchoolsPlus Community Outreach
Worker, at 902.497.9589 or [email protected]
The Community Use of Schools Grant
program is designed to provide
organizations within the Halifax Regional
Municipality with improved access to school
facilities and to promote healthy, active
living, cultural events and educational
programs. Grants will support community
groups and organizations that wish to use
school facilities for non-traditional physical
activities (ex. Cricket, Martial Arts), cultural
celebrations and immigrant settling, and
educational organizations (Scouts, Girl
Guides, etc). This funding may be used to
reduce or eliminate the cost of custodial
staff and rental fees usually associated with
facility leasing. Organizations that may not
have been able to rent or lease facilities for
financial reasons will now be able to access
school facilities easily and without an
increased cost to participants and their
families. For more information or questions
please contact Dustin Ellsworth at
[email protected]
Please see attached information regarding an
upcoming program.
Indigo Adopt a School Program
Our school has been adopted by Indigo. What
this means is for every person/family member
that goes on the website
www.adoptaschool.indigo.ca and "adopts" our
school, we could earn money for books! There
is no cost to adopt us, it just takes a few
minutes of your time! You also need to adopt
every day for us to have a chance to win!
If you donate $12 it will buy a book for our
school and it will automatically buy you 10
votes!
Monthly High Five Assemblies
At our monthly Assemblies, students who
have been Bucket Fillers will have their
names placed in a draw for prizes. So if
your student comes home with a prize, ask
them how they filled someone's bucket!
PTG & SAC
The first PTG and SAC meeting was held on
September 15th and we are already hard at
work. The Holiday Magic fundraising
catalogues have been sent home as our first
fundraiser and on October 29th we will be
hosting a Halloween themed Bingo which will
include spooky music and fun prizes. We hope
to see you that night and thank you for
supporting the Hillside Park Parent Teacher
Group. Our next meeting is on October 26th at
6:30 in the library. New members to the group
are always welcome.
Save the Planet – Keep Batteries out
of the Landfill Teachers Plus Credit Union
is proud to partner with Hillside in their battery
collection program. Send your used household
batteries (no car batteries please) into the
school with your children for collection in their
classroom. Please help make this earth a
better place for future generations.