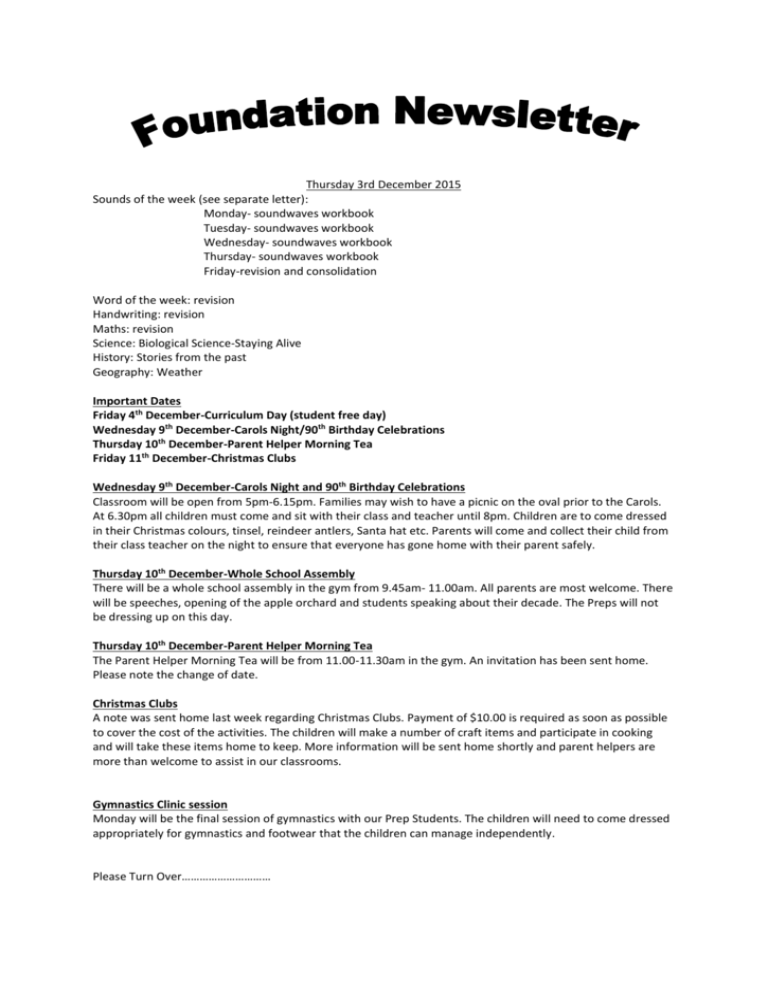 Thursday 3rd December 2015
Sounds of the week (see separate letter):
Monday- soundwaves workbook
Tuesday- soundwaves workbook
Wednesday- soundwaves workbook
Thursday- soundwaves workbook
Friday-revision and consolidation
Word of the week: revision
Handwriting: revision
Maths: revision
Science: Biological Science-Staying Alive
History: Stories from the past
Geography: Weather
Important Dates
Friday 4th December-Curriculum Day (student free day)
Wednesday 9th December-Carols Night/90th Birthday Celebrations
Thursday 10th December-Parent Helper Morning Tea
Friday 11th December-Christmas Clubs
Wednesday 9th December-Carols Night and 90th Birthday Celebrations
Classroom will be open from 5pm-6.15pm. Families may wish to have a picnic on the oval prior to the Carols.
At 6.30pm all children must come and sit with their class and teacher until 8pm. Children are to come dressed
in their Christmas colours, tinsel, reindeer antlers, Santa hat etc. Parents will come and collect their child from
their class teacher on the night to ensure that everyone has gone home with their parent safely.
Thursday 10th December-Whole School Assembly
There will be a whole school assembly in the gym from 9.45am- 11.00am. All parents are most welcome. There
will be speeches, opening of the apple orchard and students speaking about their decade. The Preps will not
be dressing up on this day.
Thursday 10th December-Parent Helper Morning Tea
The Parent Helper Morning Tea will be from 11.00-11.30am in the gym. An invitation has been sent home.
Please note the change of date.
Christmas Clubs
A note was sent home last week regarding Christmas Clubs. Payment of $10.00 is required as soon as possible
to cover the cost of the activities. The children will make a number of craft items and participate in cooking
and will take these items home to keep. More information will be sent home shortly and parent helpers are
more than welcome to assist in our classrooms.
Gymnastics Clinic session
Monday will be the final session of gymnastics with our Prep Students. The children will need to come dressed
appropriately for gymnastics and footwear that the children can manage independently.
Please Turn Over…………………………
Salvation Army Class Collections
As part of our Social Service this term, each classroom will be collecting items for the Salvation Army. These
boxes will be presented at Carols Night later in the year. Non- perishable items such as tins of food, pasta, new
toys, books, children's toys are being collected by each grade in the school. We thank you for supporting our
social service efforts this year and for making generous donations and these are greatly appreciated.
Special Words
Please continue to support your child as they learn their special words. We will continue to test the M100W
words on a regular basis and move onto a new set once they are able to recognise all words without
hesitation. Students are now working on their own personal lists. A copy of the words will be going home over
the holidays so that you can continue to revise them with your child.
Stars of the Week
Prep R
Nate C
Lucas M
Prep B
Hayden D
Prep K
Jackson I
Thank you
A big thank you to all our Parent Helpers and Teachers that assisted on the excursion to Coopers Settlement
(Emily Murcott, Jennifer Stone, Kerry Graham and Drew Graham). It was a great day.
Class Christmas Parties
Class Christmas Parties will be held on Tuesday 15th December. More details to follow.