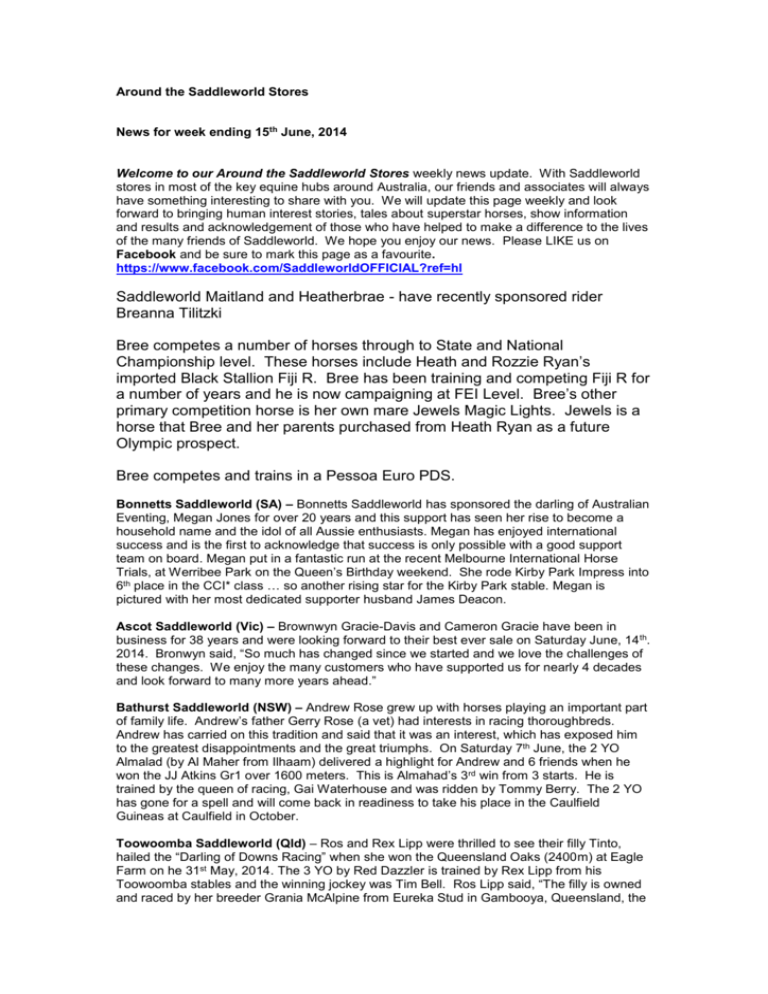 Around the Saddleworld Stores
News for week ending 15th June, 2014
Welcome to our Around the Saddleworld Stores weekly news update. With Saddleworld
stores in most of the key equine hubs around Australia, our friends and associates will always
have something interesting to share with you. We will update this page weekly and look
forward to bringing human interest stories, tales about superstar horses, show information
and results and acknowledgement of those who have helped to make a difference to the lives
of the many friends of Saddleworld. We hope you enjoy our news. Please LIKE us on
Facebook and be sure to mark this page as a favourite.
https://www.facebook.com/SaddleworldOFFICIAL?ref=hl
Saddleworld Maitland and Heatherbrae - have recently sponsored rider
Breanna Tilitzki
Bree competes a number of horses through to State and National
Championship level. These horses include Heath and Rozzie Ryan's
imported Black Stallion Fiji R. Bree has been training and competing Fiji R for
a number of years and he is now campaigning at FEI Level. Bree's other
primary competition horse is her own mare Jewels Magic Lights. Jewels is a
horse that Bree and her parents purchased from Heath Ryan as a future
Olympic prospect.
Bree competes and trains in a Pessoa Euro PDS.
Bonnetts Saddleworld (SA) – Bonnetts Saddleworld has sponsored the darling of Australian
Eventing, Megan Jones for over 20 years and this support has seen her rise to become a
household name and the idol of all Aussie enthusiasts. Megan has enjoyed international
success and is the first to acknowledge that success is only possible with a good support
team on board. Megan put in a fantastic run at the recent Melbourne International Horse
Trials, at Werribee Park on the Queen's Birthday weekend. She rode Kirby Park Impress into
6th place in the CCI* class … so another rising star for the Kirby Park stable. Megan is
pictured with her most dedicated supporter husband James Deacon.
Ascot Saddleworld (Vic) – Brownwyn Gracie-Davis and Cameron Gracie have been in
business for 38 years and were looking forward to their best ever sale on Saturday June, 14 th.
2014. Bronwyn said, "So much has changed since we started and we love the challenges of
these changes. We enjoy the many customers who have supported us for nearly 4 decades
and look forward to many more years ahead."
Bathurst Saddleworld (NSW) – Andrew Rose grew up with horses playing an important part
of family life. Andrew's father Gerry Rose (a vet) had interests in racing thoroughbreds.
Andrew has carried on this tradition and said that it was an interest, which has exposed him
to the greatest disappointments and the great triumphs. On Saturday 7th June, the 2 YO
Almalad (by Al Maher from Ilhaam) delivered a highlight for Andrew and 6 friends when he
won the JJ Atkins Gr1 over 1600 meters. This is Almahad's 3rd win from 3 starts. He is
trained by the queen of racing, Gai Waterhouse and was ridden by Tommy Berry. The 2 YO
has gone for a spell and will come back in readiness to take his place in the Caulfield
Guineas at Caulfield in October.
Toowoomba Saddleworld (Qld) – Ros and Rex Lipp were thrilled to see their filly Tinto,
hailed the "Darling of Downs Racing" when she won the Queensland Oaks (2400m) at Eagle
Farm on he 31st May, 2014. The 3 YO by Red Dazzler is trained by Rex Lipp from his
Toowoomba stables and the winning jockey was Tim Bell. Ros Lipp said, "The filly is owned
and raced by her breeder Grania McAlpine from Eureka Stud in Gambooya, Queensland, the
home of Red Dazzler. We are all on a "high" and everyone connected to Saddleworld
Toowoomba has shared the victory with us.
Mustad Lowdens Saddleworld (Vic) - Anna Zorzetti enjoys her shopping spree.
Saddleworld recently announced the winner of the $5,000 Shopping Spree competition, which
was open to customers of all Saddleworld stores around Australia and redeemable at that
store. Anna Zorzetti, a medical scientist who lives in Whittlesea, Victoria, won the coveted
prize. Anna as been a customer of Mustad Lowdens Saddleworld for 20 years and she filled
in the coupon and lodged it whilst shopping in Kilmore. Many hopefuls also filled in their
coupon when they were shopping at their local Saddleworld store.
Mustad Lowdens Saddleworld (Vic) Have just celebrated the second birthday of
Destination Equestrian, which embraces a wider range of services and support for the
Australian equestrian community. The indoor arena has been widely used for clinics and
general education, saddle fitting and private events.
Saddleworld Wauchope (NSW) - Top Service Award for Angie. As a family owned
business, Angie Andrighetto and her mum Jean pride themselves on top customer service
and providing the best products at affordable prices. According to a reader of the local
paper, the "Port News", who nominated Angie for the local service award, "she is very helpful
in recommending products. Angie was delighted that her special brand of customer service
has been recognised.