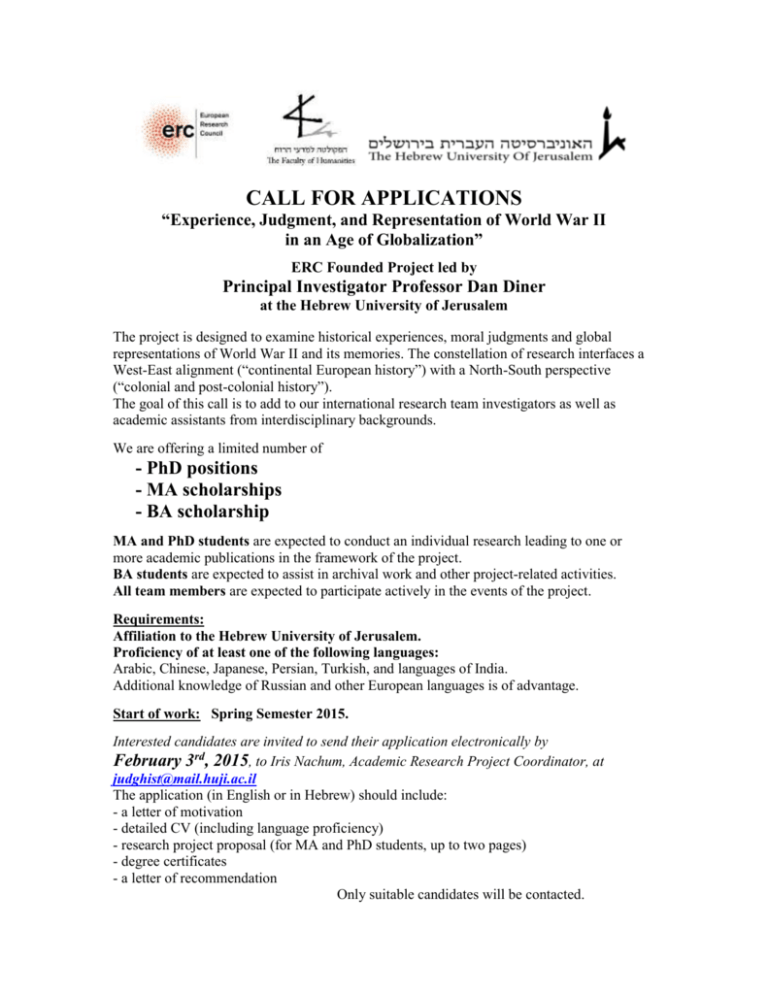 CALL FOR APPLICATIONS
"Experience, Judgment, and Representation of World War II
in an Age of Globalization"
ERC Founded Project led by
Principal Investigator Professor Dan Diner
at the Hebrew University of Jerusalem
The project is designed to examine historical experiences, moral judgments and global
representations of World War II and its memories. The constellation of research interfaces a
West-East alignment ("continental European history") with a North-South perspective
("colonial and post-colonial history").
The goal of this call is to add to our international research team investigators as well as
academic assistants from interdisciplinary backgrounds.
We are offering a limited number of
- PhD positions
- MA scholarships
- BA scholarship
MA and PhD students are expected to conduct an individual research leading to one or
more academic publications in the framework of the project.
BA students are expected to assist in archival work and other project-related activities.
All team members are expected to participate actively in the events of the project.
Requirements:
Affiliation to the Hebrew University of Jerusalem.
Proficiency of at least one of the following languages:
Arabic, Chinese, Japanese, Persian, Turkish, and languages of India.
Additional knowledge of Russian and other European languages is of advantage.
Start of work: Spring Semester 2015.
Interested candidates are invited to send their application electronically by
February 3rd, 2015, to Iris Nachum, Academic Research Project Coordinator, at
judghist@mail.huji.ac.il
The application (in English or in Hebrew) should include:
- a letter of motivation
- detailed CV (including language proficiency)
- research project proposal (for MA and PhD students, up to two pages)
- degree certificates
- a letter of recommendation
Only suitable candidates will be contacted.