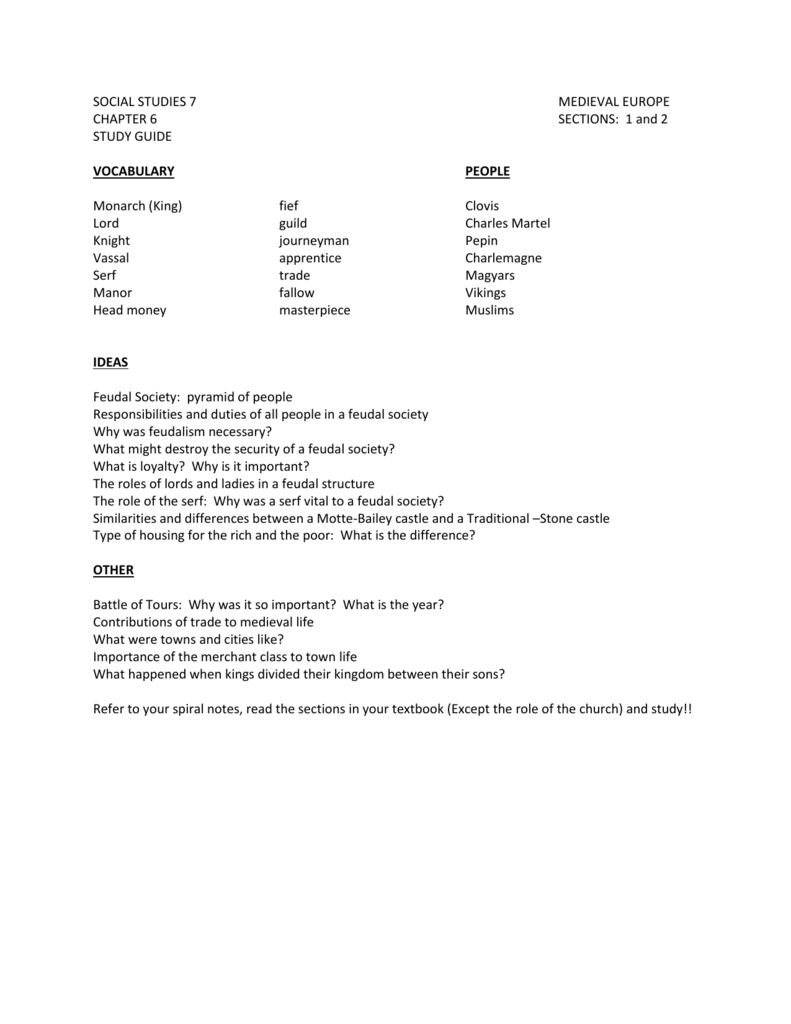 SOCIAL STUDIES 7
CHAPTER 6
STUDY GUIDE
MEDIEVAL EUROPE
SECTIONS: 1 and 2
VOCABULARY
Monarch (King)
Lord
Knight
Vassal
Serf
Manor
Head money
PEOPLE
fief
guild
journeyman
apprentice
trade
fallow
masterpiece
Clovis
Charles Martel
Pepin
Charlemagne
Magyars
Vikings
Muslims
IDEAS
Feudal Society: pyramid of people
Responsibilities and duties of all people in a feudal society
Why was feudalism necessary?
What might destroy the security of a feudal society?
What is loyalty? Why is it important?
The roles of lords and ladies in a feudal structure
The role of the serf: Why was a serf vital to a feudal society?
Similarities and differences between a Motte-Bailey castle and a Traditional –Stone castle
Type of housing for the rich and the poor: What is the difference?
OTHER
Battle of Tours: Why was it so important? What is the year?
Contributions of trade to medieval life
What were towns and cities like?
Importance of the merchant class to town life
What happened when kings divided their kingdom between their sons?
Refer to your spiral notes, read the sections in your textbook (Except the role of the church) and study!!