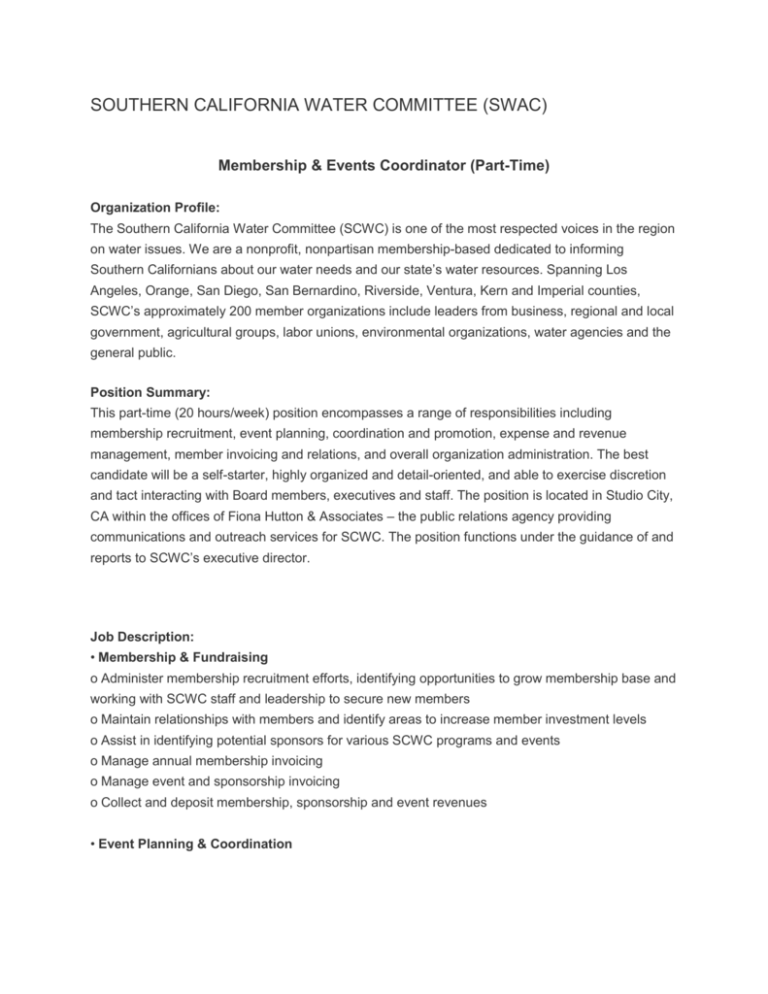 SOUTHERN CALIFORNIA WATER COMMITTEE (SWAC)
Membership & Events Coordinator (Part-Time)
Organization Profile:
The Southern California Water Committee (SCWC) is one of the most respected voices in the region
on water issues. We are a nonprofit, nonpartisan membership-based dedicated to informing
Southern Californians about our water needs and our state's water resources. Spanning Los
Angeles, Orange, San Diego, San Bernardino, Riverside, Ventura, Kern and Imperial counties,
SCWC's approximately 200 member organizations include leaders from business, regional and local
government, agricultural groups, labor unions, environmental organizations, water agencies and the
general public.
Position Summary:
This part-time (20 hours/week) position encompasses a range of responsibilities including
membership recruitment, event planning, coordination and promotion, expense and revenue
management, member invoicing and relations, and overall organization administration. The best
candidate will be a self-starter, highly organized and detail-oriented, and able to exercise discretion
and tact interacting with Board members, executives and staff. The position is located in Studio City,
CA within the offices of Fiona Hutton & Associates – the public relations agency providing
communications and outreach services for SCWC. The position functions under the guidance of and
reports to SCWC's executive director.
Job Description:
• Membership & Fundraising
o Administer membership recruitment efforts, identifying opportunities to grow membership base and
working with SCWC staff and leadership to secure new members
o Maintain relationships with members and identify areas to increase member investment levels
o Assist in identifying potential sponsors for various SCWC programs and events
o Manage annual membership invoicing
o Manage event and sponsorship invoicing
o Collect and deposit membership, sponsorship and event revenues
• Event Planning & Coordination
o Assist with planning and overall execution of SCWC events (Quarterly Luncheons/Board Meetings,
workshops, Annual Dinner, etc)—events range from small workshops with select participants, to the
Annual Dinner, which attracts upwards of 400 attendees
o Manage logistics for all meetings and events, working directly with vendors from start to finish
o Manage event budgets, tracking and reporting revenue and expenses
o Track RSVPs, invoice and collect payments from attendees
o Coordinate with event speakers and participants as needed
o Assist in preparing materials for meetings and events, including event flyers, hand-outs, signage—
working with SCWC staff and graphic designer
o Coordinate with communications team to program event promotion through SCWC's website, enewsletter, social media and other communications portals
o Staff SCWC events as needed; Provide oversight of other staff and interns working larger events
• Organization Administration
o Assist in preparing annual budget
o Provide written reports on organizational growth, expenses and revenues
o Manage preparation of Executive Committee and Board packets for Quarterly Meetings in
conjunction with other SCWC staff
o Schedule, distribute information and respond to inquiries regarding all Board, task force and
special meetings
o Maintain and track calendars of events, meetings and significant dates
o Maintain organization-related materials, including membership, task force, Board and Executive
Committee rosters and associated distribution lists
Job Requirements:
• Experience in event planning and administration preferred.
• Must be detail-oriented and highly organized.
• Computer skills required. Knowledge of software such as Quickbooks, MS Word, Excel, Outlook,
PowerPoint, Adobe Acrobat, etc.
• Must be articulate with strong written and oral communication skills.
• Must be task-oriented, self-starter.
• Must be able to work in a fast-paced, professional working environment.
• High school diploma required, college degree preferred.
Compensation
• $15/hour – 20 to 30 hours a week
• This is an hourly, part-time position – No health or retirement benefits are offered.
To download the job description in PDF format, click here.
Please send resumes and/or questions to cstearns@fionahuttonassoc.com. For more information
about SCWC, visit www.socalwater.org. No calls please.