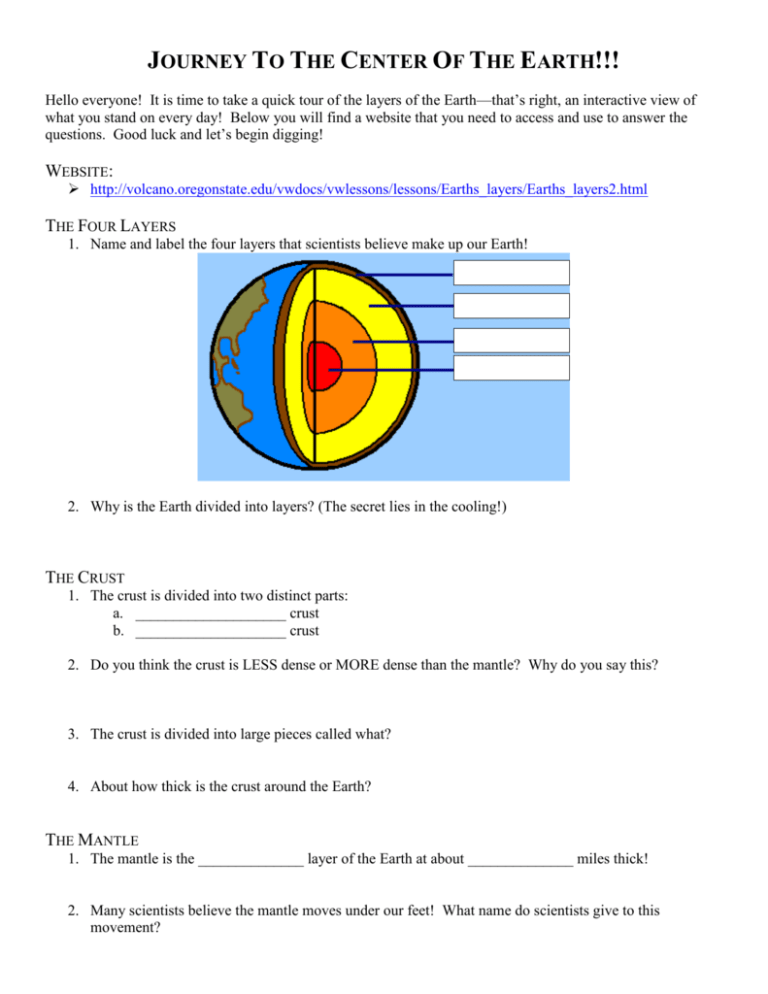 JOURNEY TO THE CENTER OF THE EARTH!!!
Hello everyone! It is time to take a quick tour of the layers of the Earth—that's right, an interactive view of
what you stand on every day! Below you will find a website that you need to access and use to answer the
questions. Good luck and let's begin digging!
WEBSITE:
 http://volcano.oregonstate.edu/vwdocs/vwlessons/lessons/Earths_layers/Earths_layers2.html
THE FOUR LAYERS
1. Name and label the four layers that scientists believe make up our Earth!
2. Why is the Earth divided into layers? (The secret lies in the cooling!)
THE CRUST
1. The crust is divided into two distinct parts:
a. ____________________ crust
b. ____________________ crust
2. Do you think the crust is LESS dense or MORE dense than the mantle? Why do you say this?
3. The crust is divided into large pieces called what?
4. About how thick is the crust around the Earth?
THE MANTLE
1. The mantle is the ______________ layer of the Earth at about ______________ miles thick!
2. Many scientists believe the mantle moves under our feet! What name do scientists give to this
movement?
THE MANTLE CONTINUED…
3. Can you explain and illustrate this movement in the mantle?
THE OUTER CORE
1. What state of matter is the outer core?
2. What two metals are found in the outer core?
THE INNER CORE
1. A lot of people don't realize that the inner core of Earth is actually SOLID! It should be a liquid at those
enormous temperatures. Can you explain why it is a solid?
2. What temperature is the inner core?
3. How much more pressure is there at the inner core than at the surface of the crust? Amazing!
WEBSITE:
 http://www.harcourtschool.com/activity/science_up_close/606/deploy/interface.html
*Please access the above website and get a review on each layer! Feel free to record any notes that you feel are
important in your discovery of the layers of the earth!
BONUS QUESTION:
1. List and define two words on this website that are new in your discovery! These two words are not used
in the previous website.