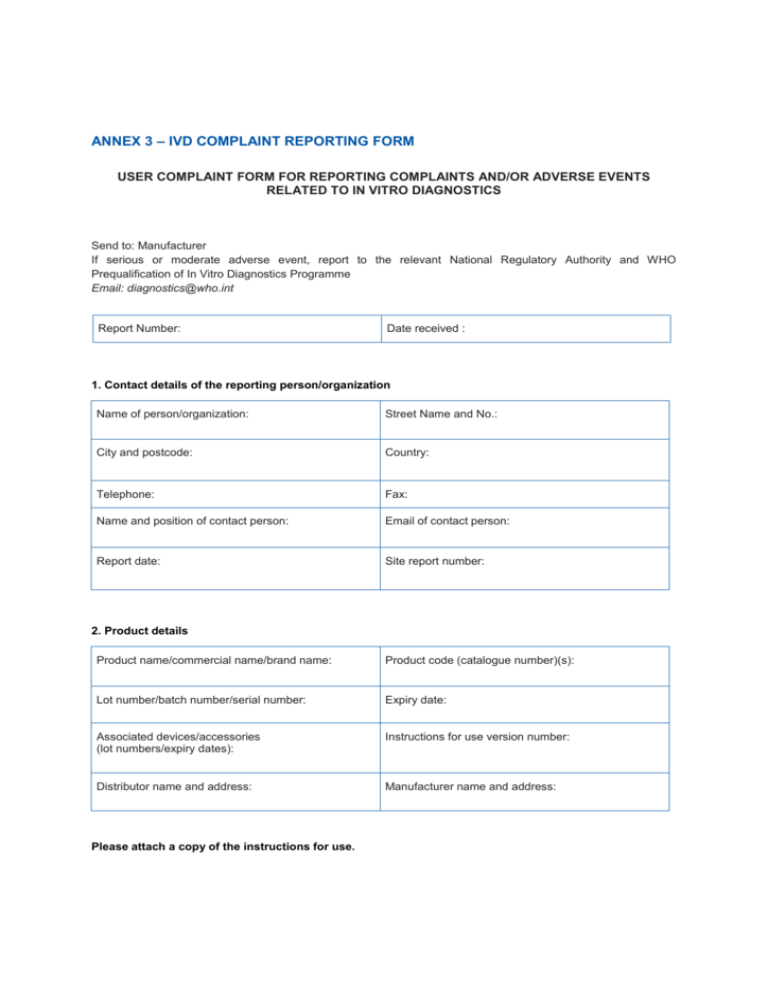 ANNEX 3 – IVD COMPLAINT REPORTING FORM
USER COMPLAINT FORM FOR REPORTING COMPLAINTS AND/OR ADVERSE EVENTS
RELATED TO IN VITRO DIAGNOSTICS
Send to: Manufacturer
If serious or moderate adverse event, report to the relevant National Regulatory Authority and WHO
Prequalification of In Vitro Diagnostics Programme
Email: [email protected]
Report Number:
Date received :
1. Contact details of the reporting person/organization
Name of person/organization:
Street Name and No.:
City and postcode:
Country:
Telephone:
Fax:
Name and position of contact person:
Email of contact person:
Report date:
Site report number:
2. Product details
Product name/commercial name/brand name:
Product code (catalogue number)(s):
Lot number/batch number/serial number:
Expiry date:
Associated devices/accessories
(lot numbers/expiry dates):
Instructions for use version number:
Distributor name and address:
Manufacturer name and address:
Please attach a copy of the instructions for use.
3. Event/problem details
Event/problem description narrative (explain what went wrong with the product and the observed or
likely/probable consequences):
Date of the event/problem:
Number of tests involved:
Event classification:
 Serious
 Moderate
 Mild
 Other (specify):
% of tests involved :
Operator/user at the time of the event/problem
(please choose):
 Laboratory technician/technologist
 (Non-laboratory) health worker
 Other (specify):
Has more than one user experienced the problem
with the product?
 Yes  No
Type of specimen used (please specify):
State reading time used:
Have you informed the distributor?
 Yes  No
Date:
Number of patients involved:
What measures have been recommended?
Have you informed the manufacturer?
 Yes  No
Date:
What measures have been recommended?
Measures taken by the operator/user:
Comments:
Date of report:
Signature:
Annex 3 – Disclaimer: The act of reporting an event is not an admission of manufacturer, user or patient
liability for the event or its consequences. Submission of an adverse event report does not, in itself, represent
a conclusion by the manufacturer that the content of this report is complete or confirmed, that the device(s)
listed failed in any manner. It is also not a conclusion that the device caused or contributed to the adverse
event.