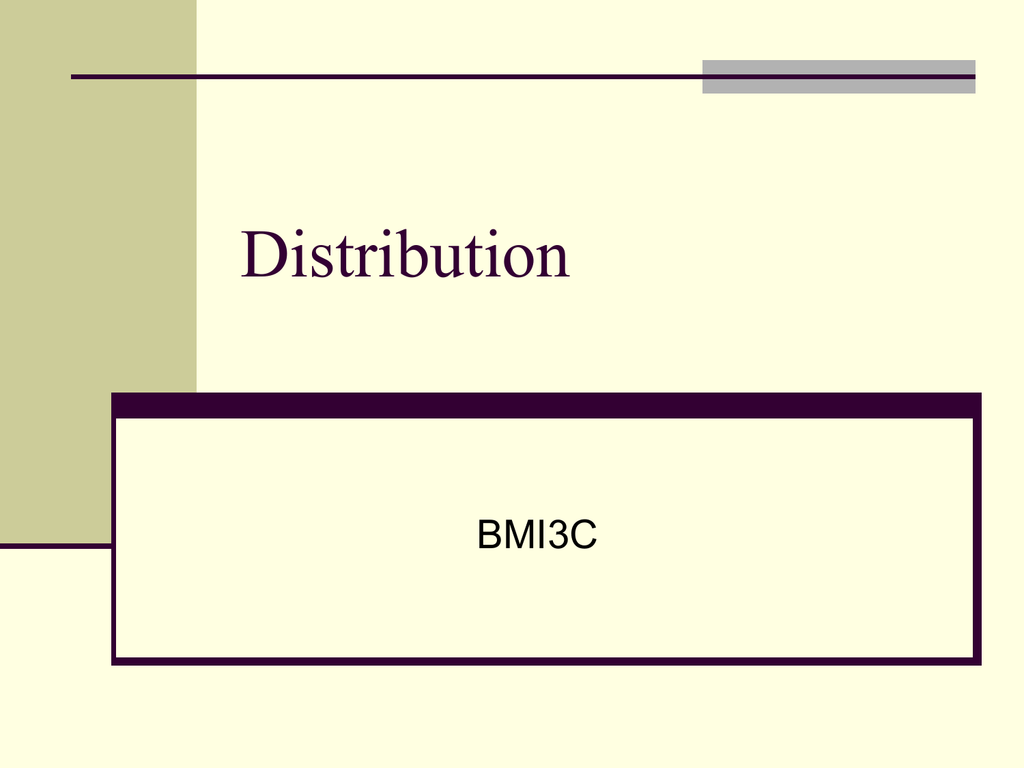 Distribution
BMI3C
CHANNELS OF DISTRIBUTION
 All businesses need to distribute their product
either

to a place where a consumer can find it
 OR

directly to the consumer
 IF the consumer has the product, the
marketer has been SUCCESSFUL
Components of Distribution
 There are two components to distribution


selecting, developing, and managing
distribution channels
physically distributing goods through those
channels
Channels of distribution
 …are the paths of ownership that goods
follow as they pass from the producer to the
consumer
 Channel selection

deciding what path a product should take to
reach the target consumer
 Logistics

arranging for the product to move efficiently,
safely, cheaply, and quickly
Possible Channels
Distribution Policies
 Intensive
 Selective
 Exclusive
 Integrated
Intensive Distribution


Used if the product is sold everywhere
Ex: Coca-cola is found in schools, bus
stations, parks, malls, arenas, cafeterias,
grocery stores, drugstores, retail outlets,
planes, trains, movie theatres, restaurants,
etc.
Selective Distribution



Try to control the distribution of their
product
May seek to avoid conflicts in
positioning/brand image
If a retailer orders a manufacturer's
product, by law the manufacturer cannot
refuse to sell the product to the store
without a valid reason
Exclusive Distribution



The manufacturer has made a deal with one
or two retailers in a particular area to sell the
manufacturer's product exclusively
This allows the product to have a prestige
image and allows the manufacturer to dictate
some of the retail strategies.
Ex: High fashion clothing, famous-name
watches, luxury giftware
Integrated Distribution


In this case a manufacturer, distributor, or
retailer owns both distribution outlets and
manufacturing facilities for a product
Ex: IKEA, Lee Valley tools – own and
operate their own manufacturing & retail
stores
Questions
 Pick an item you have on you right now

What distribution channels do you think it took
to get to you?
 Think of an example for each of the four types
of distribution strategy
 How do you think e-commerce has affected
distribution – especially Exclusive
distribution?
 Find three examples of products that use
both traditional and e-commerce distributions.
Questions
 List as many sources/places from which you
could buy a product (any product).
 Mini case. Working in groups of 3, create a
new product. Tell me about the product and
who it is targeted towards. Finally, choose a
distribution strategy(ies )for your product.
Present your idea to Mr. Brunton.