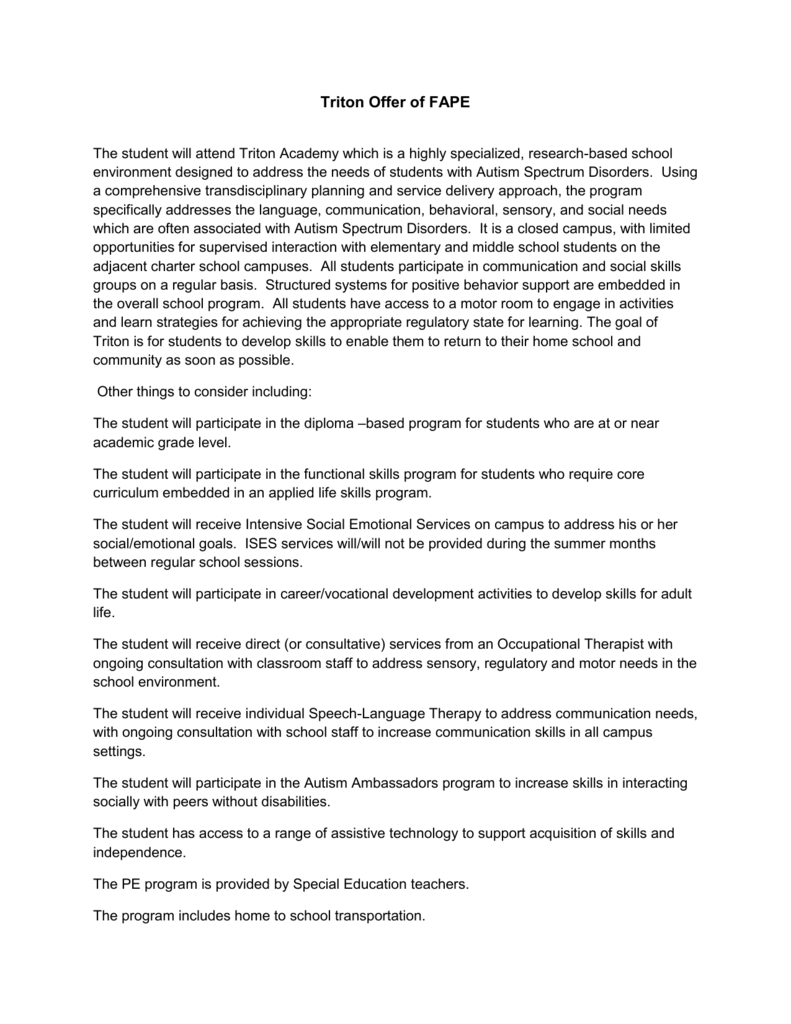 Triton Offer of FAPE
The student will attend Triton Academy which is a highly specialized, research-based school
environment designed to address the needs of students with Autism Spectrum Disorders. Using
a comprehensive transdisciplinary planning and service delivery approach, the program
specifically addresses the language, communication, behavioral, sensory, and social needs
which are often associated with Autism Spectrum Disorders. It is a closed campus, with limited
opportunities for supervised interaction with elementary and middle school students on the
adjacent charter school campuses. All students participate in communication and social skills
groups on a regular basis. Structured systems for positive behavior support are embedded in
the overall school program. All students have access to a motor room to engage in activities
and learn strategies for achieving the appropriate regulatory state for learning. The goal of
Triton is for students to develop skills to enable them to return to their home school and
community as soon as possible.
Other things to consider including:
The student will participate in the diploma –based program for students who are at or near
academic grade level.
The student will participate in the functional skills program for students who require core
curriculum embedded in an applied life skills program.
The student will receive Intensive Social Emotional Services on campus to address his or her
social/emotional goals. ISES services will/will not be provided during the summer months
between regular school sessions.
The student will participate in career/vocational development activities to develop skills for adult
life.
The student will receive direct (or consultative) services from an Occupational Therapist with
ongoing consultation with classroom staff to address sensory, regulatory and motor needs in the
school environment.
The student will receive individual Speech-Language Therapy to address communication needs,
with ongoing consultation with school staff to increase communication skills in all campus
settings.
The student will participate in the Autism Ambassadors program to increase skills in interacting
socially with peers without disabilities.
The student has access to a range of assistive technology to support acquisition of skills and
independence.
The PE program is provided by Special Education teachers.
The program includes home to school transportation.