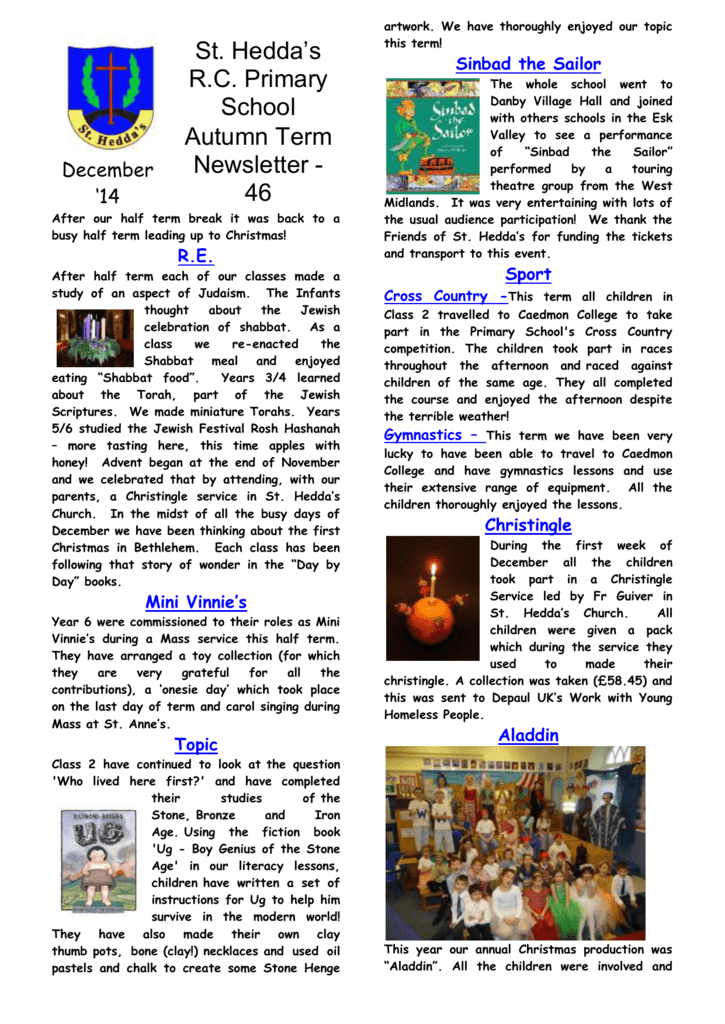 December
'14
St. Hedda's
R.C. Primary
School
Autumn Term
Newsletter 46
After our half term break it was back to a
busy half term leading up to Christmas!
R.E.
After half term each of our classes made a
study of an aspect of Judaism. The Infants
thought
about
the
Jewish
celebration of shabbat. As a
class
we
re-enacted
the
Shabbat
meal
and
enjoyed
eating "Shabbat food".
Years 3/4 learned
about the Torah, part of the Jewish
Scriptures. We made miniature Torahs. Years
5/6 studied the Jewish Festival Rosh Hashanah
– more tasting here, this time apples with
honey! Advent began at the end of November
and we celebrated that by attending, with our
parents, a Christingle service in St. Hedda's
Church. In the midst of all the busy days of
December we have been thinking about the first
Christmas in Bethlehem. Each class has been
following that story of wonder in the "Day by
Day" books.
Mini Vinnie's
Year 6 were commissioned to their roles as Mini
Vinnie's during a Mass service this half term.
They have arranged a toy collection (for which
they
are
very
grateful
for
all
the
contributions), a 'onesie day' which took place
on the last day of term and carol singing during
Mass at St. Anne's.
Topic
Class 2 have continued to look at the question
'Who lived here first?' and have completed
their
studies
of the
Stone, Bronze
and
Iron
Age. Using the fiction book
'Ug - Boy Genius of the Stone
Age' in our literacy lessons,
children have written a set of
instructions for Ug to help him
survive in the modern world!
They have also made their own clay
thumb pots, bone (clay!) necklaces and used oil
pastels and chalk to create some Stone Henge
artwork. We have thoroughly enjoyed our topic
this term!
Sinbad the Sailor
The whole school went to
Danby Village Hall and joined
with others schools in the Esk
Valley to see a performance
of
"Sinbad
the
Sailor"
performed
by
a
touring
theatre group from the West
Midlands. It was very entertaining with lots of
the usual audience participation! We thank the
Friends of St. Hedda's for funding the tickets
and transport to this event.
Sport
Cross Country -This term all children in
Class 2 travelled to Caedmon College to take
part in the Primary School's Cross Country
competition. The children took part in races
throughout the afternoon and raced against
children of the same age. They all completed
the course and enjoyed the afternoon despite
the terrible weather!
Gymnastics – This term we have been very
lucky to have been able to travel to Caedmon
College and have gymnastics lessons and use
their extensive range of equipment. All the
children thoroughly enjoyed the lessons.
Christingle
During the first week of
December all the children
took part in a Christingle
Service led by Fr Guiver in
St. Hedda's Church.
All
children were given a pack
which during the service they
used
to
made
their
christingle. A collection was taken (£58.45) and
this was sent to Depaul UK's Work with Young
Homeless People.
Aladdin
This year our annual Christmas production was
"Aladdin". All the children were involved and
performed to two full audiences on Thursday
11th and Friday 12th December.
Christmas Nativity
We held our nativity
service in church on
Wednesday
17th
December.
This was
attended by parents
and grandparents.
Christmas
Lunch
On
Tuesday
16th
December
we
all
enjoyed a delicious
Christmas Lunch of
Roast Turkey and all
the trimmings followed by Snowman Ice Cream.
Lunch ended with the customary rendition of
"The Twelve Days of Christmas".
Christmas Party
During the last week of term we
had our annual Christmas party
which included a visit from
Father Christmas who brought
lots of lovely presents for the
children.
Crib Service
We were invited to St. Hilda's church to share
a nativity service with the children from Egton
School. The service was very interactive and
lots of fun, there was even a real donkey called
'Gloria'.After the service we went back into
Egton School and played together and shared
drinks and biscuits.
Farewell Mrs Palmer
We said a fond farewell to Mrs Palmer after
seven years at St. Hedda's. We thank her for
everything she has done in her role as head
teacher. We wish her every success in her new
role as head teacher at Settrington School.
Good luck and farewell also to Tommy and
Joey.
Road Safety
During this half term we had a visit from Lynne
Butler (a community Police officer) who talked
to all the children about Road Safety.
Attendance
This half term the following pupils had 100%
attendance; Jack Allanson, Sophie Eddington,
Robert Gaskin, Joe Gwatkin, Byron Hunneysett,
Eleanor Hunneysett, Adam Hutchinson, Chloe
Hutchinson, Alfie Norman-Gray, Noah NormanGray and Ellie Walsh.
And the following had 100% for the whole of
the autumn term: Robert, Byron, Chloe, Alfie
and Noah.
Shopping Vouchers
We have now sent off our order
and await delivery in the Spring.
Thank you very much to everyone who has
collected these for us.
Thank you to everyone who
contributed
to
the
last
Bags2School collection we raised
£90.00 for our school fund. Our
next collection will be on Friday 20th March
2015.
Friends of St. Hedda's - Bingo
Friends of St. Hedda's held
their annual Christmas Bingo
evening. We would like to thank
all the parents who generously
donated some wonderful hampers for prizes and
lovely refreshments for this event. Once again
it proved to be a lively evening which was
supported by parents and the local community.
A grand total of £574.50 was raised. A big
thank you to everyone!
Royal British Legion
Once again we collected for the annual
poppy appeal. We raised £9.89, many
thanks for the contributions.
House Points
The half term totals are: Swallows – 190,
Lapwings – 178, Kestrels – 158, Barn Owls –
145 and Kingfishers – 139.
Congratulations to Swallows – Lucy, Hannah,
Daniel, Tommy, Sophia, Rhys, Grace and
Archie.
Welcome
On return to school in January we will welcome
our new head teacher, Mrs Hilary Thompson.
We will also be welcoming Mrs Leng back to
Class 1.
HOLIDAYS
Training day:
Return:
Half Term:
Easter:
Return:
Mon 5th January '15
Tues 6th January '15
Mon 16th – Fri 20th Feb
Break up 27th March '15
Tues 14th April
May Day:
Mon 4th May
Half Term:
Break up:
Mon 25th – Fri 29th May
Mon 20th July.
We would like to take this opportunity to
wish everyone a very Happy Christmas and
a prosperous New Year.