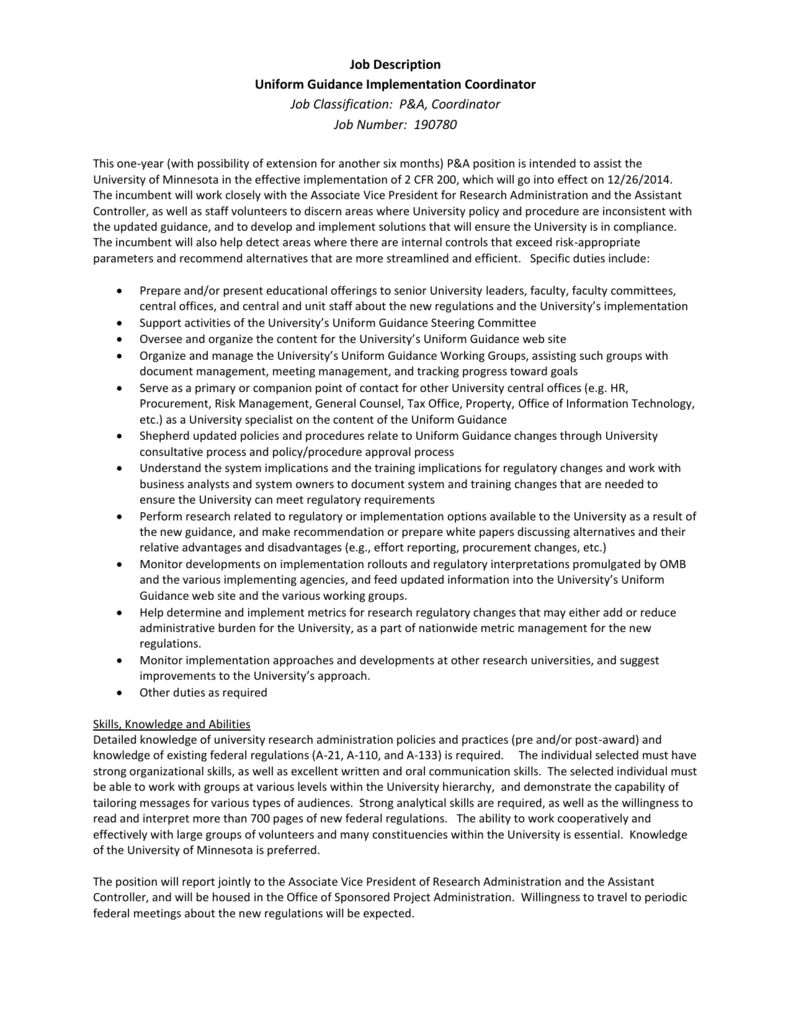 Job Description
Uniform Guidance Implementation Coordinator
Job Classification: P&A, Coordinator
Job Number: 190780
This one-year (with possibility of extension for another six months) P&A position is intended to assist the
University of Minnesota in the effective implementation of 2 CFR 200, which will go into effect on 12/26/2014.
The incumbent will work closely with the Associate Vice President for Research Administration and the Assistant
Controller, as well as staff volunteers to discern areas where University policy and procedure are inconsistent with
the updated guidance, and to develop and implement solutions that will ensure the University is in compliance.
The incumbent will also help detect areas where there are internal controls that exceed risk-appropriate
parameters and recommend alternatives that are more streamlined and efficient. Specific duties include:












Prepare and/or present educational offerings to senior University leaders, faculty, faculty committees,
central offices, and central and unit staff about the new regulations and the University's implementation
Support activities of the University's Uniform Guidance Steering Committee
Oversee and organize the content for the University's Uniform Guidance web site
Organize and manage the University's Uniform Guidance Working Groups, assisting such groups with
document management, meeting management, and tracking progress toward goals
Serve as a primary or companion point of contact for other University central offices (e.g. HR,
Procurement, Risk Management, General Counsel, Tax Office, Property, Office of Information Technology,
etc.) as a University specialist on the content of the Uniform Guidance
Shepherd updated policies and procedures relate to Uniform Guidance changes through University
consultative process and policy/procedure approval process
Understand the system implications and the training implications for regulatory changes and work with
business analysts and system owners to document system and training changes that are needed to
ensure the University can meet regulatory requirements
Perform research related to regulatory or implementation options available to the University as a result of
the new guidance, and make recommendation or prepare white papers discussing alternatives and their
relative advantages and disadvantages (e.g., effort reporting, procurement changes, etc.)
Monitor developments on implementation rollouts and regulatory interpretations promulgated by OMB
and the various implementing agencies, and feed updated information into the University's Uniform
Guidance web site and the various working groups.
Help determine and implement metrics for research regulatory changes that may either add or reduce
administrative burden for the University, as a part of nationwide metric management for the new
regulations.
Monitor implementation approaches and developments at other research universities, and suggest
improvements to the University's approach.
Other duties as required
Skills, Knowledge and Abilities
Detailed knowledge of university research administration policies and practices (pre and/or post-award) and
knowledge of existing federal regulations (A-21, A-110, and A-133) is required. The individual selected must have
strong organizational skills, as well as excellent written and oral communication skills. The selected individual must
be able to work with groups at various levels within the University hierarchy, and demonstrate the capability of
tailoring messages for various types of audiences. Strong analytical skills are required, as well as the willingness to
read and interpret more than 700 pages of new federal regulations. The ability to work cooperatively and
effectively with large groups of volunteers and many constituencies within the University is essential. Knowledge
of the University of Minnesota is preferred.
The position will report jointly to the Associate Vice President of Research Administration and the Assistant
Controller, and will be housed in the Office of Sponsored Project Administration. Willingness to travel to periodic
federal meetings about the new regulations will be expected.