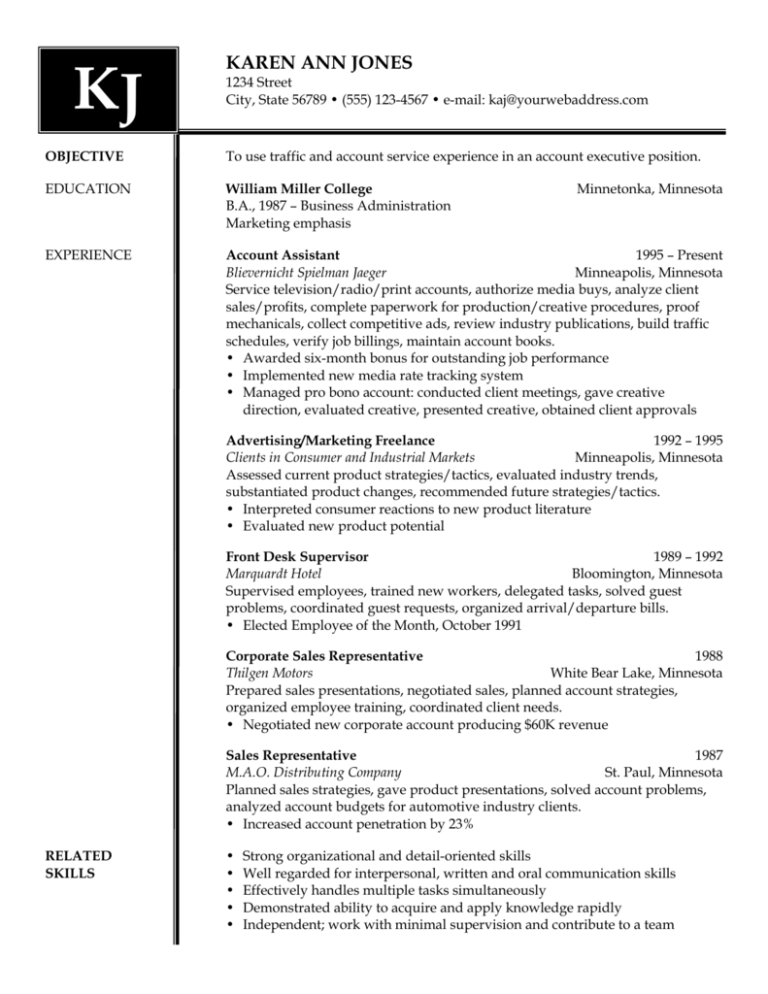 KJ
KAREN ANN JONES
1234 Street
City, State 56789 • (555) 123-4567 • e-mail: kaj@yourwebaddress.com
OBJECTIVE
To use traffic and account service experience in an account executive position.
EDUCATION
William Miller College
B.A., 1987 – Business Administration
Marketing emphasis
EXPERIENCE
Account Assistant
1995 – Present
Blievernicht Spielman Jaeger
Minneapolis, Minnesota
Service television/radio/print accounts, authorize media buys, analyze client
sales/profits, complete paperwork for production/creative procedures, proof
mechanicals, collect competitive ads, review industry publications, build traffic
schedules, verify job billings, maintain account books.
• Awarded six-month bonus for outstanding job performance
• Implemented new media rate tracking system
• Managed pro bono account: conducted client meetings, gave creative
direction, evaluated creative, presented creative, obtained client approvals
Minnetonka, Minnesota
Advertising/Marketing Freelance
1992 – 1995
Clients in Consumer and Industrial Markets
Minneapolis, Minnesota
Assessed current product strategies/tactics, evaluated industry trends,
substantiated product changes, recommended future strategies/tactics.
• Interpreted consumer reactions to new product literature
• Evaluated new product potential
Front Desk Supervisor
1989 – 1992
Marquardt Hotel
Bloomington, Minnesota
Supervised employees, trained new workers, delegated tasks, solved guest
problems, coordinated guest requests, organized arrival/departure bills.
• Elected Employee of the Month, October 1991
Corporate Sales Representative
1988
Thilgen Motors
White Bear Lake, Minnesota
Prepared sales presentations, negotiated sales, planned account strategies,
organized employee training, coordinated client needs.
• Negotiated new corporate account producing $60K revenue
Sales Representative
1987
M.A.O. Distributing Company
St. Paul, Minnesota
Planned sales strategies, gave product presentations, solved account problems,
analyzed account budgets for automotive industry clients.
• Increased account penetration by 23%
RELATED
SKILLS
•
•
•
•
•
Strong organizational and detail-oriented skills
Well regarded for interpersonal, written and oral communication skills
Effectively handles multiple tasks simultaneously
Demonstrated ability to acquire and apply knowledge rapidly
Independent; work with minimal supervision and contribute to a team
REFERENCES
Available upon request.