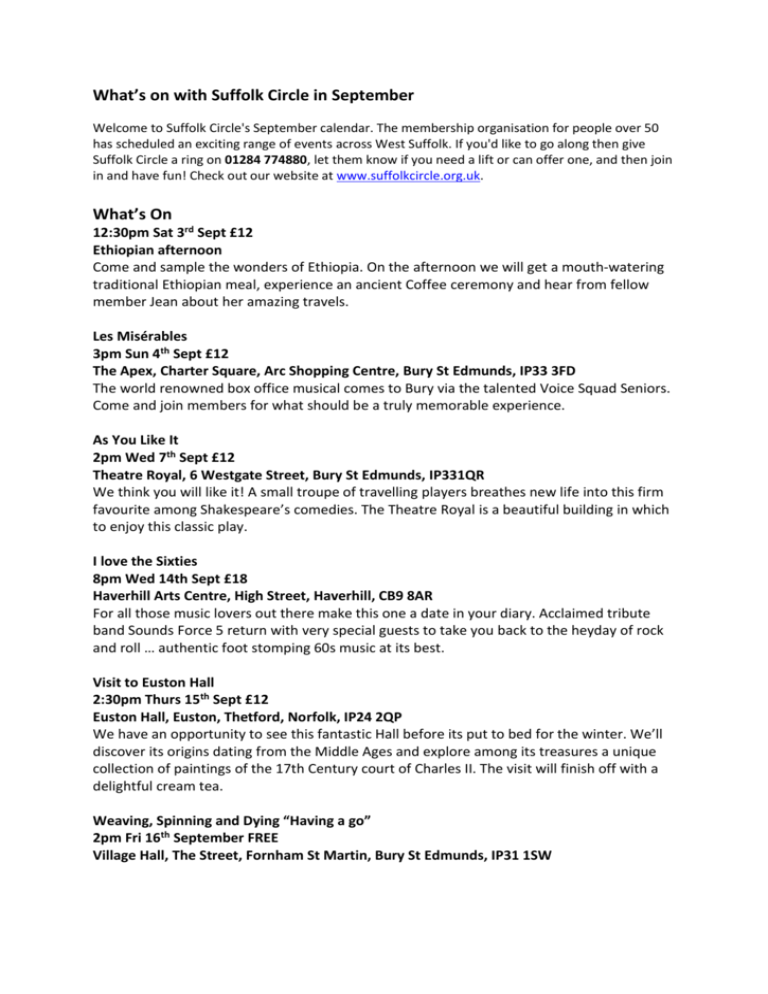 What's on with Suffolk Circle in September
Welcome to Suffolk Circle's September calendar. The membership organisation for people over 50
has scheduled an exciting range of events across West Suffolk. If you'd like to go along then give
Suffolk Circle a ring on 01284 774880, let them know if you need a lift or can offer one, and then join
in and have fun! Check out our website at www.suffolkcircle.org.uk.
What's On
12:30pm Sat 3rd Sept £12
Ethiopian afternoon
Come and sample the wonders of Ethiopia. On the afternoon we will get a mouth-watering
traditional Ethiopian meal, experience an ancient Coffee ceremony and hear from fellow
member Jean about her amazing travels.
Les Misérables
3pm Sun 4th Sept £12
The Apex, Charter Square, Arc Shopping Centre, Bury St Edmunds, IP33 3FD
The world renowned box office musical comes to Bury via the talented Voice Squad Seniors.
Come and join members for what should be a truly memorable experience.
As You Like It
2pm Wed 7th Sept £12
Theatre Royal, 6 Westgate Street, Bury St Edmunds, IP331QR
We think you will like it! A small troupe of travelling players breathes new life into this firm
favourite among Shakespeare's comedies. The Theatre Royal is a beautiful building in which
to enjoy this classic play.
I love the Sixties
8pm Wed 14th Sept £18
Haverhill Arts Centre, High Street, Haverhill, CB9 8AR
For all those music lovers out there make this one a date in your diary. Acclaimed tribute
band Sounds Force 5 return with very special guests to take you back to the heyday of rock
and roll … authentic foot stomping 60s music at its best.
Visit to Euston Hall
2:30pm Thurs 15th Sept £12
Euston Hall, Euston, Thetford, Norfolk, IP24 2QP
We have an opportunity to see this fantastic Hall before its put to bed for the winter. We'll
discover its origins dating from the Middle Ages and explore among its treasures a unique
collection of paintings of the 17th Century court of Charles II. The visit will finish off with a
delightful cream tea.
Weaving, Spinning and Dying "Having a go"
2pm Fri 16th September FREE
Village Hall, The Street, Fornham St Martin, Bury St Edmunds, IP31 1SW
Have a go and join us for a yarn!! A great opportunity to learn arts and crafts with the Bury
St Edmunds Guild of Weavers, Spinners and Dyers. It's an ancient industry in our area and
we're sure you'll have fun getting involved.
Monday Meal in Mildenhall
12:30pm Mon 19th September £12
Riverside House Hotel, Mill Street, Mildenhall, Bury St Edmunds, IP28 7DP
Come and join us for a two course meal at the Riverside House Hotel, a beautifully restored
18th Century building set on the picturesque banks of the river Lark. Expect a very warm
welcome, excellent food and lively company.
Guided walk on Sudbury Common Lands
2pm Wed 21st September FREE
The Ford, The Croft, Sudbury, CO10 1HR
Ranger Adrian Walters will lead the walk and share his knowledge on the history and
conservation of the common land along the river Stour in Sudbury. Learn about the
Freeman of Sudbury, how the commons were acquired, and about their present day
management. This is a free event but donations are welcomed toward the charity on the
day. The walk will be about an hour and a half long.
A trip to the races, Newmarket
11am Thurs 22nd September £24
The National Stud, Newmarket, CB8 0XE
In response to numerous requests we have planned an amazing day out. Join other
members at the home of British horseracing! On the day we will have a tour of the stud, a
chance to see races and for those tempted you can even have a flutter at the bookies. Nb
Bring a picnic.
Visit to Hollow Trees Farm
11am Tues 27th September £12
Hollow Trees Farm Shop, Semer, Ipswich, Suffolk, IP7 6HX
Experience a working farm in central rural Suffolk. On the day we will have a buffet lunch
made with home grown and local ingredients, a trailer ride around the farm and for those
up for a walk there is also the Farm Trail. If you'd like to take a little something home there
will be a chance to purchase home grown produce from the award winning farm shop.