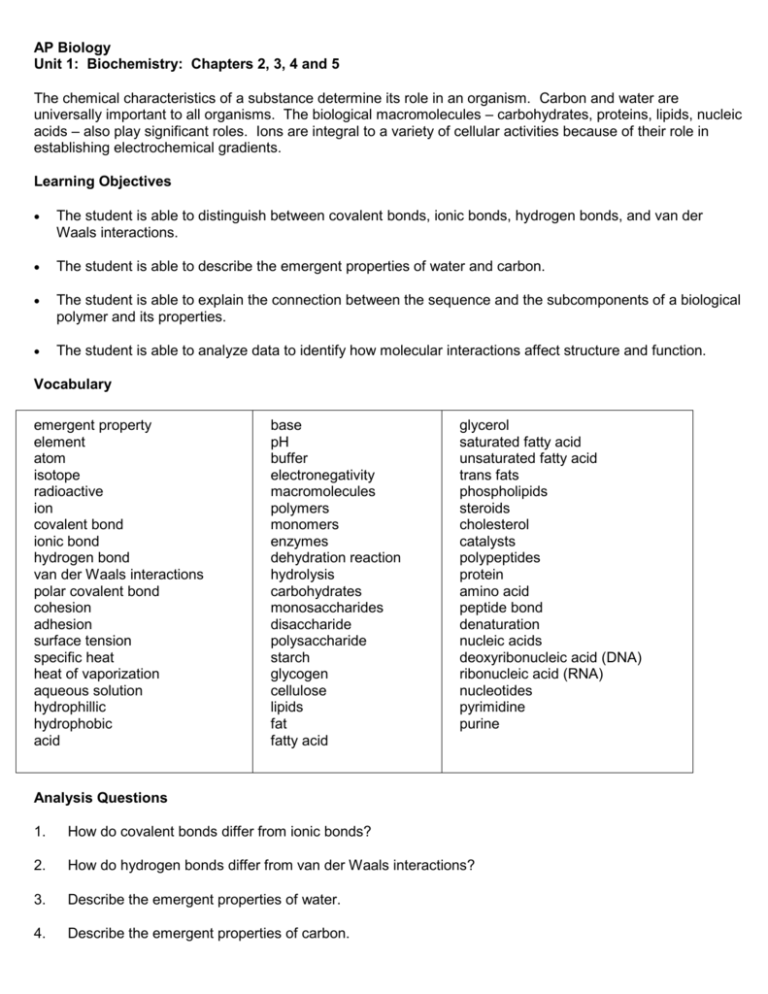 AP Biology
Unit 1: Biochemistry: Chapters 2, 3, 4 and 5
The chemical characteristics of a substance determine its role in an organism. Carbon and water are
universally important to all organisms. The biological macromolecules – carbohydrates, proteins, lipids, nucleic
acids – also play significant roles. Ions are integral to a variety of cellular activities because of their role in
establishing electrochemical gradients.
Learning Objectives

The student is able to distinguish between covalent bonds, ionic bonds, hydrogen bonds, and van der
Waals interactions.

The student is able to describe the emergent properties of water and carbon.

The student is able to explain the connection between the sequence and the subcomponents of a biological
polymer and its properties.

The student is able to analyze data to identify how molecular interactions affect structure and function.
Vocabulary
emergent property
element
atom
isotope
radioactive
ion
covalent bond
ionic bond
hydrogen bond
van der Waals interactions
polar covalent bond
cohesion
adhesion
surface tension
specific heat
heat of vaporization
aqueous solution
hydrophillic
hydrophobic
acid
base
pH
buffer
electronegativity
macromolecules
polymers
monomers
enzymes
dehydration reaction
hydrolysis
carbohydrates
monosaccharides
disaccharide
polysaccharide
starch
glycogen
cellulose
lipids
fat
fatty acid
glycerol
saturated fatty acid
unsaturated fatty acid
trans fats
phospholipids
steroids
cholesterol
catalysts
polypeptides
protein
amino acid
peptide bond
denaturation
nucleic acids
deoxyribonucleic acid (DNA)
ribonucleic acid (RNA)
nucleotides
pyrimidine
purine
Analysis Questions
1.
How do covalent bonds differ from ionic bonds?
2.
How do hydrogen bonds differ from van der Waals interactions?
3.
Describe the emergent properties of water.
4.
Describe the emergent properties of carbon.
5.
Describe the function of buffers and provide an example.
6.
Create and complete the table below to describe the properties of the four major groups of
macromolecules - carbohydrates, proteins, lipids, and nucleic acids. The carbohydrates column has
already been completed for you
Carbohydrates
Atoms present
C, H and O
Polymer name(s)
Polysaccharide
Monomer name(s)
Monosaccharide
Functional groups
present
carbonyl (C=O), hydroxyl (-OH)
Chemical properties due
to functional groups
can form hydrogen bonds, which
help carbohydrates dissolve in
water
Functions of
macromolecule
energy storage, structural support
Macromolecule
Examples
chitin, cellulose, glycogen, starch,
Other Notes
also called "sugar"
7.
Proteins
Lipids
Nucleic
Acids
A dehydration reaction joins two glucose molecules to form maltose. The formula for glucose is
C H O . What is the formula for maltose?
6
12
6
8.
Distinguish between the 1°(primary), 2° (secondary), 3° (tertiary) and 4°(quaternary) structures of
proteins.
9.
What role do enzymes play in organisms?
Review the website http://www.hsph.harvard.edu/nutritionsource/ as you answer questions 9 and 10.
10.
Which types of fats are "good" for you to eat? Which are "bad?" Explain. What are the chemical
properties of "good" fats and "bad" fats?
11. How many grams of protein do you need to eat each day? What are the healthiest sources of protein?
Explain.