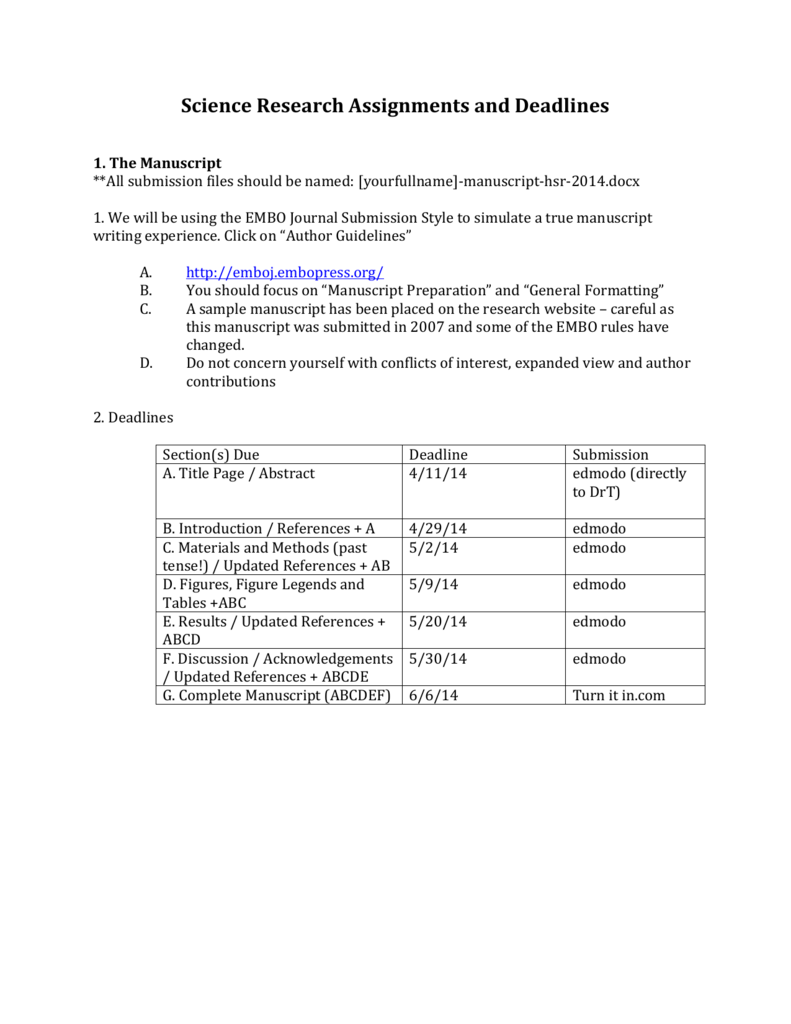 Science Research Assignments and Deadlines
1. The Manuscript
**All submission files should be named: [yourfullname]-manuscript-hsr-2014.docx
1. We will be using the EMBO Journal Submission Style to simulate a true manuscript
writing experience. Click on "Author Guidelines"
A.
B.
C.
http://emboj.embopress.org/
You should focus on "Manuscript Preparation" and "General Formatting"
A sample manuscript has been placed on the research website – careful as
this manuscript was submitted in 2007 and some of the EMBO rules have
changed.
Do not concern yourself with conflicts of interest, expanded view and author
contributions
D.
2. Deadlines
Section(s) Due
A. Title Page / Abstract
Deadline
4/11/14
Submission
edmodo (directly
to DrT)
B. Introduction / References + A
C. Materials and Methods (past
tense!) / Updated References + AB
D. Figures, Figure Legends and
Tables +ABC
E. Results / Updated References +
ABCD
F. Discussion / Acknowledgements
/ Updated References + ABCDE
G. Complete Manuscript (ABCDEF)
4/29/14
5/2/14
edmodo
edmodo
5/9/14
edmodo
5/20/14
edmodo
5/30/14
edmodo
6/6/14
Turn it in.com
2. The Scientific Poster
A.
Revised Poster
a. Electronically – no more cutting and pasting
i. www.posterpresentations.com
ii. template on the research website
iii. http://colinpurrington.com/tips/academic/posterdesign
b. Deadline – 5/7/14, 5/22/14, 5/30/14
Poster Version 1
Final Graded Poster
Due Date
5/7/14
5/14/14
Submission
Edmodo – direct to DrT
Edmodo – direct to DrT
3. Team PowerPoint Presentation for end of year symposium on 6/4/14
A. PowerPoint
a. Same rules as in the past…
b. Use the rubric on the website under scientific presentations…
c. Read the various links on our website to refresh your memory
d. Look at sample PowerPoints on website from past students
B. Transcript
a. This is a word document (.docx)
b. Slide-by-slide transcript of what you will say and what your partner plans to
say – make sure to indicate who is speaking
c. Example: slide 1 – (DrT) DNA repair is critical for the proper maintenance of
genetic information. According to Chomsky et al., an organism that lacks any
DNA repair system…
C. Deadlines
PowerPoint and transcript
version 1
Final PowerPoint and
transcript due
Due Date
5/16/14
Submission
Edmodo
5/22/14
Edmodo
D. Practice presentation begin 5/27/14 – the order will be randomly chosen and will
be put up on the website calendar
4. Journal Club Presentation (juniors heading to labs) – begins 6/5/14
A. Read "How to Make a Journal Club Presenation"
a. https://brain.ubc.ca/files/2012/02/Journal-Club-presentation.pdf
B. Choose a Primary Paper published by the lab you will be working in and post on
edmodo by 5/1/14 to the entire group
C. Build a PowerPoint presentation around the paper (see A.)
D. See sample journal club powerpoint presentation online under scientific
presentations.
E. Present the paper – presentations begin 6/5/14 – names will be posted on the
calendar
a. Between 30 and 40 minutes
b. Remember, you are teaching us…tell an understandable story…make the
complex easy to understand (this is the hardest part)
c. You do not need to present every piece of data…choose what you think is
most important
5. Project Ideas (Sophomores enrolled in research next year)
A.
B.
C.
D.
PLEASE choose a project that you are PASSIONATE about
Be aware of variables
Minimize doubt/alternate explanations when designing your experiment
Remember that the Lab has Limitations (studying gravitational effects in a black
hole might be tough)
E. Recall that money and time is not limitless (do not plan a 5 year study that will
cost $20,000)
F. BE CREATIVE – a simple yet creative project is more impressive than an overly
complex project.
Initial Project Proposal
 Always Be Looking (scientific serendipity) - The inspiration for a project can come
from anywhere at anytime. It can be while you are walking your dog, taking a
shower or just driving along in a car (read this:
http://www.sciencemag.org/products/pcr.dtl). You should always be looking for a
project even when you are not looking for one.
 Literature Search - Hit the literature to help catalyze the inspirational process. Fill
your head with ideas and something will coalesce. Use the website just as you did in
class. If you find any useful web pages in your search, forward them to me and I will
add them to the site (and you will be making a positive impression).
 Once you have an initial idea write up a simple proposal with references to convince
Dr. Hersh and/or Dr. Truglio to approve the project.
 Proposals are due every Wednesday beginning 5/14/14 with the exception of
6/4/14 . Submit directly to DrT though Edmodo.