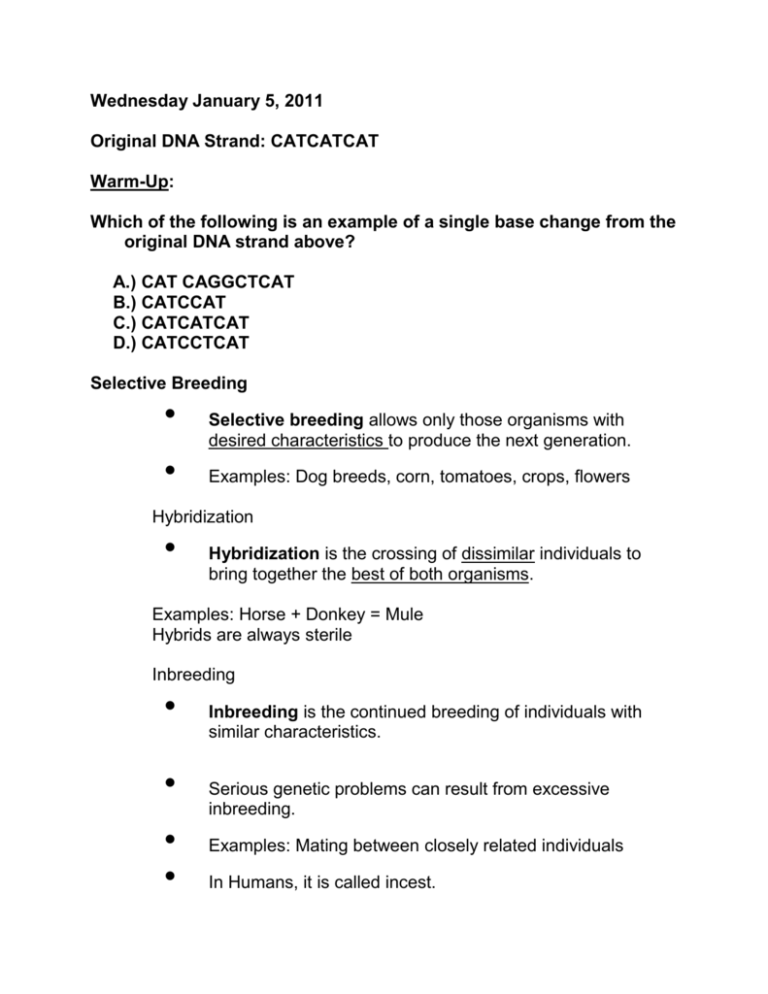 Wednesday January 5, 2011
Original DNA Strand: CATCATCAT
Warm-Up:
Which of the following is an example of a single base change from the
original DNA strand above?
A.) CAT CAGGCTCAT
B.) CATCCAT
C.) CATCATCAT
D.) CATCCTCAT
Selective Breeding
•
•
Selective breeding allows only those organisms with
desired characteristics to produce the next generation.
Examples: Dog breeds, corn, tomatoes, crops, flowers
Hybridization
•
Hybridization is the crossing of dissimilar individuals to
bring together the best of both organisms.
Examples: Horse + Donkey = Mule
Hybrids are always sterile
Inbreeding
•
•
•
•
Inbreeding is the continued breeding of individuals with
similar characteristics.
Serious genetic problems can result from excessive
inbreeding.
Examples: Mating between closely related individuals
In Humans, it is called incest.
Genetic Variation
Genetic variation is the variation in the genetic code.
Populations need to have high genetic variation among individuals to
prevent harmful mutations.
13-1
The usual function of selective breeding is to produce organisms
that
•
•
•
•
are better suited to their natural environment.
have characteristics useful to humans.**
can compete with other members of the species that are not
selected.
are genetically identical.
13-1
The function of inbreeding is to produce organisms that
•
•
•
•
are more genetically diverse.
are much healthier.
are genetically similar.**
will not have mutations.