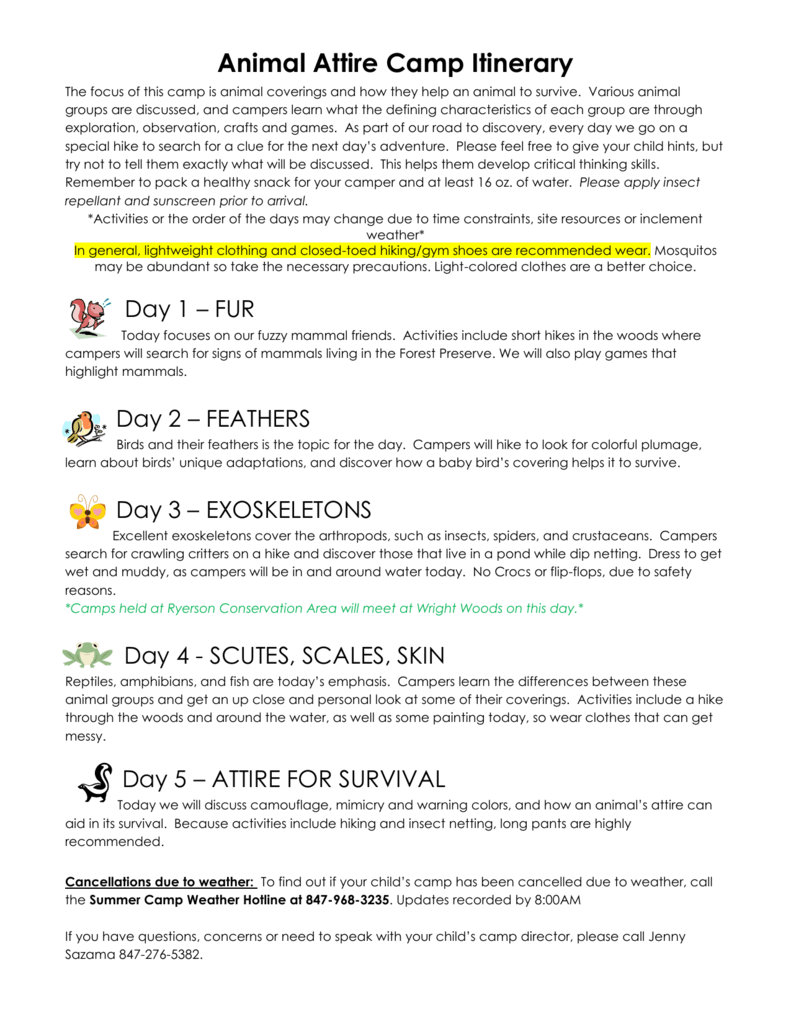 Animal Attire Camp Itinerary
The focus of this camp is animal coverings and how they help an animal to survive. Various animal
groups are discussed, and campers learn what the defining characteristics of each group are through
exploration, observation, crafts and games. As part of our road to discovery, every day we go on a
special hike to search for a clue for the next day's adventure. Please feel free to give your child hints, but
try not to tell them exactly what will be discussed. This helps them develop critical thinking skills.
Remember to pack a healthy snack for your camper and at least 16 oz. of water. Please apply insect
repellant and sunscreen prior to arrival.
*Activities or the order of the days may change due to time constraints, site resources or inclement
weather*
In general, lightweight clothing and closed-toed hiking/gym shoes are recommended wear. Mosquitos
may be abundant so take the necessary precautions. Light-colored clothes are a better choice.
Day 1 – FUR
Today focuses on our fuzzy mammal friends. Activities include short hikes in the woods where
campers will search for signs of mammals living in the Forest Preserve. We will also play games that
highlight mammals.
Day 2 – FEATHERS
Birds and their feathers is the topic for the day. Campers will hike to look for colorful plumage,
learn about birds' unique adaptations, and discover how a baby bird's covering helps it to survive.
Day 3 – EXOSKELETONS
Excellent exoskeletons cover the arthropods, such as insects, spiders, and crustaceans. Campers
search for crawling critters on a hike and discover those that live in a pond while dip netting. Dress to get
wet and muddy, as campers will be in and around water today. No Crocs or flip-flops, due to safety
reasons.
*Camps held at Ryerson Conservation Area will meet at Wright Woods on this day.*
Day 4 - SCUTES, SCALES, SKIN
Reptiles, amphibians, and fish are today's emphasis. Campers learn the differences between these
animal groups and get an up close and personal look at some of their coverings. Activities include a hike
through the woods and around the water, as well as some painting today, so wear clothes that can get
messy.
Day 5 – ATTIRE FOR SURVIVAL
Today we will discuss camouflage, mimicry and warning colors, and how an animal's attire can
aid in its survival. Because activities include hiking and insect netting, long pants are highly
recommended.
Cancellations due to weather: To find out if your child's camp has been cancelled due to weather, call
the Summer Camp Weather Hotline at 847-968-3235. Updates recorded by 8:00AM
If you have questions, concerns or need to speak with your child's camp director, please call Jenny
Sazama 847-276-5382.