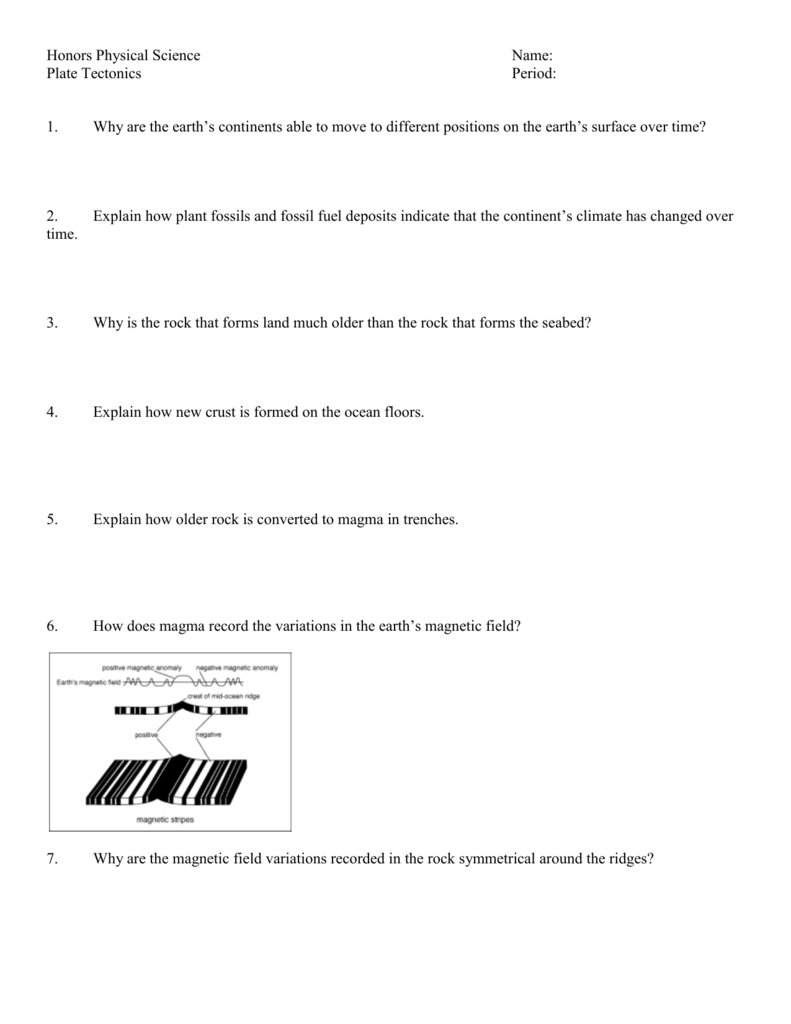 Honors Physical Science
Plate Tectonics
1.
Name:
Period:
Why are the earth's continents able to move to different positions on the earth's surface over time?
2.
Explain how plant fossils and fossil fuel deposits indicate that the continent's climate has changed over
time.
3.
Why is the rock that forms land much older than the rock that forms the seabed?
4.
Explain how new crust is formed on the ocean floors.
5.
Explain how older rock is converted to magma in trenches.
6.
How does magma record the variations in the earth's magnetic field?
7.
Why are the magnetic field variations recorded in the rock symmetrical around the ridges?
8.
What happens to rock age and sediment thickness as you move farther away from the ridges?
9.
Why do volcanic mountains form when an ocean tectonic plate pushes into a land tectonic plate?
10.
How can a series of volcanic islands form from a hot spot under the earth's crust?
11.
Explain why the head on collision of two land continental plates produces mountains.
12.
Explain why a transform boundary between land continental plates stores energy and creates
earthquakes.
13.
Explain how the theory of plate tectonics has progressed over time.
REVIEW
14.
What is the difference between a scalar and vector quantity?
15.
If you are driving at 45 miles per hour North and accelerate 5 miles per hour per second for 5 seconds,
what is your final velocity?