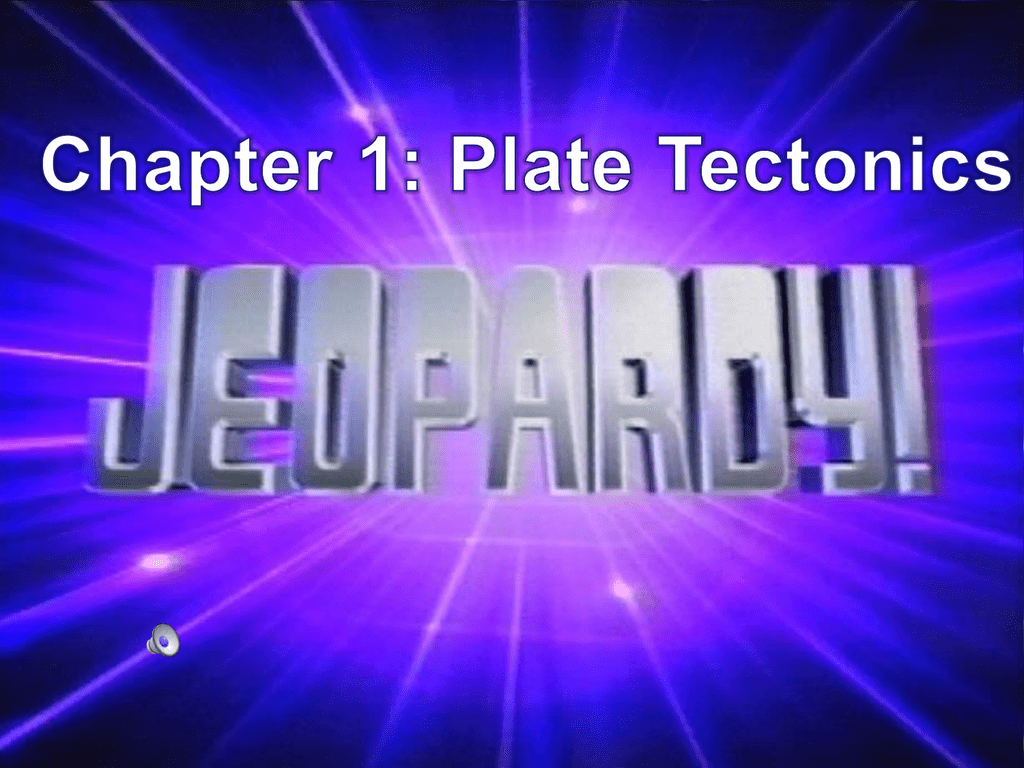 Chapter 1: Plate Tectonics
Earth's Layers
Continents
Changing Position
Over Time
Plates Moving
Apart
Plates Coming
Together
100
100
100
100
200
200
200
200
300
300
300
300
400
400
400
400
500
500
500
500
This is a solid sphere of metal
found in the center of the Earth.
It is mainly made up of nickel
and iron.
The Inner Core
The layer of the Earth made up of the
crust and rigid rock of the upper mantle
Lithosphere
Although the word "asthenosphere"
comes from the Greek word asthenes,
meaning weak, it is not actually weak.
How can it be characterized?
layer of hotter, softer
rock in the upper
mantle. Solid
lithosphere rests on
it. Hot tar.
Most large tectonic plates include two
types of crust. What are these types
of crust?
Continental
&
Oceanic
To explore the interior of the Earth,
what must scientists study?
They must study the energy from
earthquakes or underground
explosions.
Alfred Wegener proposed this
hypothesis to help explain Earth's
continents moving over time.
Continental Drift
Theory
This supercontinent began splitting
200 million years ago.
Pangaea
What three pieces of evidence did Alfred
Wegener use to support his hypothesis on
the continents moving? And provide detail
to at least one.
Fossils- ancient reptile Mesosaurus had been discovered
in South America and western Africa. Not found anywhere
else.
Climate- Greenland had once been near the equator and
slowly moved to the Arctic circle.
Geology- best evidence came from finding a type of rock
that was in Brazil matched rock found in western Africa.
Huge underwater mountain ranges
that circle the Earth like the seams of
a baseball. They are also formed
from divergent boundaries.
Mid-Ocean Ridges
How does the age of the sea floor
show that plates are moving?
Rock is youngest near the ridge, and older
farther away. Showing that older rock was
carried away from the ridge some time ago.
This is a boundary where plates
are moving apart. What is the
name of this boundary and where
are most of them found?
Divergent Boundary—in the
ocean
True or False. Mid-ocean ridges are
the longest chain of mountains on
Earth.
True—Mid-Atlantic
Ridge is the longest.
What is a hot spot?
an area where a column of hot
material rises from deep within a
planet's mantle and heats up the
lithosphere above it, often causing
volcanic activity at the surface.
Suppose a magnetic reversal occurred
today. How would new rocks at midocean ridges differ from the rocks that
formed last year?
The magnetic minerals in the new rocks would
be aligned in the opposite direction.
Name and describe the three types of plate
movement.
1. Divergent—moving apart
2. Convergent—pushing together/colliding
3. Transform—scraping past each other
This is the process in
which one plate sinks
beneath another.
Subduction
True or False. Major geologic
events occur at all three types of
boundaries.
True.
These are like deep canyons that
form as the ocean floor sinks.
Deep Ocean Trenches
There are 3 types of convergent
boundaries. Please list all three and
describe them briefly.
Continental-continental collision: two plates carrying
continental crust push together
Oceanic-Oceanic subduction: one plate w/oceanic crust
sinks
Oceanic-Continental Subduction: occurs where crust
sinks under continental crust.
Please give an example of a
transform boundary.
San Adreas Fault—the Pacific plate and the
North American plate are scraping past
each other along the San Andreas Fault.
Crust is not being formed or destroyed.