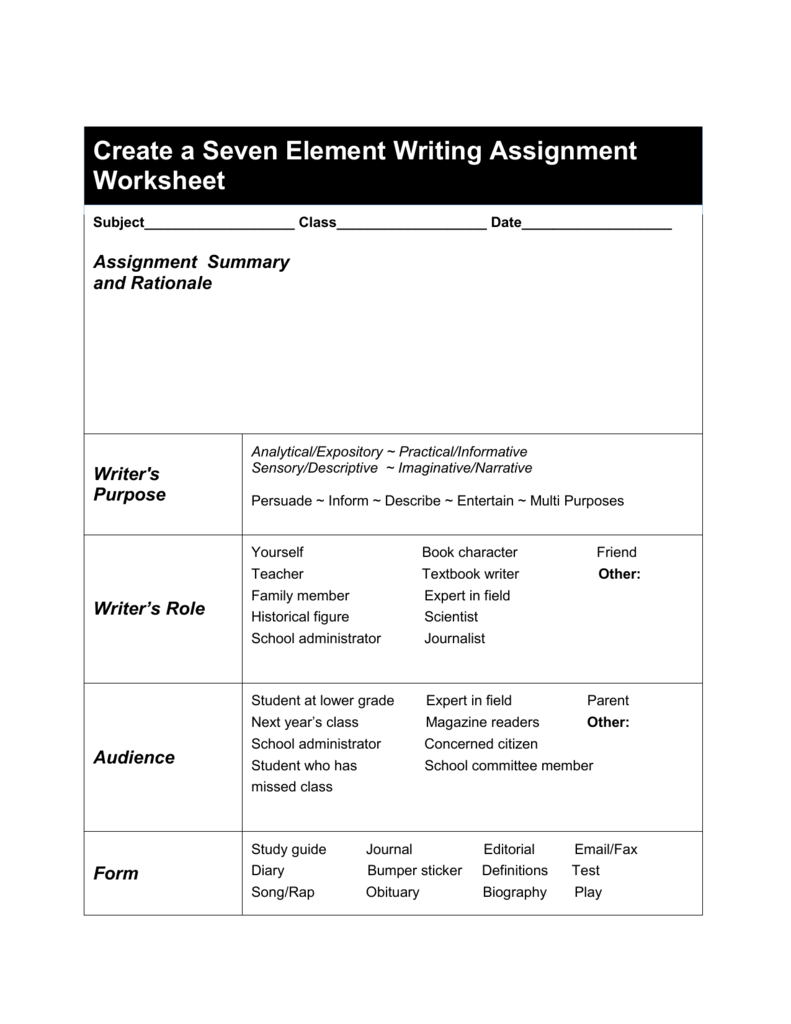 Create a Seven Element Writing Assignment
Worksheet
Subject___________________ Class___________________ Date___________________
Assignment Summary
and Rationale
Writer's
Purpose
Writer's Role
Audience
Form
Analytical/Expository ~ Practical/Informative
Sensory/Descriptive ~ Imaginative/Narrative
Persuade ~ Inform ~ Describe ~ Entertain ~ Multi Purposes
Yourself
Teacher
Book character
Textbook writer
Friend
Other:
Family member
Expert in field
Historical figure
Scientist
School administrator
Journalist
Student at lower grade
Next year's class
Expert in field
Magazine readers
School administrator
Concerned citizen
Student who has
missed class
School committee member
Parent
Other:
Study guide
Journal
Editorial
Email/Fax
Diary
Bumper sticker
Definitions
Test
Song/Rap
Obituary
Biography
Play
Children's book
Slogan/Motto
Summary
Report
Advertisement
Interview
Directions
Brochure
Job description
Explanation
News Report
Application
Letter
Memo
Fable
Speech
Other:
Advice column
Wanted poster
Poem
Collection for
Post card
Retelling
future classes
Focus
Correction
Areas
Procedure
1. FCA
2. FCA
3. FCA
______ points
______ points
______ points
Optional FCAs to accommodate or challenge students:
4. FCA
______ points
5. FCA
______ points
6. FCA
______ points
Before writing your analysis, you will complete several activities.
 Read your paper out loud in a one-foot voice. Check for any
confusing parts.
 Edit your FCAs following your teacher's directions.
 Option: Type Four: Have a partner read your paper out loud to
you. Get feedback on your FCAs. Write a second draft with all
your improvements.
 Final draft due on ___________.