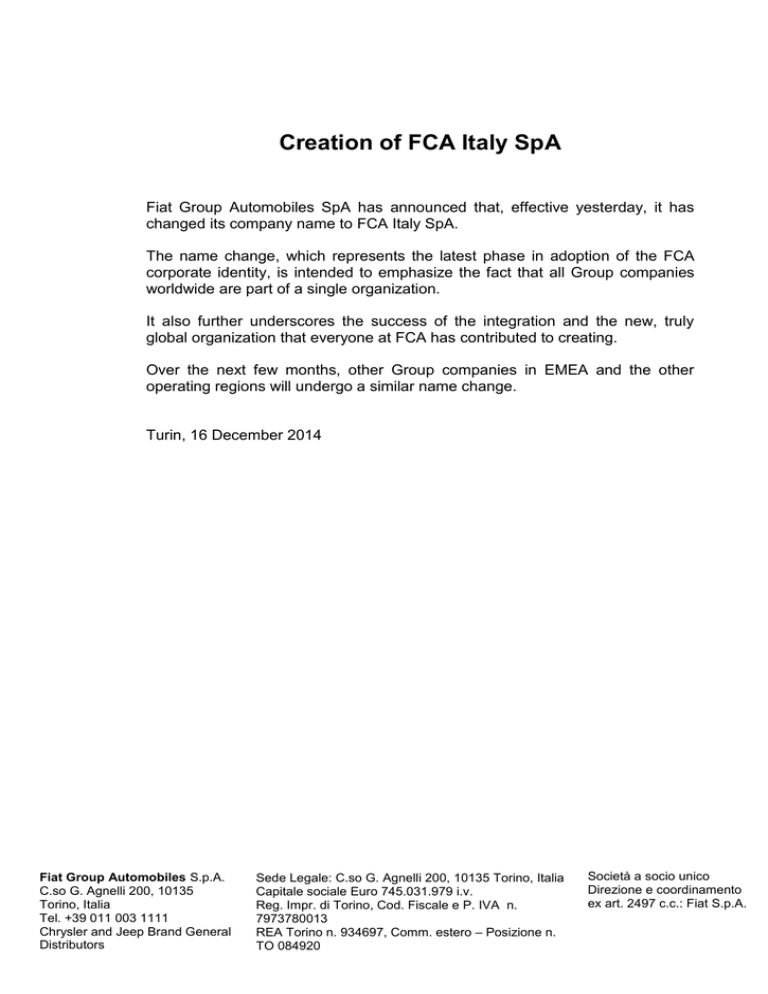 Creation of FCA Italy SpA
Fiat Group Automobiles SpA has announced that, effective yesterday, it has
changed its company name to FCA Italy SpA.
The name change, which represents the latest phase in adoption of the FCA
corporate identity, is intended to emphasize the fact that all Group companies
worldwide are part of a single organization.
It also further underscores the success of the integration and the new, truly
global organization that everyone at FCA has contributed to creating.
Over the next few months, other Group companies in EMEA and the other
operating regions will undergo a similar name change.
Turin, 16 December 2014
Fiat Group Automobiles S.p.A.
C.so G. Agnelli 200, 10135
Torino, Italia
Tel. +39 011 003 1111
Chrysler and Jeep Brand General
Distributors
Sede Legale: C.so G. Agnelli 200, 10135 Torino, Italia
Capitale sociale Euro 745.031.979 i.v.
Reg. Impr. di Torino, Cod. Fiscale e P. IVA n.
7973780013
REA Torino n. 934697, Comm. estero – Posizione n.
TO 084920
Società a socio unico
Direzione e coordinamento
ex art. 2497 c.c.: Fiat S.p.A.