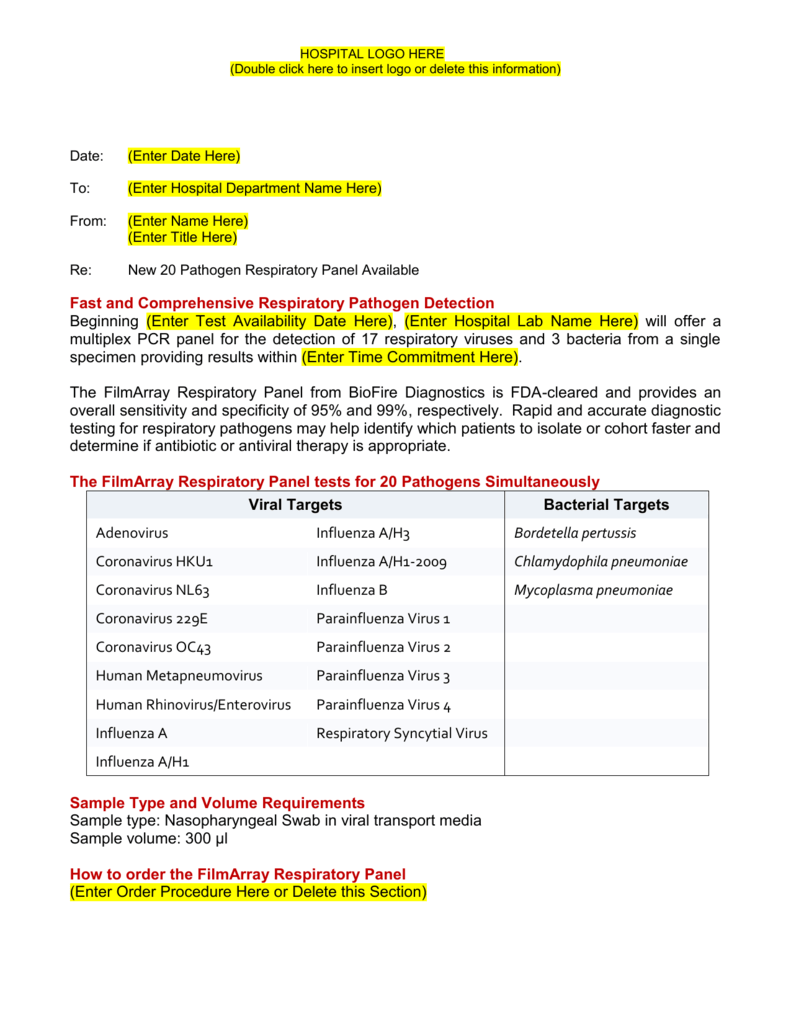 HOSPITAL LOGO HERE
(Double click here to insert logo or delete this information)
Date:
(Enter Date Here)
To:
(Enter Hospital Department Name Here)
From:
(Enter Name Here)
(Enter Title Here)
Re:
New 20 Pathogen Respiratory Panel Available
Fast and Comprehensive Respiratory Pathogen Detection
Beginning (Enter Test Availability Date Here), (Enter Hospital Lab Name Here) will offer a
multiplex PCR panel for the detection of 17 respiratory viruses and 3 bacteria from a single
specimen providing results within (Enter Time Commitment Here).
The FilmArray Respiratory Panel from BioFire Diagnostics is FDA-cleared and provides an
overall sensitivity and specificity of 95% and 99%, respectively. Rapid and accurate diagnostic
testing for respiratory pathogens may help identify which patients to isolate or cohort faster and
determine if antibiotic or antiviral therapy is appropriate.
The FilmArray Respiratory Panel tests for 20 Pathogens Simultaneously
Viral Targets
Bacterial Targets
Adenovirus
Influenza A/H3
Bordetella pertussis
Coronavirus HKU1
Influenza A/H1-2009
Chlamydophila pneumoniae
Coronavirus NL63
Influenza B
Mycoplasma pneumoniae
Coronavirus 229E
Parainfluenza Virus 1
Coronavirus OC43
Parainfluenza Virus 2
Human Metapneumovirus
Parainfluenza Virus 3
Human Rhinovirus/Enterovirus
Parainfluenza Virus 4
Influenza A
Respiratory Syncytial Virus
Influenza A/H1
Sample Type and Volume Requirements
Sample type: Nasopharyngeal Swab in viral transport media
Sample volume: 300 μl
How to order the FilmArray Respiratory Panel
(Enter Order Procedure Here or Delete this Section)
Turnaround Time
From the time the sample arrives in the lab, it is our goal to have results back to you within (Enter
Time Commitment Here).
For questions, please contact (Enter Name and Contact Information Here) or visit BioFire
Diagnostics' product website at www.FilmArray.com.