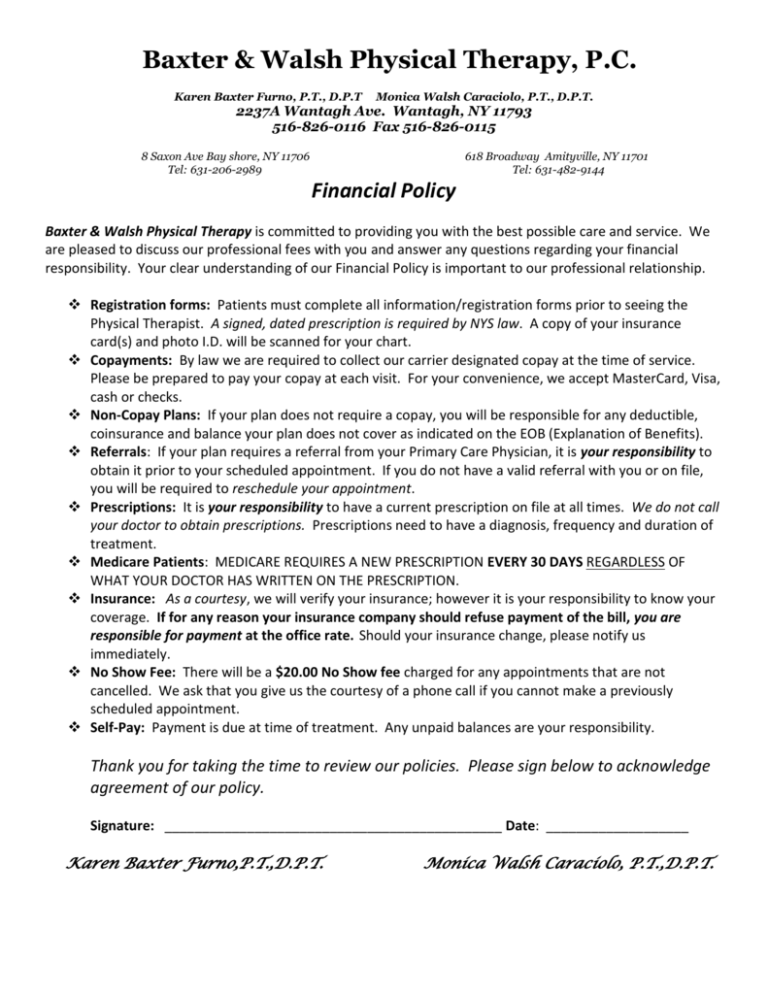 Baxter & Walsh Physical Therapy, P.C.
Karen Baxter Furno, P.T., D.P.T
Monica Walsh Caraciolo, P.T., D.P.T.
2237A Wantagh Ave. Wantagh, NY 11793
516-826-0116 Fax 516-826-0115
8 Saxon Ave Bay shore, NY 11706
Tel: 631-206-2989
618 Broadway Amityville, NY 11701
Tel: 631-482-9144
Financial Policy
Baxter & Walsh Physical Therapy is committed to providing you with the best possible care and service. We
are pleased to discuss our professional fees with you and answer any questions regarding your financial
responsibility. Your clear understanding of our Financial Policy is important to our professional relationship.
 Registration forms: Patients must complete all information/registration forms prior to seeing the
Physical Therapist. A signed, dated prescription is required by NYS law. A copy of your insurance
card(s) and photo I.D. will be scanned for your chart.
 Copayments: By law we are required to collect our carrier designated copay at the time of service.
Please be prepared to pay your copay at each visit. For your convenience, we accept MasterCard, Visa,
cash or checks.
 Non-Copay Plans: If your plan does not require a copay, you will be responsible for any deductible,
coinsurance and balance your plan does not cover as indicated on the EOB (Explanation of Benefits).
 Referrals: If your plan requires a referral from your Primary Care Physician, it is your responsibility to
obtain it prior to your scheduled appointment. If you do not have a valid referral with you or on file,
you will be required to reschedule your appointment.
 Prescriptions: It is your responsibility to have a current prescription on file at all times. We do not call
your doctor to obtain prescriptions. Prescriptions need to have a diagnosis, frequency and duration of
treatment.
 Medicare Patients: MEDICARE REQUIRES A NEW PRESCRIPTION EVERY 30 DAYS REGARDLESS OF
WHAT YOUR DOCTOR HAS WRITTEN ON THE PRESCRIPTION.
 Insurance: As a courtesy, we will verify your insurance; however it is your responsibility to know your
coverage. If for any reason your insurance company should refuse payment of the bill, you are
responsible for payment at the office rate. Should your insurance change, please notify us
immediately.
 No Show Fee: There will be a $20.00 No Show fee charged for any appointments that are not
cancelled. We ask that you give us the courtesy of a phone call if you cannot make a previously
scheduled appointment.
 Self-Pay: Payment is due at time of treatment. Any unpaid balances are your responsibility.
Thank you for taking the time to review our policies. Please sign below to acknowledge
agreement of our policy.
Signature: _____________________________________________ Date: ___________________
Karen Baxter Furno,P.T.,D.P.T.
Monica Walsh Caraciolo, P.T.,D.P.T.