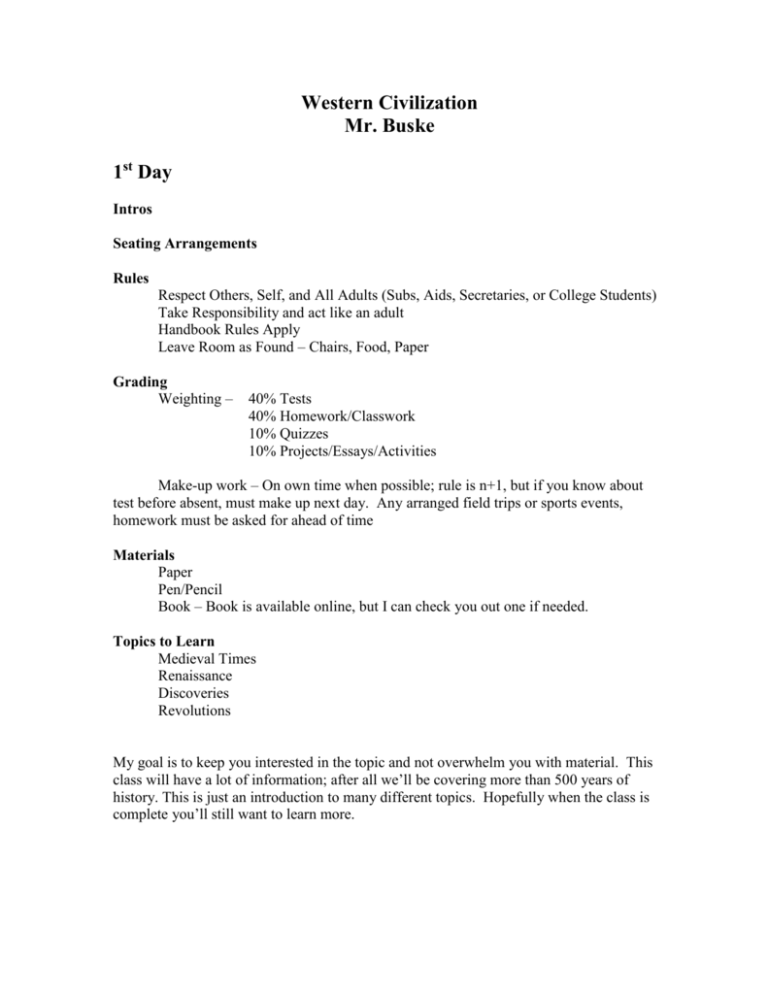 Western Civilization
Mr. Buske
1st Day
Intros
Seating Arrangements
Rules
Respect Others, Self, and All Adults (Subs, Aids, Secretaries, or College Students)
Take Responsibility and act like an adult
Handbook Rules Apply
Leave Room as Found – Chairs, Food, Paper
Grading
Weighting –
40% Tests
40% Homework/Classwork
10% Quizzes
10% Projects/Essays/Activities
Make-up work – On own time when possible; rule is n+1, but if you know about
test before absent, must make up next day. Any arranged field trips or sports events,
homework must be asked for ahead of time
Materials
Paper
Pen/Pencil
Book – Book is available online, but I can check you out one if needed.
Topics to Learn
Medieval Times
Renaissance
Discoveries
Revolutions
My goal is to keep you interested in the topic and not overwhelm you with material. This
class will have a lot of information; after all we'll be covering more than 500 years of
history. This is just an introduction to many different topics. Hopefully when the class is
complete you'll still want to learn more.
Expectations
I expect you to:
Listen
Try
Take/Have Notes in front of you
Don't Affect Others Negatively
You expect me to:
????
Questions?