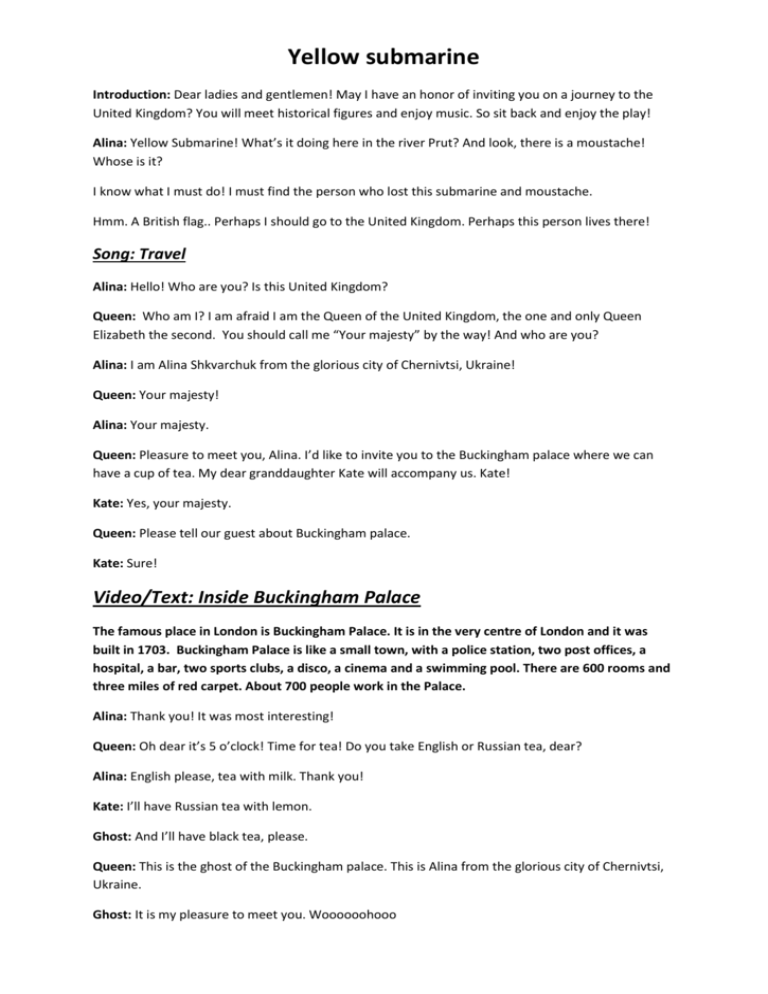 Yellow submarine
Introduction: Dear ladies and gentlemen! May I have an honor of inviting you on a journey to the
United Kingdom? You will meet historical figures and enjoy music. So sit back and enjoy the play!
Alina: Yellow Submarine! What's it doing here in the river Prut? And look, there is a moustache!
Whose is it?
I know what I must do! I must find the person who lost this submarine and moustache.
Hmm. A British flag.. Perhaps I should go to the United Kingdom. Perhaps this person lives there!
Song: Travel
Alina: Hello! Who are you? Is this United Kingdom?
Queen: Who am I? I am afraid I am the Queen of the United Kingdom, the one and only Queen
Elizabeth the second. You should call me "Your majesty" by the way! And who are you?
Alina: I am Alina Shkvarchuk from the glorious city of Chernivtsi, Ukraine!
Queen: Your majesty!
Alina: Your majesty.
Queen: Pleasure to meet you, Alina. I'd like to invite you to the Buckingham palace where we can
have a cup of tea. My dear granddaughter Kate will accompany us. Kate!
Kate: Yes, your majesty.
Queen: Please tell our guest about Buckingham palace.
Kate: Sure!
Video/Text: Inside Buckingham Palace
The famous place in London is Buckingham Palace. It is in the very centre of London and it was
built in 1703. Buckingham Palace is like a small town, with a police station, two post offices, a
hospital, a bar, two sports clubs, a disco, a cinema and a swimming pool. There are 600 rooms and
three miles of red carpet. About 700 people work in the Palace.
Alina: Thank you! It was most interesting!
Queen: Oh dear it's 5 o'clock! Time for tea! Do you take English or Russian tea, dear?
Alina: English please, tea with milk. Thank you!
Kate: I'll have Russian tea with lemon.
Ghost: And I'll have black tea, please.
Queen: This is the ghost of the Buckingham palace. This is Alina from the glorious city of Chernivtsi,
Ukraine.
Ghost: It is my pleasure to meet you. Woooooohooo
Alina: What a polite ghost! (Tea drinking party)
Alina: I must go now. Thank you for your hospitality!
Queen and Kate: Good bye and good luck!
Medieval music and dancing
Shakespeare:
Crabbed age and youth cannot live together,
Youth is full of pleasure, age is full of care;
Youth like summer morn; age like winter weather;
Youth like summer brave; age like winter bare.
Youth is full of sport; age's breath is short;
Youth is hot and bold; age is weak and cold.
Alina: What beautiful poetry, sir!
Shakespeare: Thank you, my child. And who, pray, are you?
Alina: I am Alina from the glorious city of Chernivtsi, Ukraine. And what is your name?
Shakespeare: I am William Shakespeare, the greatest bard in the history of the world.
Alina: Sorry, Mr Shakespeare, but I am looking for someone who had lost this submarine. Do you
know whose it is? And this moustache?
Shakespeare: I have no idea, my dear. But perhaps this quiz will help you! Let's see how much you
know about our country!
Quiz:
1. What is the official name of our country?
Answer: The United Kingdom of Great Britain and Northern Ireland.
2. What is its capital?
Answer: London.
3. What is the favourite hot drink in England?
Answer: tea
4. What is the difference between English and Russian tea?
Answer: English tea is with milk, Russian is with lemon.
5. What are the main colour of our flag?
Answer: red, blue and white.
6. The name Julius Caesar gave to Great Britain?
Answer: The Albion
7. What is the national musical instrument of Scotland?
Answer: bagpipe
8. Who lives in Loch Ness?
Answer: Nessie, the lake monster!
Alina: Wow, thank you! Now I know where to go! I must go to Scotland!
Shakespeare: Yes, it is the most beautiful part of the UK, but beware the Loch Ness Monster. It is
dangerous and fierce!
Alina: I will! Toodle-oo!
Video about Scotland
Alina: Oh noooooooooo! A loch Ness monster! What shall I do?
Nessie: Aaaaaa! A human from Ukraine!
Alina: A speaking monster nooooooooooo!
Nessie: I need to calm down! Okay. Hello! My name is Nessie.
Alina: It wants to eat me!
Nessie: No, I don't. I am a very nice monster and I want to help.
Alina: Really?
Nessie: Absolutely! I know whose submarine it is. It belongs to the most famous group in the world!
Alina: Which group?
Nessie: It is …………..(drum roll) the Beatles! And the moustache belongs to Ringo Starr. Here's a
picture of him.
Alina: Where can I find them?
Nessie: You should go to Ireland. They should be there.
Alina: Thanks, Nessie!
Nessie: No problem, miss! I'll sing you a Beatles song and it will help you in your quest!
Beatles song: Yellow Submarine
Irish jig(video about Ireland)
Irish jig
Alina: That was great! Now, have you seen the most famous group in the world?
Irish dancers: Which one?
Alina: The Beatles of course!
Irish dancers: No, unfortunately, they have just left. They are in London now. They are going to have
a concert in Buckingham palace and sing for the Queen.
Alina: Oh, Elizabeth? I've met her. A rather boring lady.
Irish dancers: You should hurry!
Alina: I will, thanks! Can we dance again?
Irish dancers: No, just go now.
Alina: Right
…Video about Beatles
The Beatles: How will we sing without our submarine?
The Beatles 1: I don't know. It's terrible!
The Beatles2: And how will I sing without my moustache??
Alina: Sorry, I need to see the Beatles
Everyone: We all want to see them!
Alina: Please, this is important.
The Beatles: Look!!!! There is our yellow submarine!
The Beatles 1: I can't believe it!
The Beatles 2: And my moustache!
The Beatles 3: We can perform now in front of the Queen. Join us, dear friend!
Beatles song
The song "We will rock you"
Відкритий захід на тему:
« Подорож по
Великобританії.»
В 6-б класі,
вчителі: Глазатова Д.Д.,
Моспан Н.В.