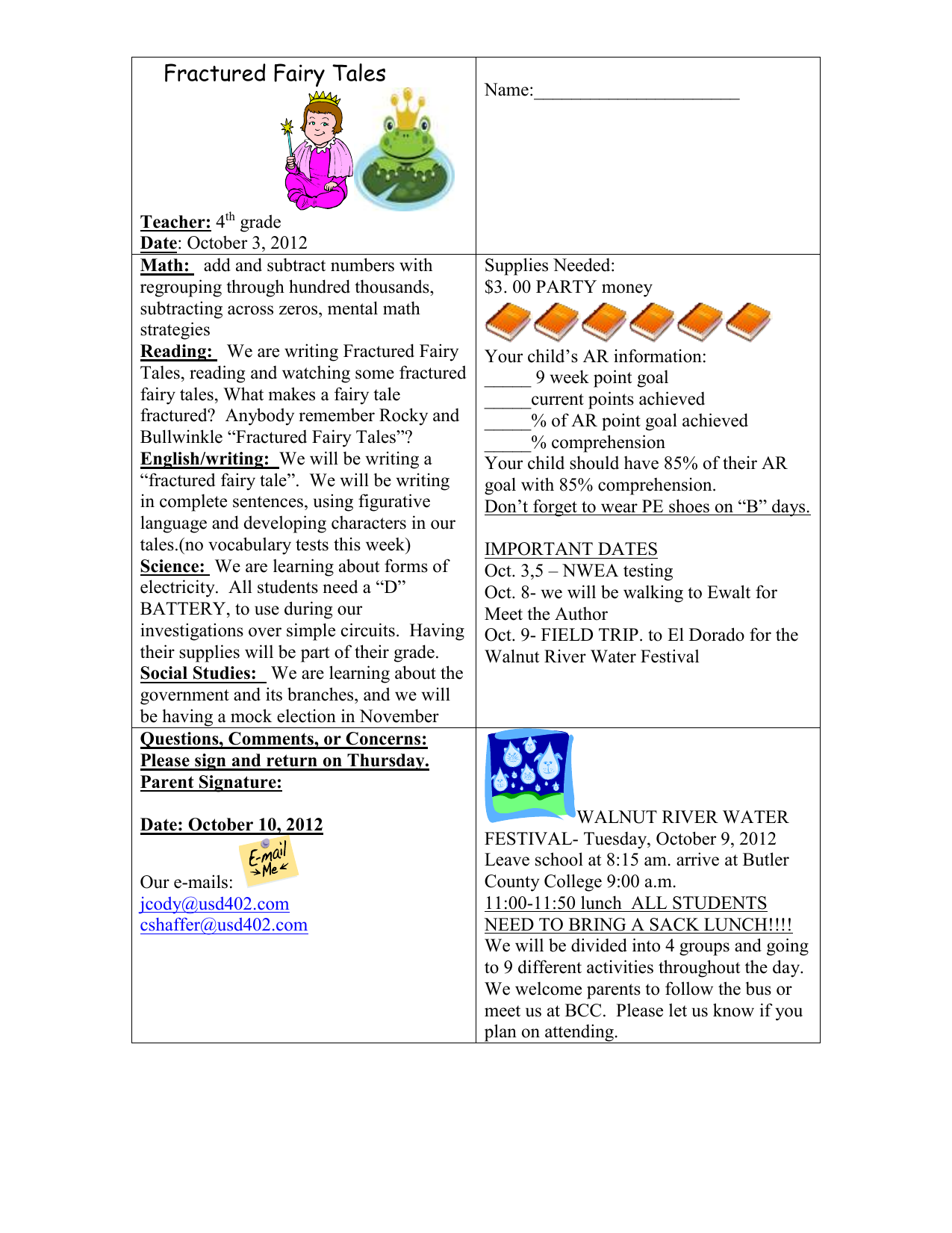 Fractured Fairy Tales
Teacher: 4th grade
Date: October 3, 2012
Math: add and subtract numbers with
regrouping through hundred thousands,
subtracting across zeros, mental math
strategies
Reading: We are writing Fractured Fairy
Tales, reading and watching some fractured
fairy tales, What makes a fairy tale
fractured? Anybody remember Rocky and
Bullwinkle "Fractured Fairy Tales"?
English/writing: We will be writing a
"fractured fairy tale". We will be writing
in complete sentences, using figurative
language and developing characters in our
tales.(no vocabulary tests this week)
Science: We are learning about forms of
electricity. All students need a "D"
BATTERY, to use during our
investigations over simple circuits. Having
their supplies will be part of their grade.
Social Studies: We are learning about the
government and its branches, and we will
be having a mock election in November
Questions, Comments, or Concerns:
Please sign and return on Thursday.
Parent Signature:
Date: October 10, 2012
Our e-mails:
[email protected]
[email protected]
Name:______________________
Supplies Needed:
$3. 00 PARTY money
Your child's AR information:
_____ 9 week point goal
_____current points achieved
_____% of AR point goal achieved
_____% comprehension
Your child should have 85% of their AR
goal with 85% comprehension.
Don't forget to wear PE shoes on "B" days.
IMPORTANT DATES
Oct. 3,5 – NWEA testing
Oct. 8- we will be walking to Ewalt for
Meet the Author
Oct. 9- FIELD TRIP. to El Dorado for the
Walnut River Water Festival
WALNUT RIVER WATER
FESTIVAL- Tuesday, October 9, 2012
Leave school at 8:15 am. arrive at Butler
County College 9:00 a.m.
11:00-11:50 lunch ALL STUDENTS
NEED TO BRING A SACK LUNCH!!!!
We will be divided into 4 groups and going
to 9 different activities throughout the day.
We welcome parents to follow the bus or
meet us at BCC. Please let us know if you
plan on attending.