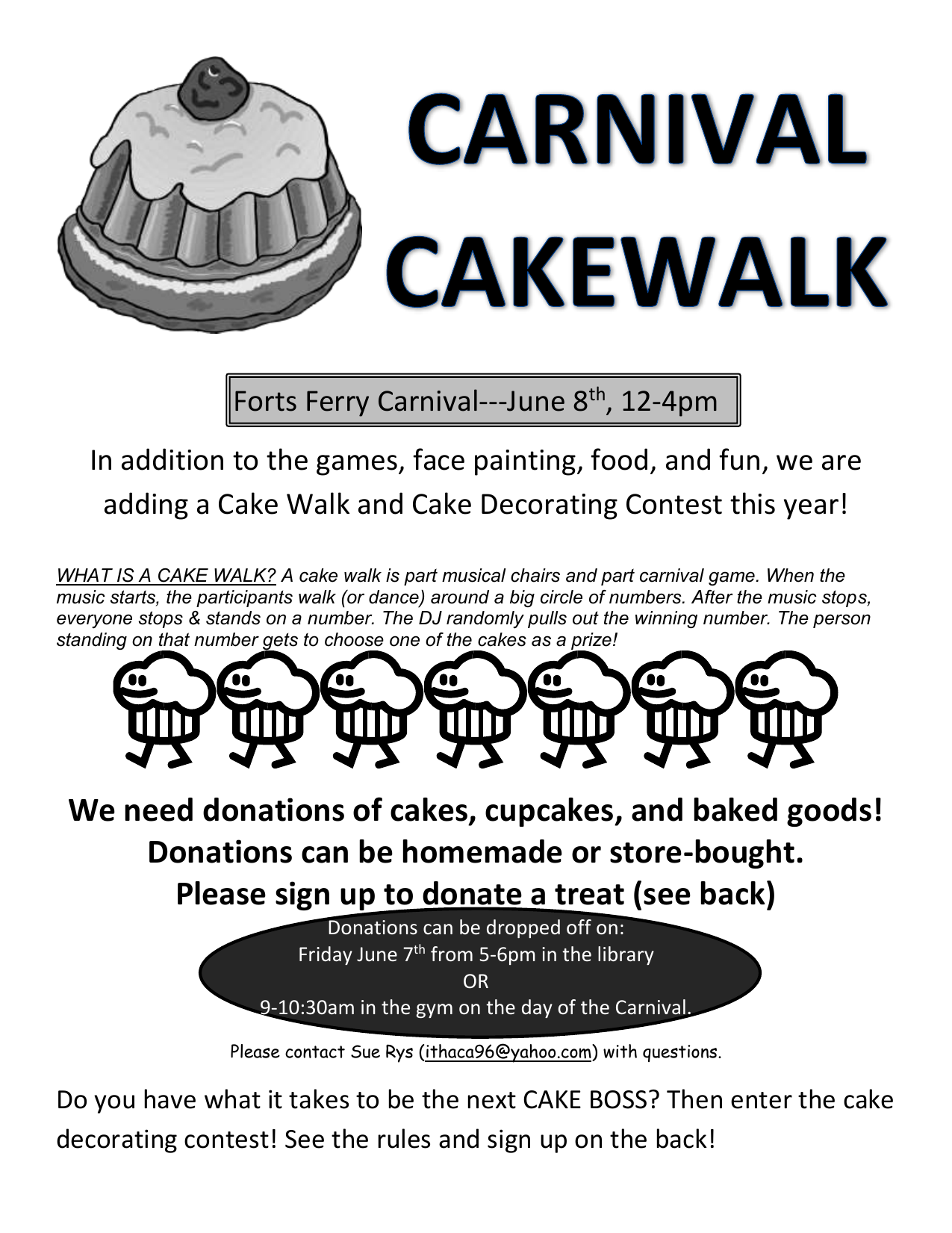 Forts Ferry Carnival---June 8 th , 12-4pm In addition to the games, face painting, food, and fun, we are adding a Cake Walk and Cake Decorating Contest this year!
WHAT IS A CAKE WALK? A cake walk is part musical chairs and part carnival game. When the music starts, the participants walk (or dance) around a big circle of numbers. After the music stops, everyone stops & stands on a number. The DJ randomly pulls out the winning number. The person standing on that number gets to choose one of the cakes as a prize!
We need donations of cakes, cupcakes, and baked goods! Donations can be homemade or store-bought. Please sign up to donate a treat (see back)
Donations can be dropped off on: Friday June 7 th from 5-6pm in the library OR 9-10:30am in the gym on the day of the Carnival. Please contact Sue Rys ([email protected]) with questions. Do you have what it takes to be the next CAKE BOSS? Then enter the cake decorating contest! See the rules and sign up on the back!
Judging begins promptly at 11am on June 8 th . Awards will be presented at 12:45. Drop off contest cakes on Friday June 7 th from 5-6pm in the library OR 9-10:30am in the gym on the day of the Carnival. Cake Decorating Contest Rules •All cakes must reflect this year's carnival theme: Summertime Fun •Small prizes will be awarded for winners in the three age categories grades K 3, grades 4-6, and grade 7-adult. •Cakes entered in the contest by children must be decorated by children, not parents. •Be original! No decorated cake kits, please. •All contest cakes/props will be used for the cakewalk. They cannot be returned. Contest Hints:    Please bring your cake on a disposable plate or container, preferably wrapped in clear plastic. Label the type of cake, e.g., yellow cake with chocolate frosting. Helpful hint: You can buy foil pans with plastic lids at Party Warehouse or the dollar store. Bake the cake, let the kids decorate, snap on the lid, and you're done! Please note: Many of our students have food allergies. If you're able to bring an ingredient list with each cake, it would be a big help. ____ I would like to make a baked-good donation for the Cakewalk (not enter the decorating contest) ____I would like to enter the Cake Decorating Contest. Please select category: ____K-2 ____grade 3-6 ____grade 7-adult Name:____________________________ Email:____________________________ For planning purposes, please return ASAP c/o PTA Cake Walk or contact Sue Rys ([email protected])