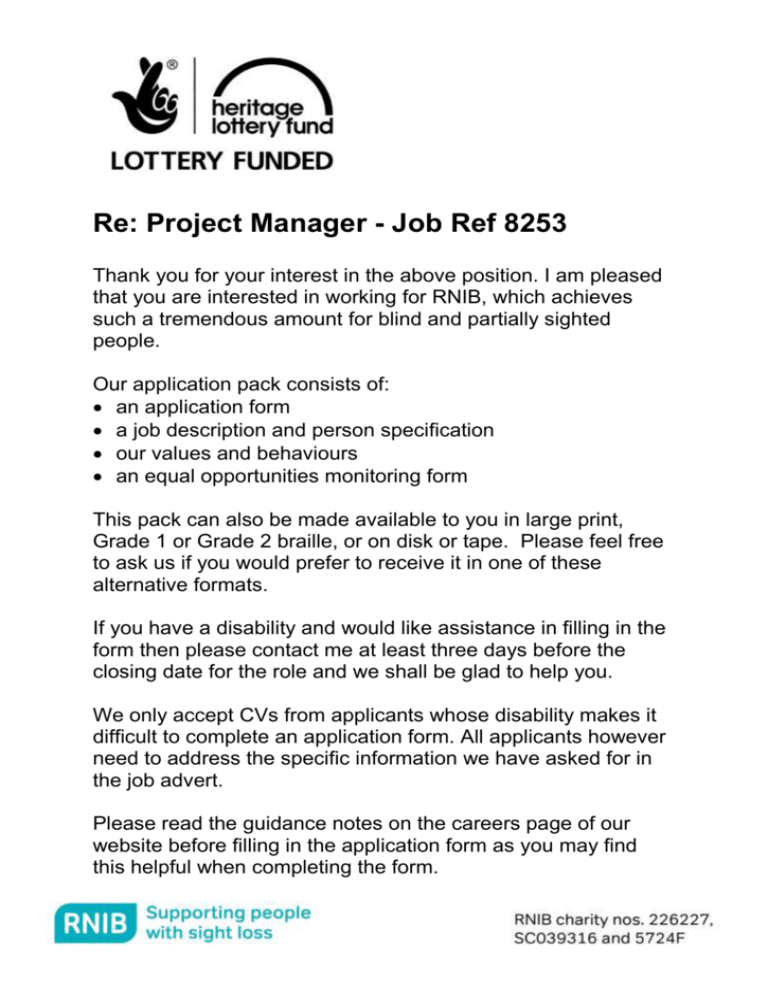 Re: Project Manager - Job Ref 8253
Thank you for your interest in the above position. I am pleased
that you are interested in working for RNIB, which achieves
such a tremendous amount for blind and partially sighted
people.
Our application pack consists of:
 an application form
 a job description and person specification
 our values and behaviours
 an equal opportunities monitoring form
This pack can also be made available to you in large print,
Grade 1 or Grade 2 braille, or on disk or tape. Please feel free
to ask us if you would prefer to receive it in one of these
alternative formats.
If you have a disability and would like assistance in filling in the
form then please contact me at least three days before the
closing date for the role and we shall be glad to help you.
We only accept CVs from applicants whose disability makes it
difficult to complete an application form. All applicants however
need to address the specific information we have asked for in
the job advert.
Please read the guidance notes on the careers page of our
website before filling in the application form as you may find
this helpful when completing the form.
The closing date for completed applications is 5pm on 31
July 2015. We will hold interviews on 3 September 2015.
If you are able to, please complete and return your application
form and the equal opportunities monitoring form by email to
applications@rnib.org.uk.
However we will accept braille, audio, disk, typed and
handwritten applications sent to HR Administrator, RNIB,
Human Resources, 105 Judd Street, London WC1H 9NE.
We want to ensure that as much of our resources as possible
go towards supporting people with sight loss and therefore we
do not normally contact unsuccessful applicants individually. If
you have not heard from us within three weeks of the closing
date, please assume that your application has been
unsuccessful on this occasion. However, we would encourage
you to apply for other suitable roles.
Once again, thank you for your interest in this vacancy and for
working for the Royal National Institute of Blind People.
Sarah Janes
Assistant Resourcing Business Partner
applications@rnib.org.uk
RNIB Job Description
Job Title: Project Manager
Job Level Cluster: Management, Professional, Specialist
Job Level:
Group: RNIB Solutions
Section: Operations
Unit: Operations
Location: Peterborough
Reports to: Senior Assurance and Improvement Manager
Purpose of Job:
To manage the implementation and delivery of the Culture Link
project to ensure successful outputs and impact, working
externally with project partners, the funding body (Heritage
Lottery Fund), project stakeholders, volunteers and the wider
heritage sector.
Impact:
 To enable delivery of agreed actions against an externally
funded project activity plan. Successful delivery of agreed
outputs against project plans across 6 project partners to
achieve measureable impact across the heritage sector.
 No line management responsibility.
Financial Responsibility:
Responsibility for the project budget of £450,000 to ensure that
it is managed successfully and outputs are delivered within
agreed budget.
Decision Making Responsibility:
Required to make judgements and to solve problems within the
scope of the project and in conjunction with external and
internal stakeholders.
Main Accountabilities:
1. Achieve the Culture Link project objectives by leading
on all aspects of project delivery including the planning
of project activities and managing interdependencies
across project partners.
2. Influence and work closely with the 6 project partners
and other relevant stakeholders to ensure effective and
efficient implementation of the project, establishing and
maintaining positive relationships with all stakeholders.
3. Create and deliver project work plans and revise as
appropriate to meet changing needs and requirements,
Identifying resources and assigning responsibilities.
4. Evaluate the implementation and progress of the
project, making decisions and taking action to resolve
issues and conflict, identifying and mitigating risks.
5. Manage all day-to-day operational aspects of the
project, acting as a central point for decision making
including reporting, budgets, communication, publicity,
risks, enquiries, dissemination and evaluation.
6. Create and submit project status reports, budget reports
and other required progress reports to stakeholders,
ensuring all project documents are complete, current,
and appropriately stored.
7. Co-ordinate volunteer work as defined by project
outcomes.
8. Promote and share learning from the project with the
broader heritage sector across conferences, events,
workshops, meetings and publications.
9. Lead robust evaluation of the project and project closedown activities.
10. Manage all project communication elements to
internal and external stakeholders, consultants,
partners, the heritage sector, funding organisation, blind
and partially sighted community and volunteers.
General
1. Undertake any other duties commensurate with the post.
2. Adhere to all RNIB policies and procedures.
Person Specification
Please note all criteria are essential unless otherwise
stated
Please set out all essential criteria for the role
1. Specialist Knowledge, Skills and Experience
1.1 Experience of managing complex projects including
multi-partner projects, externally funded projects and
the management of simultaneous projects.
1.2 Knowledge of devising plans and workflows to manage
multiple stakeholders, delivering projects on time and
within budget.
1.3 Experience of engaging and building relationships with
stakeholders from other organisations.
1.4 Experience of complex project monitoring and reporting
to a range of audiences.
2. People management skills/ team working skills
2.1 Ability to build sustainable, collaborative relationships
within a complex organisation and with partner
organisation to achieve agreed goals and outcomes.
2.2 Able to manage project resources including external
resources (consultants), volunteers, partners and
budgets.
2.3 Ability to work independently and as part of a team.
2.4 Ability to take on board colleagues' points of view
and work through to an agreed way forward in a
positive manner.
3. Planning and organisational skills
3.1 Ability to organise the time of self and others effectively,
creating work schedules, prioritising workloads and
meeting deadlines.
3.2 Ability to multitask and manage multiple complex and
changing priorities simultaneously to successful
conclusion.
3.3 Adaptable and flexible with the ability to thrive in a time
sensitive environment with interdependent deadlines.
3.4 Ability to focus on and achieve detailed project activities
whilst maintaining an overview of project outcomes and
success criteria.
4. Problem-solving and creative skills
4.1 Ability to effectively manage and resolve conflict,
demonstrating facilitation skills to achieve win-win
solutions for all stakeholders.
4.2 Ability to manage interdependencies, influencing and
negotiating with others including key decision makers to
achieve project goals.
4.3 Ability to analyse problems, implementing practical and
creative solutions to resolve complex issues.
5. Communication skills
5.1 Ability to communicate a wide variety of information
effectively, both verbally and in writing, with a variety of
audiences, adapting style to suit the audience.
5.2 Good written skills and the ability to deliver accurately
written reports across all levels of the organisation.
5.3 Experience of delivering effective promotional
communications including successfully reporting and
promoting the project objectives, progress, impact and
learning across a wide sector of the public
5.4 Ability to maintain confidentiality and deal with sensitive
information using tact, discretion and initiative at all
times.
6. Equal Opportunities
6.1 Ability to understand and demonstrate commitment to
RNIB's Equal Opportunities Policy and to ensure all
activities are consistent with the Equal Opportunities
Policy. This includes all staff activities and their
interface with the general public.
7. Special Conditions
7.1 Must be prepared to travel and attend meetings and
training as required which will involve occasional
overnight stays.
Is a Disclosure and Barring Service Check required?
YES
Are any other additional security checks required?
If yes which?
NO
Behaviours
Deliver results
 Motivates and develops others to continually exceed
standards and expectations.
Engage Customers
 Makes systems and processes more customer-friendly, and
acts as key "go to" person for customer knowledge for the
service area.
Engage others
 Coaches and mentors others in the development of
supportive and trusting relationships with colleagues,
customers and others which develop and enhance the
service and organisation's profile and reputation.
Set Direction
 Demonstrates awareness of commercial and financial
considerations.
 Drives and enables creativity, innovation, improvement and
new activities for team and service which contribute to
sustaining organisational success.
 Manages change effectively, recognising and addressing the
impact of change on people and services.
Lead and inspire
 Creates and leads high performing teams, recognise the
importance of leadership in own role and take steps to
improve ability to lead and motivate others.
 Displays resilience and takes a rational approach.
Personal impact
 Gains support for position and achieves win/win situations
through negotiation and compromise, demonstrating
confidence, passion and authority.